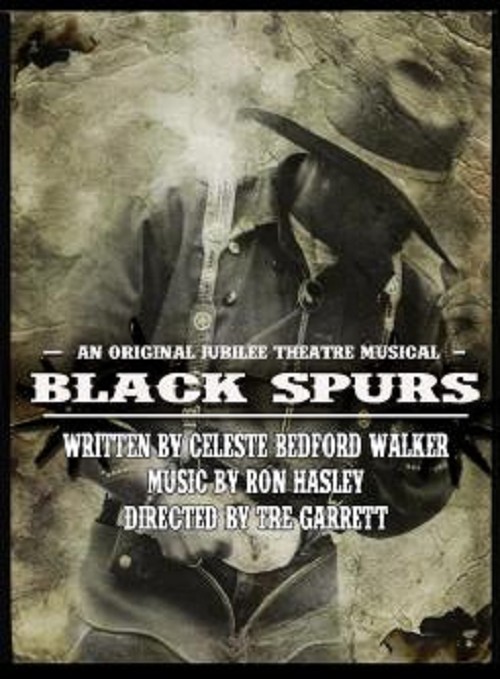 BLACK SPURS
by Celeste Bedford Walker, Music by Ron Hasley
Jubilee Theatre
Director/ Artistic Director- Tre Garrett
Assistant Director- George Donaldson III
Music Director- Michael Plantz
Set Design- Michael Pettigrew
Lighting Design- Nikki Deshea Smith
Stage Manager/ Board Operator- Ashley Oliver
Choreographer- Quinton Jones
Costume Design- Barbara O?Donoghue
Sound Design- David Lanza

Robert Rouse- Clement/ Sheriff/ Auctioneer
Winston Daniels- Sam Pete
Patricia Hill- Lucinda/ Jesse Belle
Laurence Pete- Rutherford
Stefon Green- Cookie
Alejandro Sandoval II- Juan
Lorens Portalatin- Savannah
Stephen Warren- Bub
Keith Galloway Jr.- Sawyer
Nayosha Dover- Actress/ Intern
Savanah Jackson- Actress/ Intern
---
Reviewed Performance: 11/30/2012
Reviewed by Nicole Hodges, Associate Critic for John Garcia's THE COLUMN
If I were to ask you about famous cowboys, who would come to your mind? Perhaps Billy the Kidd or Wyatt Earp might maybe? And if I asked you about colored cowboys would anyone at all come to mind? It is no secret that we as Texans are without a doubt filled to the brim with pride for our great state. We study Texas' history and legends from the minute we learn to read. Missing from these lessons we are taught are the untold tales of cowboys of color who were pivotal in our state's creation but became a footnote on the history book page.

Bringing these heroes to the foreground is Jubilee Artistic Director Tre Garrett. A Texas native himself, inspired by the Fort Worth Stockyards series the "Cowboys of Color", commissioned Celeste Bedford Walker to write a musical which illuminated those forgotten historical cowboys who shaped this great state and boy howdy, did she deliver!

Making its world premiere at the Jubilee Theater, Black Spurs is set in the growing plains of Texas and the old west. A young man sets out on a journey to save the family farm and honor the death of his father by joining a trail ride and winning a bullfighting contest. With the support of family and good friends, he discovers that, like actual black spurs, it's not what is on the outside but rather the strength on the inside that makes you who you are.

A hand-painted backdrop of a map trailing Texas to Kansas adorned the entirety of the back wall. Completing the stage were Texas tumbleweed and a rickety covered wagon. This wagon was properly to scale and handmade by Set Designer Michael Pettigrew. Throughout the musical the wagon never moved, however, more impressive were the box pieces removed from different sections of it in order to create an entirely new setting and stage picture.

Upon entering the theater, old time country music like Michael Martin Murphy's "Git Along Little Doggies" graced ears and set the stage for a day on the prairie. Created by Sound Designer David Lanza, scenes were thickened with voices of settlers in the town as well as cattle on the drive. Perfectly paired were Barbara O'Donaghue's costume designs, with the faint undertones of spurs twinkling, a fabulous nod to the show title and atmosphere.

Although the costumes appeared a little too clean and unworn for boys in the dirt and dust, Ms. Donaghue used the archetypal cowboy image while capturing each character's individuality and style.

Completing the technical trio were Nikki Deshea Smith's lighting designs creating perfect ambiance of Texas life, bright and toasty for midday in the countryside, while stars glowed above for nights spent sleeping on the trail. It was obvious all technical cylinders were working in tandem.

Creating the musical ring was Michael Plantz. Each music number was organic and strongly executed the writer's intended vivacity. Tonality and pitch from every actor was spot on from the moment the show began, the opening number, "Springtime in Texas" was warm and jovial and set a perfect feel and momentum for the show.

Lorens Portalatin's a cappella version of "The Yellow Rose of Texas" beautifully morphed into a romantic duet with Winston Daniels, their execution of this classic song was effortless, romantic and warm.

Quinton Jones added fuel to the fire with choreography that consisted of mild and basic steps for the most part. However he added flair and fun with rhythmic step numbers like the men's drive across the trail. He also made great use of the smaller dancing space and magnified the comedy of the show with the cowboy's version of the Supremes.

Mr. Garrett chose an absolutely perfect cast with Winston Daniels at the helm as Sam Pete. This young leading man carried the show with gusto and didn't miss a beat. He stayed present and truthful to character which was nothing less than a breath of fresh air. Needless to say he has a great career ahead of him.

Laurence Pete as the unofficial cattle boss Rutherford was a personal favorite. He was strong and bold in his moment around the campfire, complimented with his paternal hue in dealing with Sam Pete and Bub. He was a true "moment to moment" actor and a delight to watch.

Patricia Hill brought it home with her contrasting portrayals of Lucinda, Sam Pete's mother, and Jesse Belle, the brothel owner. She created two characters that couldn't be more opposite and yet both were executed so flawlessly. She had one of the only singing solos in the show as Jesse Belle in "What is it All For?" she lived out beautiful and vulnerable moment with exquisite intonation and strength.

Stealing the show were Stefon Devont'e Green as Cookie and Robert Rouse as Clement/Sheriff. Anytime these two men were on stage, the show came alive. Mr. Green was UNSTOPPABLE with his character being kooky and comical. As he is rotund and quirky, he soft-shoed and hop-skipped his way around the stage with hilarity and merriment. Mr. Rouse took a subtler note, making bold character choices with impeccable comedic timing. His stuttering rodeo man had the house rolling and yet was vigilant and honorable as the underwear clad Clement. Both men, however riotous in amusement, were true actors for it was not attention they sought but rather accented plot points where importance was due. These men were ever present and remained the heartbeat of the piece.

Stephen Warren was spunky and saucy as Bub, creating a character you wanted to take home for the night but probably not home to mama, especially displayed in his bar standoff with the Sheriff. Alejandro Sandoval was stealthy and genuine as the Latino representative of the cattle run, quiet but ever present. Lorens Portalatin was visually stunning on the stage but lacked sincerity in her performance. Keith Galloway Jr., the rookie of the cast, was sensational. Even as the young'un in the show, he displayed clarity of character and great comedic chops.

Deserving a standing ovation for this world premiere was Director Tre Garrett. Mr. Garrett created a slice of life, not a show. A scene would be taking place in the foreground while actors were busy with behavior and movements in the background. Cowboys impressively took a trail ride across three states with silk and song without having to leave the stage. Despite some minor opening night glitches, this beautiful piece had the amusement of a classic musical while capturing the authenticity of real moments in time.

Ms. Celeste Bedford Walker, (who happened to be sitting directly next to me) shared with me that the stories she tells are behind the scenes tales she has brought into the limelight. They are never completely done and she is excited to continue to build this particular show with Mr. Garrett. She also told me (with a huge smile) her pieces may be geared toward the African American culture but have themes that are universal and apropos to all.

To Ms. Celeste Bedford Walker, Mr. Tre Garrett, and the entire cast a crew of Black Spurs'I tip my hat to YOU! Well done!
---
BLACK SPURS
Jubilee Theater
506 Main Street, Forth Worth, TX 76102
Runs through December 30th

Thursdays and Fridays at 8 pm, Saturdays at 3:00 pm and 8pm, Sundays at 3pm
Added performances on Friday, December 29th at 3 pm and 8 pm

Ticket Prices:
Thursday Night (8pm) $15
Friday and Saturday Night (8pm) $25
Saturday Matinee (3pm) $15
Sunday Matinee (3pm) $15

For more information please call the box office at 817-338-4411 Or online www.jubileetheatre.org