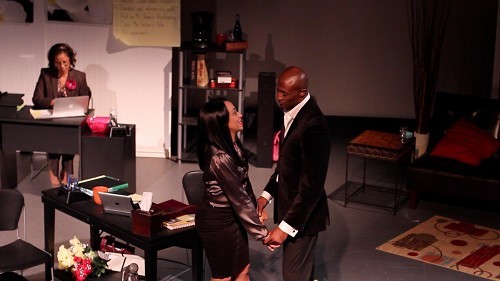 ROSE COLORED GLASSES
by Mecca Ali
Sunni Media Productions
Directed by Maurice Lee

CAST:

Tammy Pleasant - Sunny Shaw
Kapri Wllis - Sherayl
Tony Williams - Taylor Johnson
Ken Echols - Lamman Tucker
Marcus Sykes - Cousin
Leah Raine - Kitty
Kimberly Birdow - Gabby
Jacquie Johnson - Becky
Maurice Lee - Jasmine
Lovelin Anwuzia as herself
---
Reviewed Performance: 12/1/2012
Reviewed by Joel Taylor, Associate Critic for John Garcia's THE COLUMN
Rose Colored Glasses, currently playing in the Theatre Studio at the actual Addison Theatre Centre, is an original work that is the brainchild of Mecca Ali, the writer and producer of the show.

Rose Colored Glasses is the story of Sunny Shaw, a woman that left the "hood" and pursued education, sophistication and relationships in her search of happiness. Learning, along the way that life is not always only the way that we would like to see it and hope it to be. And that you have to love and accept yourself before you can really love

Mecca Ali, creates a script, a story line and characters that includes a positive message and makes you think of Tyler Perry or Carol Burnett scenes that you could relate to. The story has characters and situations that range from "normal" to occasionally over the top. The story line as written by Ali and presented by the actors provides laughs, empathy, occasional over the top physical and visual comedy, as well as a few unexpected twists and a message that at the end of the show make you walk away with a special feeling.

The intimate space really works well for this production as it brings the characters and story up close and personal, creating a much more intense presentation.

A playbill was not created for the show. This was unfortunate as there were several people that contribute to the production that did not get the public credit that they richly deserve. Without knowing whom to give the credit, kudos go to the set designer, music designer and costume designers for their work.

Elegantly simple would be the best way to describe the design and structure of the set. The set is designed in a way that each half of the stage was used as a specific area. While one half of the stage is developed to be the elegant office of a successful entertainment attorney with a meticulous and elegant look, the other half of the stage is designed to be an apartment, with more of a cultural flair. Behind the set pieces and flats is an area that allows lighting to be projected that enhances each scene.

The LED lighting available in the space made the lighting transitions flow much easier with effective use of various colors such as blues, reds and blends for setting the moods, creating a unique space and focus. There were a few times, though, when the stage was dark a little too long during scene changes.

Costuming is another area that really needs to be recognized. Willis uses a variety of multi colored wigs, spandex, and clothing that screams cultural stereotypes. While Sunny and Gabby are generally attired in professional office suits and dresses. A very noticeable exception to Sunny's professional choices is the costume choice that she uses for her weekend with her boyfriend. Lamman is always impeccably groomed and in a suit that appears to be tailored.

From the pre-show music and throughout the performance a blend of romantic music, hip-hop and gospel music is used in a way that makes the music almost as integral to the performance as the dialogue

Just prior to the opening scene, the audience receives a very special vocal treat from Lovelin Anwuzia. While she may not have been a specific character in the show, her story and song introducing the show brings the message within the show into clear focus. It would have been nice to have heard more of her songs. While leaving the show, I overheard more than one member of the audience ask members of the staff about the availability of CDs of her music.

Maurice Lee provides directing choices that allows maximum creativity and efficient use of the space with blocking that used all levels and areas of the stage. Each side of the stage has specific and distinct placement of furniture, set pieces and art work that were unique to that space while still allowing plenty of room for the actors to freely move around in that spaces as they interacted with each other. Lee also allows the actors plenty of leeway in the development and presentation of their characters. There seems to be a lot of ad-libbing and improvisation in some of the scenes. For the most part this worked, Especially, when the characters have a conflict with each other and are able to enjoy some of the un-planned results that the audience responds to with enthusiasm.

Sunny Shaw, played by Tammy Pleasant, is a successful entertainment attorney that is trying to balance her corporate and personal life. Pleasant gives the audience a character that has plenty of depth and layers. This was demonstrated as she showed us transitions, from the reserved executive attorney to the seductive girlfriend who wants a romantic weekend with her man to the woman scorned and then in love again.

Sherayl, played by Kapri Willis, is Sunny's secretary. Willis attacked this role with a no-holds-barred approach as she brings a character that uses stereotypical ghetto characteristics and physical humor to steal scenes and has the audience entertained almost every time that she is onstage. My initial impression of this character was that she is far too over the top in her portrayal with her very blatant "ghetto-style" character as she drinks her boss's alcohol or pursues her boss and her boss's boyfriend. However, this over the top character, brings a strong contrast to the more sophisticated and educated professionalism of her boss, and emphasizes the differences between the two characters.

Taylor Johnson, played by Tony Williams, is a football player. Perhaps the term "playa" would be better used to describe this character. Williams does a very good job of presenting a character that is fun to watch as he interacts with the other characters throughout the show. In a particular scene in which he is describing how important he is to the football team he plays for, Williams reminded me of the flamboyant style that Cuba Gooding, Jr. showed in the film Jerry McGuire. Williams showed that he was fully able to portray the stereotypical macho man and still be able to confidently express the softer side in plot twists that are presented later in the show.

Lamman Tucker, as played by Ken Echols, is a multi-nominated actor that comes to see Sunny for legal assistance. Where Williams was flamboyant in his style, Echols brings a character that is much more reserved and comes across as detached on more than one occasion. Tucker reminds me of the models that you see in the GQ magazine. Echols presented a character that is ultra suave and sophisticated. This characterization works well to show the contrast between Taylor and Lamman when the two characters are on stage together. Though, this character seems underplayed when he is first introduced.

Cousin, played by Marcus Sykes, is just plain fun to watch. Sykes is only on stage a few times but each time he left the stage I wanted to see more of him. Cousin is Sunny's cousin that she seeks for information or background checks on people. Where Sunny comes across as highly educated and sophisticated, Cousin is unabashedly straightforward in his various entrepreneurial enterprises. Sykes brings a high level of energy and playfulness in his character.

Kitty, played by Leah Raine, is a character that at times is sultry, sexy, forceful, seductive and volatile when scorned. Raine does a good job believably transitioning between each of these characteristics and emotions as each scene develops and unfolds. In each scene with the other characters, Raine has a defined character that is constant and one that audience members related to.

Gabby, as played by Kimberly Birdow, is Sunny's boss. Birdow brings an initial forcefulness to her character portrayal of Gabby. But there are a few times she seems to get confused as to who is the boss and who is the subordinate in some of her scenes with Sunny.

This may have been due to the apparent age difference between the characters or the experience of the actors. However, the interaction between Gabby and Sherayl were so humorously judgmental and verbally vicious that these interactions had the audience laughing.

Becky, as played by Jacquie Johnson, is also a secretary to Sunny. Where Sherayl is loud, obnoxious, flirtatious, and sometimes has an "in your face" attitude, Becky is the complete opposite. She is so extremely prim and proper as to be the polar opposite. Johnson presents a consistent character despite the chaos around her.

Jasmine, as played by Maurice Lee, brings one of the several surprises twists to the plot. Lee is only on stage briefly but has fun with her character while she is there. Her portrayal of the "mystery woman" shows a character that resorts to extremes to get what she wants.

Being able to take an idea and, over time, transform the idea into a written story that makes sense with dialogue, movement and a location(s) that can believably play on a stage is not an easy process. Then add to this mixture the challenge of finding the right actors, director and crew that can successfully share and present the vision, and it makes creating a successful stage presentation a daunting task. All too often the challenge is overwhelming and the show needs more time and work before it is ready for a paying audience.

Then there are shows in which the audience member can relate to each character and situation and the show simply WORKS. Rose Colored Glasses is one of those shows, in which the story and message will have you at times laughing, angry, or empathizing with the characters and feeling like it might be situations and characters from your life or your friend's life that you are seeing on the stage. After the conclusion of the performance and as the audience was walking out and congratulating the cast of the show, more than one audience member thanked the director and actors for bringing a message that seemed to be just for them.
---
ROSE COLORED GLASSES
Sunni Media Productions at the Addison Theatre Centre
15650 Addison Road, Addison, TX 75001


FINAL performance on Saturday December 8th at 8:00 pm

This play contains adult language and romance - 18 and up only can be in attendance.

Tickets are $21.69, including online service fee

For information and to purchase tickets, go to www.sunnimediaproductions.com