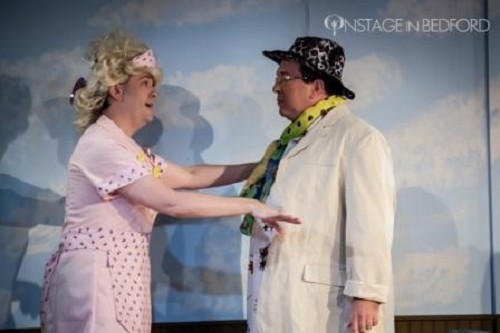 A TUNA CHRISTMAS
by Jaston Williams, Joe Sears and Ed Howard
Originally Produced by Charles H. Duggan
ONSTAGE in Bedford
*NOTE: The Playbill/Program listed no director in the Production staff credits

Produced by Eddie Floresca
Stage Management by Kristy Scroggins
Costume Design by Lyle Huchton
Scenic Design by Dane Stewart Tuttle
Lighting Design by Lisa Cotie
Sound Design by Alex Krus and Chris Robinson


CAST:

Charles Ryan Roach-Thurston Wheelis / et. al.
Chris Robinson-Arles Struvie / et. al.
---
Reviewed Performance: 12/7/2012
Reviewed by Richard Blake, Associate Critic for John Garcia's THE COLUMN
Tuna Christmas at ONSTAGE in Bedford is a side-splitting night of unconventional holiday entertainment you don't want to miss.

A Tuna Christmas is the second in a series of comedic plays, preceded by Greater Tuna and followed by Red, White and Tuna and Tuna Does Vegas, each set the fictional town of Tuna Tx, the "third-smallest" town in the state. The trilogy was written by Jaston Williams, Joe Sears, and Ed Howard. The plays are at once an affectionate comment on small-town, Southern life and attitudes but also a withering satire of same. The plays are notable in that two men play the entire cast of over twenty eccentric characters of both genders and various ages. The first play, Greater Tuna, debuted in 1981 in Austin, Texas. A Tuna Christmas debuted in 1989.

The plot centers on the town's annual Christmas Yard Display Contest, won 14 times in a row by Vera Carp. A mysterious "Christmas Phantom," known for vandalizing the yard displays, threatens to throw the contest into turmoil. Among the subplots are Stanley Bumiller's attempts to end his probation and leave Tuna, Bertha Bumiller's tries to hold her family together at Christmastime, and Joe Bob Lipsey's struggle to successfully mount his production of A Christmas Carol, despite numerous vexations and obstacles. Although, the plot takes a back seat to the hilarious experience of the play itself!

ONSTAGE is a lovely intimate proscenium venue laid out very comfortably. Set Designer Dane Stewart Tuttle welcomes you into the theater with a simple fixed set, sparsely adorned with only a table and two chairs. The sparseness of the set changes throughout the show with items like counters, ramps and MANY different Christmas trees representing different locations. It works perfectly for this show as the actors are the focus. There are some great surprises built into the set structure that are a very nice touch and show wonderful design skill.

The sound design team of Alex Krus and Chris Robinson do a wonderful job of accenting every scene and enhancing the show throughout the evening. There are wonderful elements like hilarious Christmas themed pre-show music, ambient night-time sounds, car chases and a hilarious "bird scene" that makes the audience laugh out loud. This design team does a simply splendid job in this production.

Lyle Huchton's costumes are perfect in every way! This show is all about costumes changes to assist the multiple characters these two men create. Each character's outfit is well defined, works well, and in some scenes requires VERY quick changes. Some are elaborate, some are simple, but in each and every case is excellently executed.

Any production of the "Tuna" series requires VERY, VERY strong, talented actors in the two roles. In this production, that strong talent simply explodes from the stage each and every time Mr. Roach and Mr. Robinson are on it!

In his primary role of "Thurston Wheelis", Mr Roach is simply a pleasure to watch and entertains you with every word he (she) utters!

He goes on to create TEN more wonderfully executed roles from older women to a simple-minded sheriff, each with their own character voice, movement and style. The "Bertha Bumiller" character he portrays is my favorite. With dead-pan line deliveries that make the audience laugh hysterically, to a bit of a strange vulnerability toward the end of the show, it is theatre magic to behold and done by a truly professional actor!

Chris Robinson's primary character of "Arles Struvie" is played flawlessly. As with Mr. Roach, he has to create TEN more characters and all are done exquisitely with comedic perfection and deliveries! There is a scene done in front of the act curtain that shows the sublime talent of Mr. Robinson with the character "Helen Bedd" (yes, read the name again, it's exactly what you think). I was laughing so hard my face hurt and from the hysterical laughter coming from everyone else in the theater, you truly know he is one hell of a performer!

A Tuna Christmas isn't your everyday holiday show, and be very glad it isn't! You will have a wonderful evening of comedy, with outstanding acting and a well-produced show, when going to see this raucous play. Congratulations to the amazing actors that grace the stage and ONSTAGE in Bedford on a job well done!
---
A TUNA CHRISTMAS
ONSTAGE In Bedford
The Trinity Arts Theatre at the Bedford Boys Ranch
2819 Forest Ridge Drive, Bedford, Texas 76021

Performances run through December 23rd

Friday/Saturday at 8:00 pm and Sundays at 3:00 pm
Added performance Thursday December 20th at 8:00 pm

Tickets are $15.00 for adults, $12.00 for seniors, students and Bedford residents and $10 for groups of 10+.

For information visit: www.onstageinbedford.com or call the box office at (817) 354-6444.