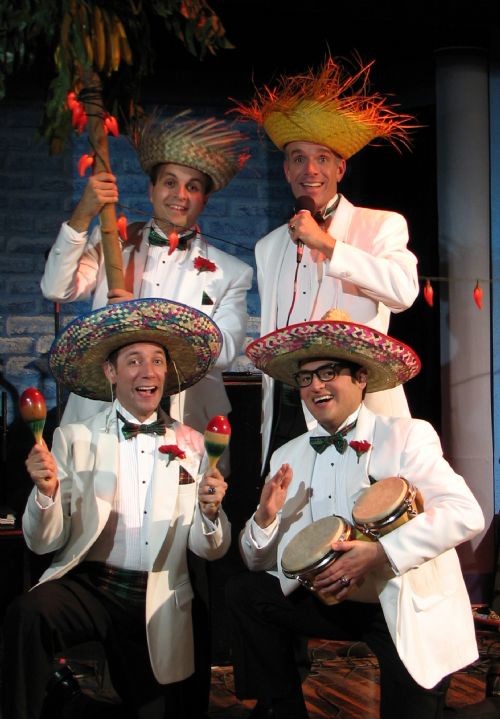 FOREVER PLAID
Written, Originally Directed and Choreographed by Stuart Ross
Musical Continuity Supervision and Arrangements by James Raitt
Originally Produced by Gene Wolsk
Music & Lyrics by Various Artists
Theatre FMPAT
Executive Producer- Scott Kirkham
Associate Producers- Stephanie Riggs & Neale Whitmore

Directed by Mark Mullino
Musical Direction by Vonda K. Bowling
Scenic Design by Scott Kirkham
Lighting Design by Julie Simmons
Costume Design by Neely Dickson
Production Stage Managed by Scott Kirkham
Original Choreography restaged by Mark Mullino

ORCHESTRA

Vonda K. Bowling - Piano
Peggy Honea - Bass


CAST

Eric Domuret - Jinx
K. Doug Miller - Sparky
Mark Mullino - Frankie
Jacob Villarreal - Smudge
---
Reviewed Performance: 12/7/2011
Reviewed by Richard Blake, Associate Critic for John Garcia's THE COLUMN
Exciting, superb, entertaining and vocally magnificent! The Flower Mound Performing Arts Theatre production of FOREVER PLAID is excellence in a "Black" box"!!

Forever Plaid is a musical comedy. The show is an affectionate revue of the close-harmony "guy groups" (e.g. The Four Aces, The Four Freshmen) that reached the height of their popularity during the 1950's. Personifying the clean-cut genre are the Plaids, a quartet of high school chums whose earnest dreams of recording an album ended as they did: killed (literally and indeed, symbolically) in a collision with a bus filled with Catholic schoolgirls on their way to see the Beatles' American debut on the Ed Sullivan Show.

The play begins with the Plaids returning from the afterlife for one final chance at musical glory. The original cast included Jason Graae (Sparky), Stan Chandler (Jinx), David Engel (Smudge), and Guy Stroman (Frankie). The musical opened May 20, 1990 at Steve McGraw's in New York City after engagements at The West Bank Cafe, The American Stage Company and The Wisdom Bridge Theatre

It's a good thing the "Plaids" have returned for their final chance at glory at FMPAT because you'll get the chance to see them locally and be thoroughly entertained by this production. FMPAT decided to end their current season by showcasing their new home in the Black Box Theatre of the MCL Grand Theatre Performing Arts Center with FOREVER PLAID and it was the perfect decision. It is a beautifully laid out space and the production definitely showed the professionalism FMPAT is trying to put forward.

Direction by Mark Mullino is spot on, concise and very well done. He has the very talented cast (of which he is a member) using the stage well, and interacting with the audience throughout the show wonderfully. At any moment of the production you are completely engaged by what the cast is doing in right front of you, with you, and even what is behind you.

Mr. Mullino chooses very wisely with a simple "backup band", and puts them right on stage with characterizations, comedic moments and heartfelt reactions. It is a pleasure to see such good direction, and obviously great attention is given to even the smallest details. Mr. Mullino also restages the original choreography. It is right on the mark and obviously had a lot of time spent on it. These four men are unstoppable in their movements even when the choreography is supposed to be "wrong"; you feel as if it is a natural mistake and not a staged one.

Ms. Bowling's Musical direction is superb! It is obvious she has seasoned performers but the harmonies and musical numbers are anything but easy to teach and get right. She accomplishes both, and under her direction the music comes alive in perfect harmony throughout the performance. Ms. Bowling is also the pianist for "The Plaids", creating a wonderful "union accompanist" character for the group. She starts the show with an entrance that you will never forget and continues with a perfect balance that doesn't distract from the ensemble but leaves you loving her. Her talent is also very evident while playing very difficult numbers and seamlessly following along with the action on stage.

Also deserving of high praise is Peggy Honea playing the Bass. Ms. Honea also does an amazing job with the difficult music and "performs" her character well on stage. She adds a wonderful element to the production that I have never seen before and it definitely works.

Now, the ensemble cast, two words? absolutely amazing! These four men produce vocals that are beautiful, wonderfully pitched, and superbly tight on the difficult harmonies. I have seen FOREVER PLAID many times over the years and these four men are the best I have ever watched perform this show, regionally and professionally. There is not enough praise I can give them on their vocals - bravo to them all!!

Eric Domuret as "Jinx" is wonderful in his characterization of the outwardly frightened of the four buddies when performing again as "The Plaids". He makes you laugh with every movement, grimace and fear then astounds you when he gets his "moxie" back with his big lead number. His talent as an actor definitely shows throughout the performance.

K. Doug Miller is explosive in his portrayal of "Sparky". His energy, comedic timing and exuberant smile make you fall in love with his character and believe in it. Mr. Miller is all over the stage, and with every turn keeps you thoroughly entertained.

Mark Mullino, performing as "Frankie", keeps this group of guys in check but with humor, wit, and when called for, loving passion. He commands the stage when his character should and steps back to let the others shine for their moments. He's another one with a contagious smile that takes you in and holds you there. Also serving as the show's Director, it is very impressive he gave as much to his role as he did to the production as a whole. His talents are truly commendable.

Jacob Villarreal as "Smudge" offers great timing and continuity to the show. He is always there to perform the "proper" way but when he lets loose, it's a show stopping moment you will remember. I won't give it away but I was laughing and applauding with the rest of the audience, and in my case, until it literally hurt my sides.

The scenic design by Scott Kirkham, lighting design by Julie Simmons and costume design by Neely Dickson are all perfect and well done for this production. The set being very simple lets the four wonderful performers be the focus. Lighting is uniquely designed for the many different musical styles and emotions being conveyed. The costumes are well thought out, dazzling when needed, and perfectly "fit for The Plaids". This production team is well "tuned" for this presentation and it definitely shows.

Flower Mound Performing Arts Theatre production of FOREVER PLAID is a top notch entertaining evening that you, your family and friends will love. This is one show you don't want to miss!
---
FOREVER PLAID
Flower Mound Performing Arts Theatre (FMPAT)
Performances held at the MCL Grand Theatre
100 N. Charles Street, Lewisville, Texas 75057.
Runs through December 23rd, 2011

Thursday-Saturday at 7:30pm, with Sunday matinees at 2:00pm.

All tickets are $25 for adults, with discounts for seniors, students, children and Flower Mound residents. Tickets are available online at www.fmpat.org or by calling 972-724-2147.