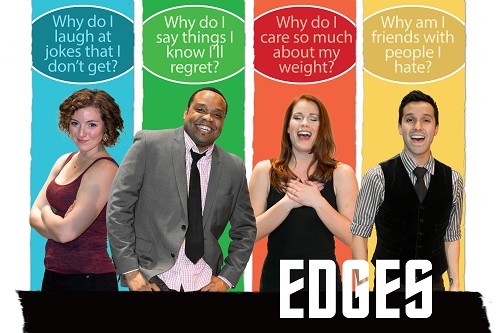 EDGES
by Benj Pasek and Justin Paul
PFAMILY ARTS
Directed by Mark Mullino
Set Lighting Design – William R. Park




CAST:
Angel Velasco- Man 1
Calvin Scott Roberts- Man 2
Nikki McDonald- Woman 1
Brett Warner Hurt- Woman 2
---
Reviewed Performance: 12/14/2013
Reviewed by Jake McCready, Associate Critic for John Garcia's THE COLUMN
In 2005, Benj Pasek and Justin Paul, commonly known as Pasek and Paul, decided they were going to write their own musical … They were each nineteen. Listening to them describe the struggles and outcome of their first project together over drinks and conversation at the AACT National Theater Festival in Carmel, Indiana this past summer is an experience I will not soon forget. One of the most inspirational things they said was, "We invited everyone we knew, we had a theater booked and a run schedule … we just didn't have a show." The idea that they were way in over their heads is not in any way a reflection of their show. Over the next few weeks they worked tirelessly to give us Edges. Reflecting on how successful this play has become, with over 100 performances across North America, Asia, Australia, Europe and Africa, you wouldn't has guessed they had no idea what they were doing when they started. In 2006, Pasek and Paul became the youngest recipients of the Jonathon Larson Award, given to encourage young composers, lyricists, and book writers at the beginning of their careers. What strikes me most about Edges is the depth of the show written by students who were younger than I am now. Edges is a contemporary song cycle that touches on subjects of transition into adulthood, the search for love, growth and self-discovery.

PFAMILY ARTS presents Edges in the Wingspan Advisors Theatre with a warm welcoming feeling. Some lucky audience members sit in elegant, comfortable chairs at the thrust of the stage. Smooth jazz plays throughout the theatre and sets a calming mood as audience members converse in small talk.

The show itself is an absolute treat. William R. Park's lighting and set design are the perfect combination for this concert which is not specific in location or time. His design is simple yet effective and flows evenly between light cues. The use of levels and wood panels provide a skeleton through which the band can be seen.

Director Mark Mullino does an amazing job of casting and staging this non-specific song cycle. He uses the space well with creative and motivated blocking that helps to move the story of each song along. Mullino has selected the perfect cast with the ability to astonish audience members with their raw, natural talent. Mullino himself made up half of the two-man band effortlessly plucking away at the piano upstage of the action. His investment as not only director, but musical director is greatly beneficial to round out his entire image or idea of Edges.

The actors wore common street clothes with a little addition here and there to help differentiate between characters. No costume designer was listed so one can assume that they costumed themselves. It was nice to get a sense of these characters simply by the clothes they wore. For example, a letter jacket worn to represent a high school teenager, a comfortable button down to represent the care-free lifestyle of a young man.

The cast works beautifully as an ensemble; each one providing a different array of skills that together mesh like peanut butter and jelly. Specifically, Angel Velasco and Calvin Scott Roberts are a dynamic duo performing "Pretty Sweet Day" with impeccable comedic timing. Brett Warner Hurt pulls at heart strings and brings audience members close to tears in "Perfect". Nikki McDonald, however, stands out as an all-around super star. She has the ability to belt her face off which in turn will melt your face off. The company works together and is truly outstanding as a unit in "Become", "Coasting", "Be My Friend" and "Like Breathing".

Do yourself a favor and go see Edges. It will be a refreshing concert of nothing but talent and a good time. If you've ever found yourself questioning life, looking for love or just feeling heartache, you will relate to this emotionally-filled musical. While you're there be sure to check out the artwork in the lobby area of the theatre by Mark Mullino himself. Each one is based on a popular musical or pop song and has musical notes and lyrics in the background of the portrait. They are beautiful and if I had the money to divvy out, I would own them all.
---
EDGES
PFAMILY ARTS
LakeSide Market, 4017 Preston Road #544 , Plano, TX, 75093

Runs through December 21st

Thursday at 7:30 pm, Friday and Saturday at 8:00 pm and Saturday at 2:30 pm

Tickets are $35.00 and $25.00 for students/seniors.

For information, go to http://www.pfamilyarts.org or call the box office at 972-378-1234