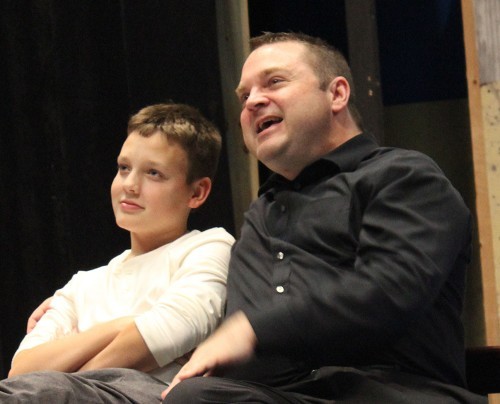 BLITZEN!
by Julian Wiles
Theatre Coppell
Director – Wheelice Wilson, Jr.
Assistant Director – David Willie
Stage Manager – Janis Arthur
Assistant Stage Manager – Ann White
Set Designer – Robert Batson
Set Artist – Kerri Simpson
Assistant Set Artist – Connie Savard
Lighting Designer – Bryant Yeager


CAST:

Dad – Russell Vaden
Stephen – Tanner Jackson
Andy – Reed Emmons
Mom – Kari Echols
Alex – Patrick Osigian
Blitzen – Mary Hyndman
---
Reviewed Performance: 12/15/2013
Reviewed by Danny Macchietto, Associate Critic for John Garcia's THE COLUMN
Loosely based on playwright Julian Wile's own experiences with her daughter after destructive Hurricane Hugo hit Charleston, South Carolina in 1989, Blitzen! spends most of its sixty-five minute run time focusing on the eldest child of the family, Stephen. Unfortunately, Blitzen! makes it difficult for me to sympathize with the young, suffering protagonist of this family-friendly holiday drama about the aftermath of a hurricane and the effects it had on a family in the months leading up to Christmas.

Stephen is upset that his bedroom, whom he shares with his younger brother, Andy, is the last room his parents have chosen to repair. This displeases Stephen despite his parent's sound reasoning that they work from the bottom up in aid of the more sensitive and at-risk parts of the home. Still, Stephen is concerned that his room won't be finished in time for the holiday. No spoiler alerts here as it doesn't take a genius to know that Stephen will rejoice with his family as his room is finished just in time for Christmas, complete with a special message about how it is better to give than to receive.

Stephen is a brat. The audience is treated to his selfish narration of events throughout, and only occasionally are we allowed to empathize with him as he suffers nightmares of the haunting hurricane as well as a revealing monologue to his father about what truly frightened him about that night. It is the one scene bythe playwright suggesting any awareness of the true life American horrors that thousands of families endured duringthis catastrophic event.

If Stephen had watched a news channel or if his parents considered to tell him he might have learned that 27 people died in his hometown and close to 100,000 families were left homeless (according to Wikipedia). I wanted to scream at the stage and say "Buck-up kiddo! Your parents are alive and you have a roof over your head!" Julian Wiles is not interested in the slightest that her characters are in the midst of thisdire social and economic climate; she would rather them inhabit a Leave it To Beaver, "Aw-shucks" sensibility, all of them naïve to the world outside of their family bubble.

Despite the narrative short-comings, under the direction of Wheelice Wilson, Jr., the performances are perfectly fine. They allow a deeply-flawed script to be watchable. The play rests mostly on young Tanner Jackson's shoulders, playing Stephen, and he does a credible job, despite the creative limitations of the story.

Reed Emmons plays the precocious younger brother Andy. Emmons is cute and knows his way around a laugh line. His spot-on delivery of "Are we going to win Yard of the Year?" accentuated one of the evening'sfew bright spots.

Russell Vaden as Dad gets the most mileage tryingto add dramatic weight and levity to the stretched too thin concept. Vaden creates the most interesting character to watch inthis ensemble; at one point I was wishing the playwright had made the Dad the central figure of this holiday drama.

Set Designer Robert Batson and SetArtists Kerri Simpson and Connie Savard did an exceptional job creating the children's shambled bedroom. As an added challenge, the room had to slowly but surely, scene-by-scene, morph into a fully repaired, finished product.

A Christmas show that follows a family's post-recovery from a vicious hurricane is a prescient topic today, but in ourpost Hurricane Katrina world, Blitzen!'s message is simply out of touch.
---
BLITZEN!

Theatre Coppell
157 S. Moore
Coppell, TX 75019

Runs through December 22nd

Friday and Saturday, December 20th, 21stat 8:00 pm, and Sunday, December 22nd at 2:30 pm

Tickets are $18.00 and $15.00 for seniors and students.

Tickets can be purchased online at www.theatrecoppell.tix.com or by phone at 972-745-7719