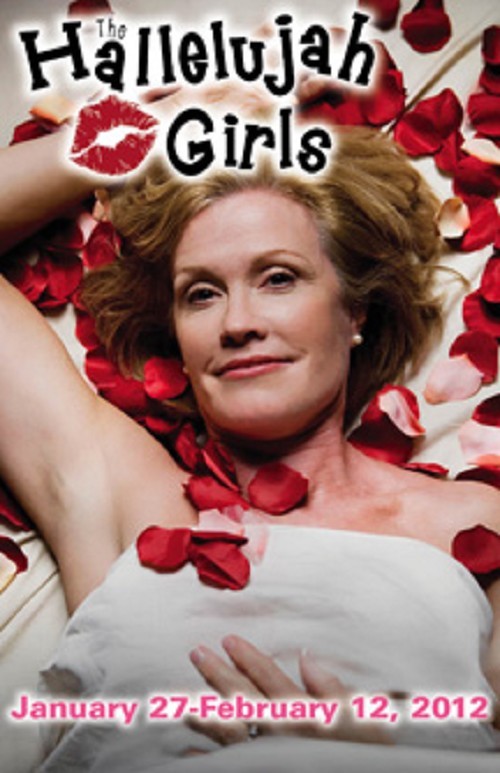 HALLELUJAH GIRLS
by Nicholas Hope, Jessie Jones and Jamie Wooten
Runway Theatre
Directed by Evelyn Davis
Assistant Director/Stage Manager - Laurie Grissom
Set Design - Noel Chesmar
Light Design - Paul Pennington
Costumers - Patsy Daussat and Amber Sebastian
Sound Design - Matthew Crawley



CAST

Crystal Hart - Patsy Daussat
Porter Padget - Rick Daussat
Carlene Travis - Judy Blalock
Bunny Sutherland - Julie Aylor
Mavis Flowers - Lynn Chapman
Bobby Dwayne Dillahunt - John Grissom
Sugar Lee Thompkins - Rose Anne Holman
Nita Mooney - Nancy Franks
---
Reviewed Performance: 1/27/2012
Reviewed by Charlie Bowles, Associate Critic for John Garcia's THE COLUMN
If you found yourself driving through the back roads of rural Georgia you might happen onto a small town like Eden Falls. Driving down Main Street you might spot an old church but would be surprised to see a sign, Spa-Dee-Da, over the door. You'd have to stop to check this curiosity and might be more surprised to discover an unlikely place where cut, curl, manicure, massage and gossip were the order of the day and where the place was filled with ladies of the town every Friday night. Or you might drive on over to Grapevine's Runway Theatre to see Hallelujah Girls.

This story, by the popular writing team of Nicholas Hope, Jessie Jones and Jamie Wooten, presents Sugar Lee, Carlene, Mavis, Nita and Crystal, a bevy of ladies filling in their years with meaningful pursuits, and Bunny, their nemesis, who tries to thwart their every move.

If this sounds familiar, it's because it's in the genre of Steel Magnolias, Golden Girls and The Dixie Swim Club, also by members of this writing team.

Jones Hope Wooten have churned out a stream of similar plays with "more than 1,600 productions and 12,000 performances ... and have entertained more than 1,000,000 theatergoers" [from their website]. There's a reason for their popularity.

Their homespun humor is recognizable and funny in a comfortable, down-home way. Hallelujah Girls is slated for eight different productions in Texas this year, not counting their other plays. It's just plain good entertainment and Runway's version was no exception.

This was a comedy with a moral. These actors fit their roles and played them with the kind of homey comfort you'd find in a small town. Even Bunny Sutherland, played to the hilt by Julie Aylor, the hateful saccharin-sweet anti-hero, is an over-the-top, typical small-town "Georgia peach," and exactly what you'd imagine the town's most undeserving maven might be. She is going up against a formidable group. Carlene Travis (Judy Blalock), Nita Mooney (Nancy Franks), Mavis Flowers (Lynn Chapman) and Crystal Hart (Patsy Daussat) form the 50-something posse for the dreamer of this group, Sugar Lee Thompkins, played wonderfully by Rose Anne Holman.

It's Sugar Lee's dream that turns the church into a spa and puts the women of the town on the path to self-fulfillment. Of course, the plan is muddled by her ex-boyfriend from high-school, Bobby Dwane Dillahunt, played with a countrified sexy pizzazz by John Grissom, who shows up to help build the spa. Along the way, Carlene, the "Black Widow" of the group, tries to restart her love life with Porter Padget, played by Rick Daussat, with a hint of Elvis and a surprise twist. Together these characters fight tooth and nail against Bunny to hold on to the church and their dreams.

For a play with only eight characters the old theater maxim is true. "Casting a show is 70% of the success." It was especially true at Runway Theatre. Director Evelyn Davis did a masterful job of assembling a collection of actors who could play these outrageous characters perfectly. She cast five Runway Hall of Famers, two experienced Runway actors and one new face, Nancy Franks, and this likely made her task both enjoyable and easy. This accomplished group of actors formed a tight ensemble that looked like they were having a blast with the show. That's crucial for enjoyable comedy.

Chapman's Mavis Flowers, the sole 60+ gal, had that small-town gritty honesty and unabashed way of describing her feelings and opinions, to the howls of the audience. I wanted to say, "Well, that's just like Mavis to say something like that." I knew the moment she entered she was going to be a hoot! I didn't always understand her Act I costumes, compared to the other characters, but when she entered in Act II, her costume brought the house down and stopped the show for minutes!

Speaking of costumes, Patsy Daussat and Amber Sebastian designed clothing in everything from down-home, small-town street clothes to outrageous costumes that kept them interesting and funny. Daussat, who also played the ever-surprising Crystal Hart, always wore costumes for her favorite holidays and her entrances brought laughs every time. Even Bobby Duane's tight work shorts were a sight to behold. And those pink spa robes went right along with the spa setting.

Noel Chesmer created a set that looked like it came right out of the script, and that's good because it perfectly matched the settings during a year of seasonal changes, complete with a derelict church turning into a kind of 1960's small town trashy hair salon, at least until you saw the piano in the pulpit.

The set was colorful and ever-changing in an unobtrusive way. Combined with supportive lighting by Paul Pennington and southern-style background music by Matthew Crawley, this set subtly carried the audience to Eden Falls and made the story believable.

Scene changes were a bit clunky lasting several minutes in visible light. It could have been a flaw, but watching the stage change almost became part of the show. Crawley filled the time with music my wife described as, "It's not the kind of music I'd listen to, but I found myself toe-tapping to it anyway." I found it a little distracting, but this audience accepted it.

The audience was mostly full of older patrons and they really appreciated this play. A few younger folks didn't seem to understand the joke lines as much. I think you might have had to live some heartbreak to get this kind of humor. But humorous it was and if you want to enjoy an evening of all-out laughter and light entertainment, drive on over to Runway Theatre and see Hallelujah Girls.
---
HALLELUJAH GIRLS
Runway Theatre, 215 North Dooley Street,Grapevine, TX 76051
Runs through February 12th

Fridays and Saturdays at 8:00 pm, and Sundays at 3:00 pm

Tickets are $15 general, and $12 for seniors and students.
There is a fee for online ordering.

For info/tickets, go to www.runwaytheatre.com or call 817.488.4842.