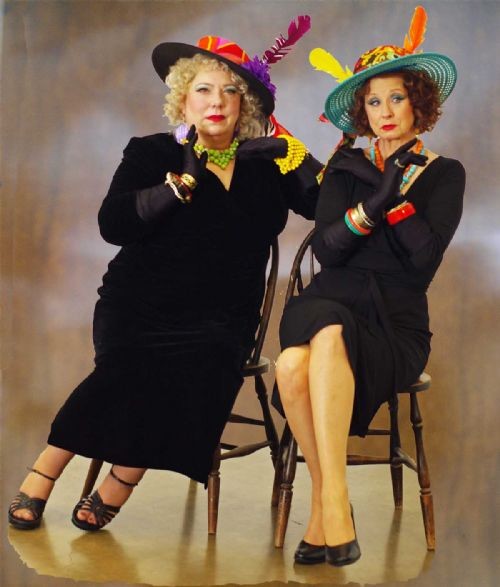 A PERFECT ANALYSIS GIVEN BY A PARROT
by Tennessee Williams
WingSpan Theatre
Directed by Susan Sargeant
Scenic Design - Rodney Dobbs
Costume Design - Barbara C. Cox
Sound Design - Lowell Sargeant
Stage Manager - Caitlin Johnston

CAST
Nancy Sherrard - Bessis
Cindee Mayfield Dobbs - Flora
Ben Bryant - Waiter
Cara Reid and Ben Bryant - Sons of Mars
---
Reviewed Performance: 7/23/2011
Reviewed by Mary L. Clark, Associate Critic for John Garcia's THE COLUMN
Tennessee Williams, ever the sly wit and Southern raconteur, would be amused with WingSpan Theatre Company's interpretation of his A Perfect Analysis Given By a Parrot. One of their two one-acts showcased at the FIT (Festival of Independent Theatres) at the Bath House Cultural Center, this light as a feather play takes a decided left turn from Williams' more psychological drama offerings and into camp and comedy.

Written in 1958 this is a somewhat silly story of two long-time friends Bessie and Flora? "mature" former Southern belles and members of the Women's Auxiliary of the Jackson Haggerty Post of the Sons of Mars from Memphis ? are now in St. Louis for the Sons of Mars annual convention. Both women love a bit of fun and hanging out with "the boys" of the convention. Getting separated from them, the two wind up in a dingy bar with only an old jukebox for entertainment. Ordering the house specialty large goblets of beer, they then proceed to drink, knit pick and find fault and the flaws in each other, physically and emotionally, as two people who know each other too well sometimes do.

The play's title has double meaning in that Flora, earlier in the day, has a street vendor's parrot tell her "fortune" from a randomly picked note in a box. This leads to Bessie "analyzing" Flora and her past lifestyle and physical appearance. Flora counteracts with an analysis of her own towards Bessie, ending with hurt feelings and self doubt on both sides. The play concludes as two Sons of Mars men enter the bar, find the women and the party continues on out the door.

Upon the entrance of the two women, and before they spoke, I wondered if they had come from a funeral as both were dressed in black. It was their flamboyantly colored and feathered hats and loud clanking jewelry though that told me, "no, this is more like members of the Red Hat society." And like two parrots, these two could certainly squawk and get their feathers all ruffled up.

I think Williams' liked the idea of juxtaposing southern gentile ladies' persona with their caddy back biting realism. Directed by Susan Sergeant, both Nancy Sherrard and Cindee Mayfield Dobbs personified women who knew how to fling the nastiest of mud and then politely turn away to powder their nose. Both actresses perfected the "not so Southern belle" role and A Perfect Analysis Given By a Parrot was probably a walk in the park for them. Bickering back and forth to each other, criticizing each other's life choices, there was not much to this one act other than watching two good actresses play characters they've done many times before.
---
Wingspan Theatre Company's Double Bill
during the FIT (Festival of Independent Theatres)
at the Bath House Cultural Center on White Rock Lake
521 E. Lawther Drive
Dallas, TX 75218

These two plays run with another play on Thursday, July 28th at 8:00 pm; Saturday, July 30th at 5:00 pm; Friday, August 5th at 8:00 pm, and Saturday, August 6th at 2:00 pm.