Behind-the-scenes at Xanadu at Music Hall at Fair Park in Dallas
EDITOR'S PERSONAL NOTE: I would like to state right off the bat this is not to gloat or a "rub in your face" sort of article. I just personally felt that my readers would enjoy seeing through my eyes (as a local actor and theater critic) what's it like to be put into a national tour, even for just one night. I have many subscribers now who are in high school and college that are in theater. Thus I think this article would also be interesting for them to see what goes on behind the scenes of a national tour. So I sincerely hope you, the reader, will not view this article as self-grandstanding or gloating. Thank you.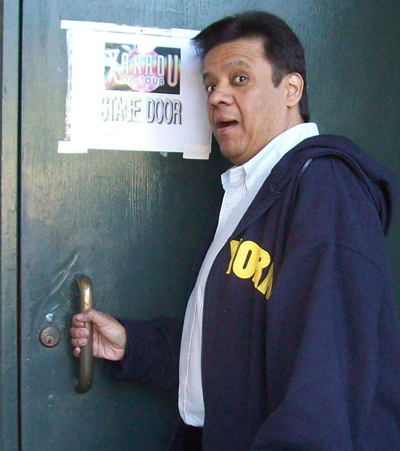 In the early 1990s I worked and performed with Walt Disney World Entertainment in Florida as an actor/singer. There were many times when I would often tour with them. But that was back then.
Approximately two weeks ago I was contacted by Dallas Summer Musicals asking if I would like to do a cameo role in the upcoming national tour of Xanadu. At first I thought it was a joke and stated, "Sure! Should I learn the finale song as well?" The response back was no, but that I would get some dialogue. That's when I realized they were being serious. I was completely shocked, honored, and quite grateful that they asked me to do this.
On Wednesday night I sat in the audience with my theater critic hat on to review the show. The review was published recently, and as you read, I gave it a glowing, marvelous, and well-deserved rave.
Last Thursday night would be my debut in a national tour of a new musical, albeit in a cameo role, but still! I took along my best friend Doug Fowler to serve as the official Column photographer to capture the entire process.
My call was 6:30 p.m. at the Music Hall at Fair Park. I was so nervous, yet filled with sheer excitement. In the car I had popped into my mouth like four pieces of Eclipse spearmint gum. The last thing you want is bad breath as first impressions with the cast and crew.
We walked through the stage door and were met by Allen McMullen, the production stage manager. His warm kindness and generosity immediately put me at ease. I was also introduced to Stage Manager Nathan Frye, who had a delicious wicked sense of humor like myself that we quickly bonded.
First I was taken to Wardrobe supervisor Cheryl Milo for my costume. She had called me the day before to bring something "beach like and colorful" to wear. I rushed to the mall and bought a pair of green shorts and a bright purple shirt, topping it off with boat shoes. She and Wardrobe Assistant Linda Shore both agreed they would work perfectly.
Allen then took me on a tour of backstage and on stage itself. My eyes soaked in everything. I saw on the prop table Ero's bow and arrow, plus his white feathered wings, the Cyclops club, and the best prop of them all -- the centaur's costume! It is a complete back part of a white horse costume made of soft material, dusted in gold glitter. The tail has strings of gold shimmering glitter, too! Allen showed a string that is attached to the legs that allows the actor to move the legs like he's actually walking!
We crossed to stage left and there rests Zeus's throne! Gold and very ornate in detail when you look at it close up. Next to it under a tarp was a massive orb -- could it be? Yep, it was the humongous mirror ball that they use in the number "All Over the World." Well, you know me and my glitter addiction! I shyly asked if I could take a picture of it; Allen laughed and said sure. So I hugged the big mirror ball and grinned like like a Cheshire cat! It was like the mother ship calling me home!
I asked Allen, because of the audience being on stage, have there been any wild or zany experiences that happened. He told us that in one city on opening/press night there was a drunken frat boy who sat there drinking out of a flask he brought on stage! Throughout the first half of the show he kept making loud noises, standing up, and really trying to be more a part of the show than what was permitted. The cast did their best to ignore him as much as possible. Finally Allen said that during a quick blackout the stage manager got on stage, sat behind the boozehound frat boy and literally kept him down in his seat for the remainder of the show!
Then we were brought on stage! I've never stood on the set of a national tour in my life. Now, I have had two other experiences of being brought onto an actual stage/set of a Broadway show. The first was waiting on the actual Italian spa set of Nine at the Eugene O'Neill while waiting to meet the legend herself, Chita Rivera. The second was waiting on the Grey Gardens set at the Walter Kerr for the great lady and star herself, Christine Ebersole. Both times they had personally invited me to meet and chat with them backstage. Talk about dreams come true.
But now here I was standing in the middle of David Gallo's gorgeous Greek coliseum set. Up close you can really see the terrific details on the columns and on the trim of the circular arch. I asked Allen how much of this set resembled the Broadway version. He stated that because the Helen Hayes theater is much smaller the set had to actually be put at an angle and was smaller in size. He also said that the ramps for the entrances and exits for the cast were smaller.
Later Anika Larsen (who portrays "Kira") told me that in New York (she originated the role Euterpe) she and other cast members would bump into the sides of the box seats where the audience sat because of how small they were. Almost like a silver ball banging against those flippers in a pinball machine!
Allen then introduced me to Julie Daniels, the Assistant Stage Manager, a young, beautiful girl with twinkling blue eyes. She would be the one to give me my cues for the evening. Julie's background in theater started out with the La Jolla Playhouse. After my rehearsal, she and I had a terrific discussion about that. We talked about the origins of Jersey Boys (which started at La Jolla). She told me that the original actor who was playing "Frankie Valli" at La Jolla had to be replaced because he was ruining his vocal chords singing all that falsetto. The role was taken over by John Lloyd Young. I asked her if there were really any major changes from the La Jolla version to the final Broadway production. She said no, it pretty much stayed intact.
She also told me that I have to go see Memphis, another new musical that started off at La Jolla. She said this musical is powerful and amazing and that the score is pure genius. The composer happens to be David Bryan, who is a member of a rock-n-roll band called Bon Jovi. Julie told me how much she loved watching the show from the wings every night, but also got to attend several parties with Bryan! Wait?! You partied with Bon Jovi!? Not fair! LOL. She and I quickly became fast pals as we chatted away.
Allen also showed us that the two outer box seats on the set were not in the original production. They were in fact built for the run of the show in Tokyo due to the size of the stage. Thus from that point on they kept them with the tour. He also stated that the Pegasus, the telephone booth, and the bike prop that I would be using all came from the original Broadway production.
Allen then very generously allowed for Doug and I to take a couple of pictures on the set. That's when star Anika Larsen appeared and said, "Do a Greek pose!" I had no idea she had even appeared there already! I blushed (as much as a Latino could). So I did my best pose of Eros on the set.
Now, I was told early that morning via email by Jo Ann Holt (Public Relations Director for DSM) that she had already spoken to Anika about me while she was taping a morning TV show here in Dallas. She told Anika to give me a hard time. But I completely forgot that when I met Anika.
So, I'm introduced to Anika, who is absolutely gorgeous. She already has her makeup on (rhinestones are glued around her eyes!). She looks at me and says, "So ... I heard you were ONCE an actor?" I get completely flustered. "Um ... I actually still am. I think." To which she replies, "Oh. Let's see it then. I want you to do your line with an accent. I did that line actually in the Broadway production and every night I changed my accent. So what accents can you do?"
Quick, Garcia, think, think, think! "I can do British, Italian, Spanish, and a very strange Irish one." This gives Anika the open door, "Great! Do it!" So I do! She laughs and tells Allen, "That's it! Allen that's how he should do it!"
Allen laughs and says, "Oh, what have I created here? No, no, no." I finally remembered what Jo Ann had said and realized what Anika had done! Whew! I told her how much I enjoyed her performance. I said, "I really howled when you did that famous Olivia Newton-John moment of having your hair blowing with the fan." She told that was actually a brand new wig that she had on Wednesday night!
That was when Nathan brought on stage Max Von Essen, dressed in a muscle t-shirt, cut-off sweats, flip flops, and wearing Buddy Holly black glasses. He's much taller than I expected. As I'm introduced, damn it if the giggle did pop out (no come in there). Just for a second, though. I told him that I just thought he was marvelous in the show. To which he asks, "Oh, you saw it last night?"
That's when Allen said, "He actually reviewed it and gave it a really great review. He really got it and nailed it. Really thought-out, insightful review. I was very impressed. You're really a good writer."
My heart stopped. I always forget that the reviews for these tours are sent to the production staffs of these tours. I once blushed and was really floored by his response. I looked at Doug for a second, and he smiled.
Max replies, "Oh cool! Can you forward me the review? I'd really like to read it." Today I noticed he posted it on his Facebook page. I grin from ear to ear.
Anyway, I told him that I thought he was so hysterically funny in the role. He said, "Thank you so much. You know last night's audience was really great. Actually the last two nights it's really been cool how the Dallas audiences catch all the jokes. Some cities they laugh, but there are times when they don't exactly get what we're doing here. But Dallas so far has, which we love!"
Then it's rehearsal time! I am given the bike -- I am to walk with it on stage, ringing the little bell on it. The bike is white with purple design with a glitter butterfly and purple neon flower on the white basket, topped off with a mini-flag behind it. Butch, huh?
I am to come on after "Magic", walking the bike and ringing the bell. Max (as "Sonny") stops me and says, "Hey, can I borrow your bike? I promise to give it back," to which I respond, "Sure, dude. As long as you bring it back." But then my actor side took over, because I said the line, and did a "take" to the audience. This made Allen, Anika, Nathan, Julie, and Max laugh!
Allen says, "That's it! You got it!". Max says to me, "We usually get people who are so dead and just mumble the line. You nailed it!" Nathan shouts out, "You're hired! We're taking you on the road with us!"
All I do was stand there and giggle with embarrassment. We run it a couple of more times, only in one run through Anika makes me do it with the accent. LOL! We take pictures of me with Max and the bike, and one with Anika.
Julie then tells me what will happen at curtain call. The specialty skater (David Tankersley) will grab my hand in the quick blackout and I'm to run on stage so that when the lights come back on, I'm there with the entire cast! Got it!
I am then rushed off to get my body mic on, but along the way we run into Larry Marshall (Danny Maguire). I immediately tell him what an honor it is to meet him and how much I so loved his performance. I told him that I was truly floored by his powerful vocals in the film Jesus Christ Superstar. He was a true class act, and a very charming man. A picture was taken and off we went.
I put on my body mic, do a sound check, and I'm done! Allen allows Doug and I to sit on the set as the cast does "skate call." This is like a "fight/combat" call. The cast all warm up on stage roller skating, going over their choreography, and warm up. We watch Max and Anika try to do a trick being done by Kevin Duda (he's Thalia/Eros in the show). But when Max and Anika try it, they both fall on their rumps! But then Anika and Kevin do this handstand and just stay stationary for what seemed forever.
Allen introduces me to Kevin and I told him how much I laughed with his performance. I commented on the part when he lifts his toga and we hear that funny squeezing noise you hear when you push a clown's nose. He said he likes to change that up sometimes just to keep it fresh. When we pose to take our picture he says, "Ooooo. You smell good!" He really said that! And cue giggle.
I also get a quick chance to meet scene-stealer Natasha Yvette Williams (who portrays "Melpomene"). I gush on how much I enjoyed her performance and her voice. She is simply wonderful and we take a quick pic.
Skate call is over, Doug has to leave, and I'm all alone now. But not for long. I have some terrific chats with Julie and Nathan. In fact Nathan tells me a hysterical story involving meeting Carol Channing! Nathan was on the tour of Some Like It Hot with Tony Curtis. Carol came to see the show and came backstage afterwards. Nathan wanted to take a picture of him with Carol. It took several maneuvers with Tony Curtis, but he finally got the pic with Channing!
I am also presented backstage with a marvelous gift bag from Jo Ann Holt! It is a goodie bag with candy, a Xanadu cast recording, Xanadu tour bag, the book of the making of the musical, and some great buttons that have the hilarious one-liners from the show! WOW! Thank you Jo Ann so, so much!
The ushers have now brought in the audience members who get to sit on stage. That's when I notice Clyde Berry, Jared Brewer, and Carleen Kirksey sitting there! I wave hi to them from off the wings.
At that point Max appears in his tight jean shorts and muscle t-shirt costume. He scopes out the audience because of one of the jokes he does is to an audience member.
He then looks at me and says, "We've met before, haven't we? You look very familiar." I told him we had. I was trying to remember the first time though. I had met him when he did Jesus Christ Superstar and Les Miserables on Broadway, but the first time escaped me. He said, "Through friends in New York maybe? You really do look familiar." We both rack our brains, and I think ask, "Have you ever been to Dallas before?" He said, "Kinda, yeah. I was in Chicago when it played at the Bass Hall several years ago." to which I say, "With Sandy Duncan?", Max responds "Yea! I was 'Mary Sunshine'." BAM! That was it! I had gone backstage and we both had met there! Like a light bulb over our heads it went off at the same time! That was it! We both laughed at finally remembering this.
But now it's show time! My heart is racing faster than Jesse James escaping the paparazzi! I'm nervous, excited, and really gotta pee all of a sudden. The show bursts with color, sound, and light with "I'm Alive."
It is only like 15 minutes into the show, and my scene has arrived. I hold the bike, shaking inside, but being as professional as possible. The adrenaline is rushing all through my body! I see Julie give me the cue! I ring the bell, and rush straight to Max AKA "Sonny". We do the lines (I lowered my voice, the bike may not look butch, but damn it my voice will! LOL), I do my take to the audience, and then I run off stage.
Now, we all know the music hall is so big, so you really cannot hear the audience's responses (laughter) unless there is total silence on stage (I found that out as the evening progressed). But from the emails and friends who came, I was told that I got some applause on my exit. Wait, was that a good thing? LOL.
With that my scene was over. So quick. They take off my body mic, Nathan gives me a hug and tells me great job. I cross backstage to sit on stage right to watch the rest of the show.
Kevin Duda comes up to me and gives me a high five and whispers, "We always get really dead people doing that, but you rocked it! Great job!" I thank him but am hypnotized by all the glitter in his hair and on his face! I later see him do one hell of a fast costume change in the show. He has to rush from his muse costume into the Eros costume then immediately back into the muse costume. I watch as an army of dressers with flashlights rip clothes off him and quickly transform him into the God of love (Eros). A prop assistant holds his bow and arrow, while a wardrobe assistant holds his beautiful white wings, which is the last element attached to him.
I watch in amazement on how Max keeps his energy up throughout the night. Before his first real big entrance, he was inches away from me, on the floor doing push-ups. The image was something I'll never forget. Giggle. Giggle.
He has to change into like four different pairs of roller skates as the evening progresses, and that is not an easy task. He has a dresser waiting right off the wings to quickly change them. He drinks a swig of water and off he goes. During scenes where he has more time off stage (which is rare), he will do sit ups, jump, or stretch, constantly keeping his energy up. When he did "Don't Walk Away," he actually was even better vocally last night than Wednesday (if that was even possible!). He also did some different line readings that had me laughing out loud off stage throughout out the night.
In fact, that happened a lot last night watching it from the wings. I caught new jokes and physical staging that I didn't catch on Wednesday night. So it was like seeing a whole new show!
I watch with pure fascination at how marvelous the crew worked like a well-oiled machine, but with this beautiful and loving family aura around them. Each time Anika would exit, Michael Dondanville II (who is the wig supervisor) would do touch-ups on her golden wig, or would touch up on the other ladies. The crew would stand off stage when the full cast was on and would dance, sway, or sing along! They would also crack jokes or have shop talk.
Larry Marshall was off stage at one point with several of the muses and crew and whispered, "What does the word vegetarian mean? It means lousy hunter!" We all just guffawed!
At one point I'm standing there watching and soaking in all the fun of the show, when out of the blue Annie Golden (Calliope) comes up to me pinches my butt and whispers, "Great job kid!" and off she went on stage.
Then at another point during the show, Natasha Yvette Williams comes up to me and whispers, "I'm shooting a music video here next week and I'd love to use you. Can you give me your contact info after the show?" HUH? Really? Wow. I immediately say "sure!" She then says, "You did a fine job out there," and gives me a big hug. I melt.
Anika skates up to me and gives me a high five with both hands, "You did good out there!" I thank her and told her she's doing yet another great job tonight!
For the remainder of the evening I watch the cast rush in and out, changing costumes at a drop of a hat. A swarm of dressers and prop people are there at a moment's notice to have them ready.
I also get to see the computer machinery that makes the Pegasus fly! I had no idea I was right by it the whole night!
We get to the end and it's time for the curtain call! The cast take their bows, Julie has me standing right by her. Then whoosh! Here comes David, he grabs my hand and I run behind him in the dark. The lights come back on and I take a bow with the entire company.
I can actually hear several friends yelling "YEAH, JOHN!" But then I see Max, Anika, and Kevin turn to me and yell "Yeah, John!" and give me high fives and applause. It was such a surreal moment.
I thought though that maybe I was imagining the yells from the audience. But afterwards backstage several friends who came to see the show and to offer congrats told me that there was some cheering for me at curtain call, and several Column subscribers emailed me telling me the same thing. C. Nicholas Morris and Doug said I looked like a little boy at curtain call because everyone was so tall! LOL.
Backstage I thank Allen so, so, so much for everything. I say goodbye to Julie and Nathan, giving each of them a big hug.
I see Natasha and give her my contact info, she tells me to expect to hear from her next week and she gives me a wonderful hug.
Max shows up and I introduce him to my circle of friends who are there. I wish more stars were like him. He was so kind, generous, funny, inviting, and really took the time to chat with us all, even after working non-stop for over 90 minutes in a hyper disco musical on roller skates!
A friend asked how he changed so fast into those skates in the phone booth. He told us that on Broadway there was a trap door, so while "Sonny" was in the booth, the dresser would pop up from the trap door and put the skates on Sonny. But you can't do that on tour. Max said they tried everything to make that work, even magnets. But the skates would pop off and roll off the stage and into the audience! Finally they went with Velcro.
But then it was time to say goodbye to Max. We took one final picture together. I thanked him again so much for everything and told him I hope our paths crossed again. We gave each other a big, heartfelt hug of new friendship.
And with that, my debut in the national tour of Xanadu was over. I walked out through the stage door into the cool, crisp night. My head writing a million thoughts of all the comments, sights, sounds, and events that created this special experience.
I truly will never, ever forget this magical night of being part of Xanadu!
VERY SPECIAL THANK YOUS: To Stephanie Spalding (DSM's Advertising and promotions manager) and Jo Ann Holt (Public Relations Director for DSM) for inviting me to participate in this fantastic evening. This was a once-in-a-lifetime magical experience that you gave me and I cannot thank you both so much. Also a very special thank to Mr. Michael Jenkins (President and Managing Director) and Dallas Summer Musicals for allowing me as well to be a part of this dazzling experience!