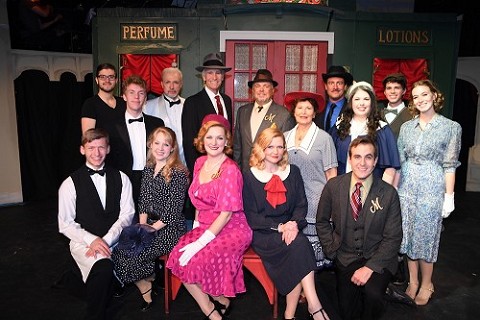 Book by Joe Masteroff Music by Jerry Bock Lyrics by Sheldon Harnick
Presented by Runway Theatre
Runs through 10/21/2018

Reviewed by Carol M. Rice,
Associate Critic for John Garcia's THE COLUMN

She Loves Me is a musical adaptation of the 1937 play Parfumerie by Hungarian playwright Miklós László. The musical premiered on Broadway in 1963, and subsequently had productions in the West End in 1964. It saw award-winning revivals on each side of the Atlantic in the 1990s, and it has been performed by many regional and community theatre productions. She Loves Me was revived most recently on Broadway in 2016, and the production became the first Broadway show ever to be live-streamed.

The plot revolves around Budapest shop employees Georg Nowack and Amalia Balash who, despite being consistently at odds with each other at work, are unaware that each is the other's secret pen-pal, met through a lonely-hearts club. If you think you recognize the plot, you may be familiar with some ...
---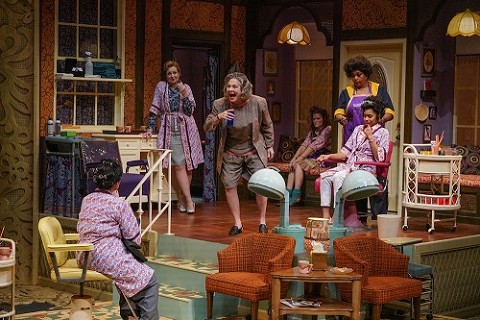 by Robert Harling
Presented by Dallas Theater Center
Runs through 10/21/2018

Reviewed by Chris Jackson,
Associate Critic for John Garcia's THE COLUMN

"Because what is art other than taking the pieces around you and re-forming them into some vision that satisfies you and enriches others?" Robert Harling

A wedding, birth, and death are universal experiences. Put those together with lots of pithy, witty comments and put downs, and pull it all together with an example of the strength of women in crises, and you have a story that people all over the world have loved for years. "Laughter through tears is my favorite emotion," as Truvy says. Robert Harling's play about the death of his sister, is set in Truvy's Beauty Spot located in a town somewhere in Northwest Louisiana. (Actually, Harling lived in Natchitoches, Louisiana, and the popular movie version was filmed there.)

What a pleasure it is ...
---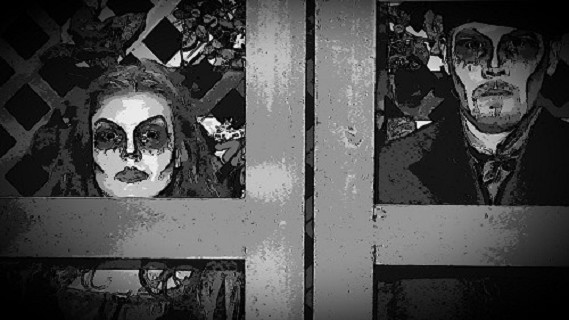 by William Archibald adapted from Henry James' The Turn of the Screw
Presented by Richardson Theatre Centre
Runs through 10/21/2018

Reviewed by Rebecca Roberts,
Associate Critic for John Garcia's THE COLUMN

If you're trying to find a way to start off the Halloween season right, Richardson Theatre Centre's production of The Innocents is a surefire way to get into the perfect spooky mood. This show has no end of unnerving effects, elegant expository dialogue, and mentally manipulative twists; picture a clever combination of The Bad Seed, Mary Poppins, and Jane Eyre. And by the end of the show, the audience can choose to interpret what they've seen in a wide variety of ways – from a simple eerie ghost story to a deeply psychoanalytic account of the supernatural.

Miss Giddens, a young and optimistic governess, arrives at an isolated country home in 1880s England. She is greeted by her seemingly adorable new charge, Flora, but quickly notices things at the house are not ...
---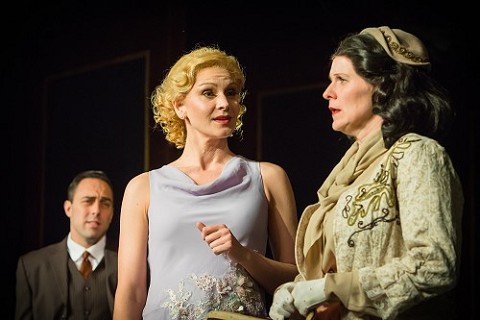 By Steven Peros
Presented by ONSTAGE in Bedford
Runs through 10/23/2018

Reviewed by Kathleen Morgan,
Associate Critic for John Garcia's THE COLUMN

Romance, a mysterious murder, and the roaring 20's – nothing captures this bit of nostalgia like "The Cat's Meow." This show explores what might have happened on yacht of publishing mogul William Randolph Hearst when one guest unexpectedly died while onboard. The other guests never spoke of the events of that weekend, so what truly transpired remains a mystery to this day. ONSTAGE in Bedford did a marvelous job bringing this Tinseltown lore to life with glitz, glamor, and plenty of intrigue!

Opening the show with an intensely captivating narration, Rose Anne Holman played Elinor Glyn, a popular romance novelist of the era. The audience hung on the every word of this woman who must be a master storyteller in her day-to-day life. ...
---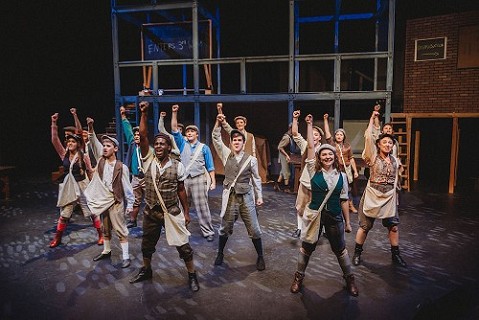 Music by Alan Menken - Lyrics by Jack Feldman - Book by Harvey Fierstein Based on the Disney Film "Newsies" written by Bob Tzudiker and Noni White Originally produced on Broad way by Disney Theatrical Productions
Presented by Family Music Theatre
Runs through 10/27/2018

Reviewed by Chris Hauge,
Associate Critic for John Garcia's THE COLUMN

Extra! Extra! Read all about it! Family Music Theatre in Lancaster gives boffo production of "Newsies-The Broadway Musical". Great singing! Breath-taking choreography! Tremendous energy from all involved! Get yourself a ticket to see it now! Be there or be square! Extra! Extra!

Now that I have deployed the required cliché for a show based on the newspaper business to get your attention, it's time to flesh out the body of this article and explain all the hoopla. First, I was unfamiliar with the company and it has been producing shows for 26 years. That has been the wonderful thing about this position. I am introduced to talent that has been thriving right under my nose. And what a wonderful way to be introduced ...
---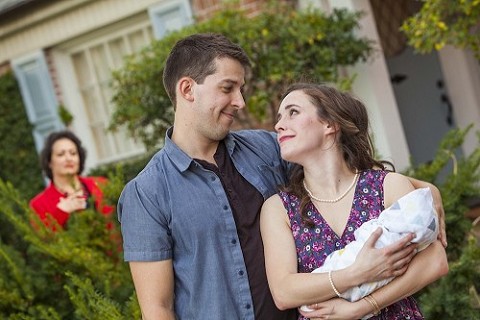 by Philip Ridley
Presented by Kitchen Dog Theater
Runs through 10/28/2018

Reviewed by Stacey Upton,
Associate Critic for John Garcia's THE COLUMN

"Radiant Vermin" is the kickoff show for Kitchen Dog Theatre's 28th season. If this show is indicative of the excellence of their productions, you should run out and grab yourself season tickets. Kitchen Dog provides its audience with an exceptional and memorable night of theatre with "Radiant Vermin," a fast-paced black comedy that engages its audience on multiple levels. There are lots of laughs to enjoy in the course of this 105-minute no intermission play, as well as insights into the perils of getting what we wish for. Author Philip Ridley is an award-winning storyteller, accomplished not only as a playwright, but also as a screenwriter and novelist. He's channeled the Grimm Brothers with a fable of our modern day need to have more with this sparkling play, filled with incredible ...
---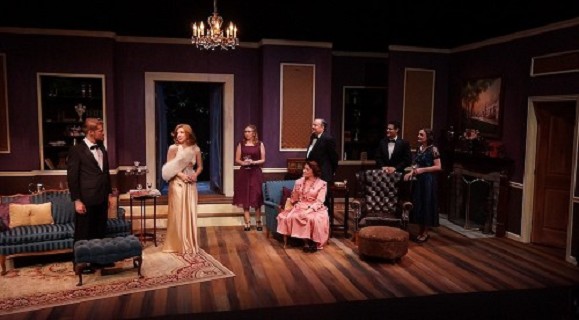 by Agatha Christie
Presented by Stolen Shakespeare Guild
Runs through 10/28/2018

Reviewed by Rebecca Roberts,
Associate Critic for John Garcia's THE COLUMN

As smart, intuitive, and sharp as you might perceive yourself to be…I dare you to correctly guess the outcome of any Agatha Christie mystery. You won't be able to do it! Agatha takes facts that you think you understand and that your eyes tell you are true, and turns them completely on their head. And Stolen Shakespeare Guild's production of "The Hollow" is absolutely no exception. If you desire to be captivated, moved, and astonished, this production is perfect for you!

A weekend country home getaway in 1940's England goes terribly awry when a member of the party is murdered in cold blood – leaving 9 suspects and countless potential motives. While Act 1 is spent setting the scene and introducing the suspects, Act 2 follows the local investigator as he examines ...
---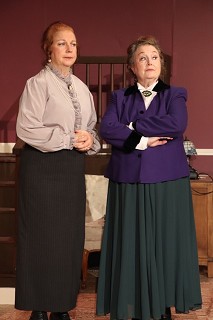 by Joseph Kesselring
Presented by Allen's Community Theatre
Runs through 10/28/2018

Reviewed by Darlene Singleton,
Associate Critic for John Garcia's THE COLUMN

ARSENIC & OLD LACE was written in 1939 by American playwright Joseph Kesselring and revolves around the Brewster family – a composed family of insane (but funny) homicidal maniacs. The hero, Mortimer Brewster (played by Eddy Herring), is a theater critic who must deal with his crazy, family and the local police in Brooklyn, New York, as he debates whether to go through with his recent promise to marry the woman he loves, Elaine Harper (played by Laura Merchant), who lives next door and is the daughter of the local minister. His family includes two spinster aunts (played by Mary Tiner and Johnna Leigh) who have taken to murdering lonely old men by poisoning them with a glass of home-made elderberry wine laced with arsenic, strychnine, and "just a ...
---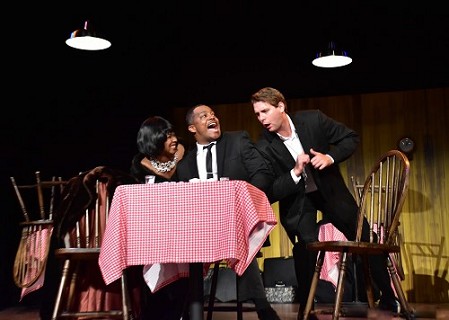 By Amy Evans
Presented by Bishop Arts Theatre Center
Runs through 10/28/2018

Reviewed by Kathleen Morgan,
Associate Critic for John Garcia's THE COLUMN

Four band mates shared a meal at a greasy spoon one night while waiting for a snowstorm to pass. Playwright Amy Evans managed to bring life, drama, and intricate character complexity into so simple a scenario. The Champion explored what can happen when you mix a few interesting personalities with one powerful, enigmatic diva – in the South during the 1960s, no less. Drama is more than inevitable – it's the rule.

The show opened as a young woman rifled through a stack of records, placed one on the turntable, and silently began dancing in a dimly lit diner. This simple yet captivating ritual was carried out by Cedisha Pitts as Theresa, the diner's sole waitress. I've always held that kind and sweet characters can ...
---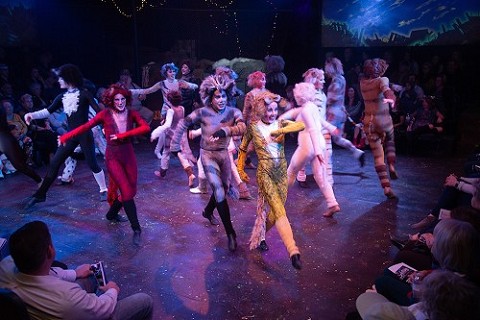 By Andrew Lloyd Webber Based on Old Possum's Book of Practical Cats by TS Elliot
Presented by Artisan Center Theater
Runs through 11/3/2018

Reviewed by Charlie Bowles,
Associate Critic for John Garcia's THE COLUMN

Cats is a musical with a history. It's the 4th longest-running Broadway show and 6th longest in London's West End. It's also a show people either love or hate. It took some courage to mount this production. I happen to love it!

Before being a musical by Andrew Lloyd Webber, Cats was a collection of poems by T.S. Eliot. He wrote Old Possum's Book of Practical Cats in the 1930's for his godchildren. Webber orchestrated those poems into songs and enhanced them with the eye of a storyteller and put it in an innovative production design, led by Trevor Nunn.

The story is simple. It's the Jellicle Ball when the Jellicle cats come out to play. The tribe gathers to celebrate life and entertain Old Deuteronomy, like tribal dances around a campfire. ...
---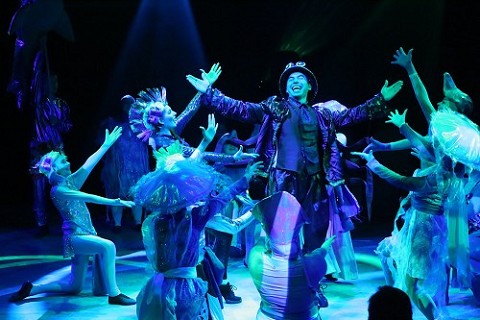 Written by John Musker and Ron Clements Music by Alan Menken Lyrics by Howard Ashman Based on the Hans Christian Andersen story and the Disney film produced by Howard Ashman and John Musker Originally produced by Disney Theatrical Productions
Presented by Plaza Theatre Company
Runs through 11/10/2018

Reviewed by Genevieve Croft ,
Associate Critic for John Garcia's THE COLUMN

One of the greatest modern Disney animated films, and one of my personal favorites, Disney's The Little Mermaid takes the story by Hans Christian Andersen and the 1989 Disney animated film, and adapts it for the stage. Following the trend of other Disney films adapted for the stage- Disney's The Little Mermaid tells the story of Ariel, the youngest daughter of King Triton (The Sea King) and her fascination with humans, and all things that are a part of their world. Ariel soon falls in love with a human, Prince Eric after she saves his life during a sea storm. In order to truly capture Prince Eric's affection, Ariel bargains with her wicked Aunt Ursula (The Sea Witch) and trades her voice for the opportunity to meet Prince Eric on land. ...
---