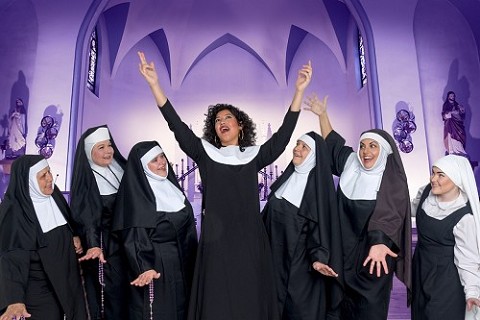 Music by Alan Menken, Lyrics by Glenn Slater Book by Cheri and Bill Steinkellner
Presented by Artisan Center Theater
Runs through 9/23/2017

Reviewed by Richard P. Buswold,
Associate Critic for John Garcia's THE COLUMN

A Broadway Musical based on a movie. It's been done. Oft times very successfully; The Producers, Sunset Boulevard, or The Lion King. Sometimes not so well done; Dirty Rotten Scoundrels or Rocky (the musical). Yeah, that was actually a thing. Sister Act falls somewhere in between. In the lower half.

The Alan Menken score is classic Menken and the lyrics are well put. Menken and Slater slide easily from Motown, to soul and funk, to disco with a nod to Barry White with Eddie's (Sheridan Keyton) emotional "I Could Be That Guy". The production numbers, "Spread the Love Around" and "Raise Your Voice" were just noisy. It did not help the jumbled-up mess of the songs that the canned track for this ...
---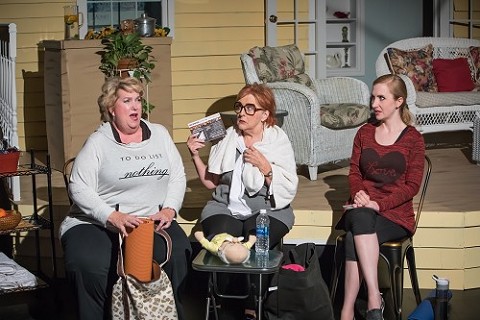 By Jones, Hope, Wooten
Presented by Richardson Theatre Centre
Runs through 9/24/2017

Reviewed by Jeri Tellez,
Associate Critic for John Garcia's THE COLUMN

Upon entering the Richardson Theater Centre, you can tell that Jake Blakeman and Leigh Wyatt Moore put some thought and effort into the set. The roof and siding on the house looked real, and the details were incredible. Whether the beading on the curtains, the wicker furniture, or the fake crawl space caught your eye first, you knew you were in for a treat just by looking at the set. Some items seemed at first to be set dressing, but turned out to be cleverly placed props.

The music and lighting provided by Richard Stephens Sr. brought you back in time to the 1980s, and drew your attention to the most important action. While there were a few scene changes that were awkward either for being too slow or happening behind ...
---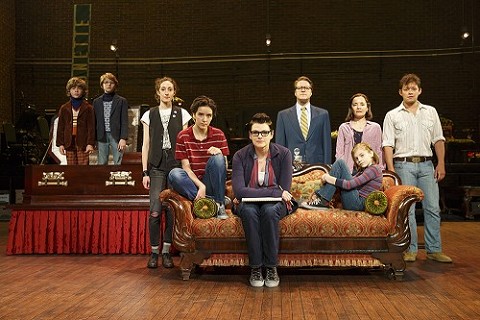 Music by Jeanine Tesori, Book and Lyrics by Lisa Kron Based on FUN HOME by Alison Bechdel
Presented by AT&T Performing Arts Center
Runs through 9/24/2017

Reviewed by Chris Jackson,
Associate Critic for John Garcia's THE COLUMN

"Hey, Daddy, come here, okay? I need you … I wanna play airplane … I wanna put my arms out and fly…" Lyrics by Lisa Kron

The riveting Fun Home is the first Broadway musical to feature a lesbian protagonist. Adapted by Lisa Kron and Jeanine Tesori from Alison Bechdel's 2006 graphic memoir of the same title, the story tells of Ms. Bechdel's own journey toward sexual identity, and her search to understand the mysteries surrounding the life and death of her gay father.

Circle in the Square Theatre became the home in March of 2015 for the Broadway run of Fun Home. The production won five of the twelve Tony Awards for which it was nominated, including Best Musical.

The plot involves successful middle-aged cartoonist Alison Bechdel working ...
---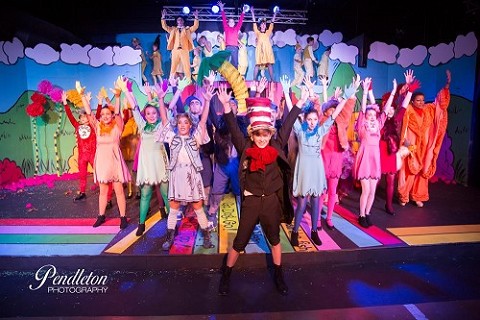 Music by Stephen Flahtery Book by Stephen Flahtery and Lynn Ahrens Lyrics by Lynn Ahrens
Presented by Firehouse Theatre
Runs through 9/24/2017

Reviewed by Carol M. Rice,
Associate Critic for John Garcia's THE COLUMN

I don't think I've ever met someone who doesn't like Dr. Seuss. His first book, And To Think That I Saw It on Mulberry Street, was published in 1937, and I'll admit that it was a favorite of my boys growing up. Seuss published over 60 books during his career, which have spawned numerous adaptations, including 11 television specials, four feature films, four television series, and a very popular musical you may have heard of called Seussical, the Musical, which debuted on Broadway in 2000 - nine years after his death in 1991.

While Seussical is performed frequently throughout the country by everyone from children's pay-to-play "educational" programs, middle schools, and high schools, to community and professional theatres, D/FW is very fortunate that director Derek Whitener has chosen to bring it ...
---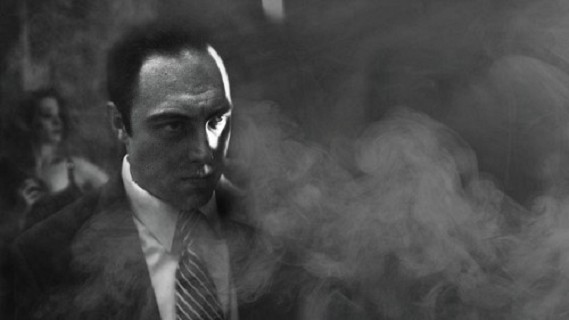 By Vera Caspary & George Sklar
Presented by Tarrant Actors Regional Theatre
Runs through 9/24/2017

Reviewed by Richard P. Buswold,
Associate Critic for John Garcia's THE COLUMN

Wow. That best sums up the performance I saw this past Sunday afternoon in the Sanders Theatre at the Fort Worth Community Arts Center. Wow.

There are shows that are technical wonders and there are some that glorious affairs with actors singing and dancing often at the same time and then there are shows like this. An incredibly written script that relies heavily on the ability of the actors. A show like this, a murder mystery that will surprise you at the end, will only be effective if the actors are fully immersed in the play, the action/reaction and interplay between the characters. And let me tell you buddy, Tarrant Actors Regional Theatre has assembled an A++ ensemble for this production.

I really do not want to give ...
---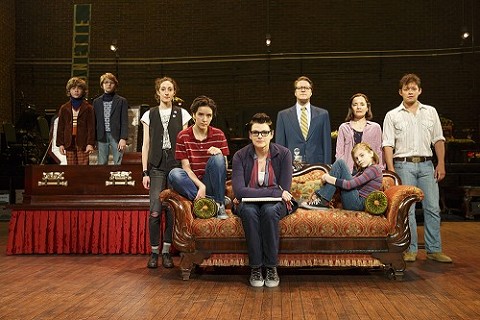 (National Tour) Book by Lisa Kron; Music by Jeanine Tesori; Lyrics by Lisa Kron Based on the graphic novel by Alison Bechdel
Presented by AT&T Performing Arts Center
Runs through 9/24/2017

Reviewed by John Garcia,
Senior Chief Critic/Editor/Founder for John Garcia's THE COLUMN

Caption here. What is the caption here? How do I write or "draw" this to make the reader interested in this review and show?

Okay, here's my caption: A gay, scared Latino boy growing up in a small Texas town. He comes from a strict Catholic family (even though his parents divorced when he was five). His mother remarried a man who was a disgusting alcoholic who abused his mother, brother, and himself. This Latin boy was short and massively overweight, ballooning up to close to 400lbs. But this boy was never in the closet. He knew from a very early age he liked boys. Now, he didn't proclaim this during morning announcements at school. He knew it and just accepted it. He was one of the very ...
---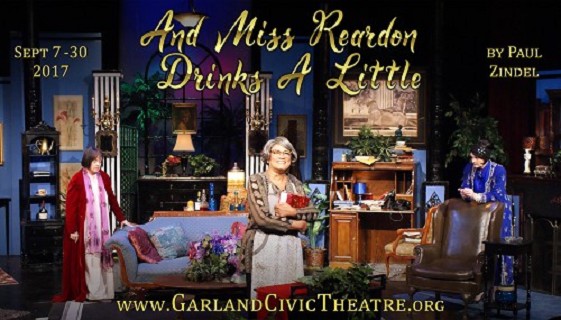 By Paul Zindel
Presented by Garland Civic Theatre
Runs through 9/24/2017

Reviewed by Chris Hauge,
Associate Critic for John Garcia's THE COLUMN

I wanted to review this show because of the title. I didn't know the show at all, had no idea if it was a comedy or drama (both it turns out) and didn't know what I would see. I just found the title intriguing. My wife, Alice, helped me conduct the research and then I knew what awaited me.

It has a good pedigree. The play was written by Paul Zindel, author of the 1971 Pulitzer Prize winning drama "The Effect of Gamma Rays on Man-In-The-Moon Marigolds", as well as "The Secret Affairs of Mildred Wild", "Ladies at the Alamo", and several others. I have seen productions of "…Mildred Wild" and "Ladies at the Alamo". Zindel is an excellent playwright with the ability ...
---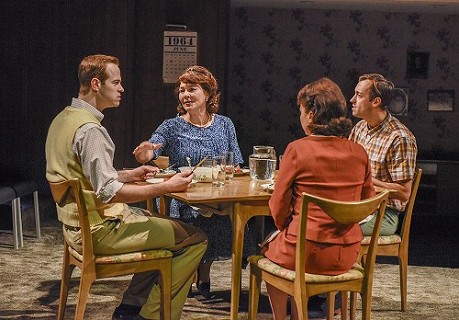 by Boo Killebrew
Presented by Dallas Theater Center
Runs through 10/1/2017

Reviewed by Chris Jackson,
Associate Critic for John Garcia's THE COLUMN

"…personal problems are political problems. There are no personal solutions at this time. There is only collective action for a collective solution." Carol Hanisch, 1969

For this production, the studio theater on the sixth floor of the Wyly Theater has been configured into a three-quarter, or thrust stage. As you enter the space, an old fashioned television set is playing that most American of pastimes, a baseball game. It's in black and white, of course, because as two calendars on the back wall tell us, the date is December, 1960 and, we are in Jackson, Mississippi.

The show begins in an upstairs bedroom where three children are listening to their maid tell a scary story about a haunted house. Listen carefully to the story ...
---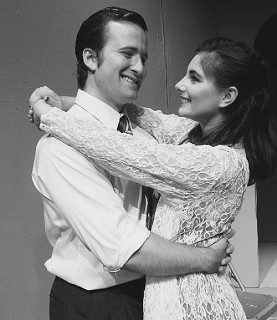 By Joseph Kesserling
Presented by Greater Cleburne Carnegie Players
Runs through 10/1/2017

Reviewed by Richard P. Buswold,
Associate Critic for John Garcia's THE COLUMN

Arsenic and Old Lace is a staple of community theatres and high school drama departments across the land. I think the main reason for this is the fact that it is easy to produce. A static set, a small cast and a broadly enjoyable fun script usually make for a hassle-free show. The caveat to that is since it is such a well-known show, you had better have top notch actors and something interesting or standout-ish to look at on stage. Thankfully, Greater Cleburne Carnegie Players has both.

"Arsenic" opened at the Fulton Theater on Broadway in 1941 to rave reviews and closed three years later at the Hudson Theatre after an astounding 1,444 performances. Plays usually don't last that long on Broadway so that in ...
---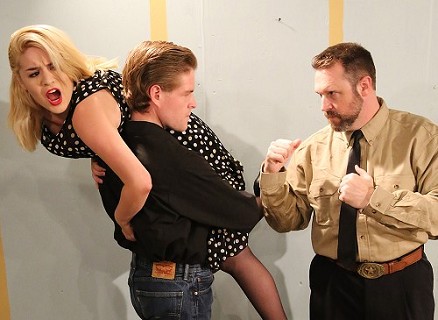 By William Inge
Presented by Rover Dramawerks
Runs through 10/7/2017

Reviewed by Jeri Tellez,
Associate Critic for John Garcia's THE COLUMN

Bus Stop is set in the 1950s, in a small town in Kansas. Being from a small town in Kansas myself, as is the playwright, I imagine my expectations of realism were a bit higher than most. I was not disappointed by the small town attitude (including minding everyone else's business), the tile floors, the inclusion of sunflowers, and the mis-matched chairs.

Matt Lancaster seemed well past the 21 years that Bo Decker stated as his age, but his acting was good. Although his accent seemed a bit too southern, he was perfectly egotistical, and appropriately humbled. His pride and swagger hid the lonely soul of an orphan, and his sense of entitlement was evident.

As Cherie, Trisha Romo did a lovely job. She was endearing, world weary and uneducated, ...
---