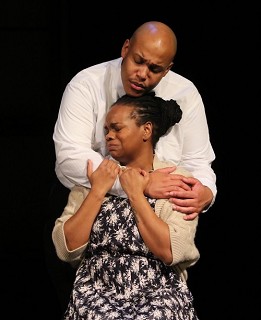 Regional Premiere A musical by Daniel Beaty
Presented by African American Repertory Theater
Runs through 2/29/2020

Reviewed by Travis McCallum,
Associate Critic for John Garcia's THE COLUMN

African American history often speaks about the struggles of blacks in slavery highlighting stories about MLK, Rosa Parks and many other activists who fought for freedom from oppression. What gets left out of the history books is the celebration of black culture and the artistic contributions it made to America. Breath and Imagination seeks to remedy this missing page by telling the story of a prodigy singer from the Negro race.

As Director Regina Washington puts it, "Breath and Imagination explores one man's determination to be an artist despite seemingly insurmountable odds."

The man, and our protagonist for the show, is none other than historical celebrity Roland Hayes played by Malcolm Beaty. He is an American lyric tenor and composer lauded for his linguistic skills demonstrated with songs in French, German and ...
---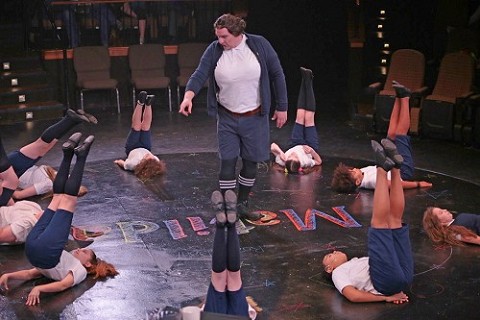 Book by Dennis Kelly Music and Lyrics by Tim Minchin
Presented by Plaza Theatre Company
Runs through 2/29/2020

Reviewed by Rebecca Roberts,
Associate Critic for John Garcia's THE COLUMN

For someone who was so incredibly obsessed with the 2013 Tony Award performance of "Revolting Children," it's honestly remarkable that I went into Plaza Theatre Company's production of MATILDA with such extremely limited familiarity of what I would be seeing. But when I say there's nothing I enjoy seeing more than small children in blazers and knee socks angrily performing highly stylized hip hop choreography to a patter song…I mean it with my whole heart. And after seeing the song live at Plaza, the obsession has been reawakened in my soul and I insist that you let it do the same to you.

Originally a book by Roald Dahl, MATILDA tells the story of a little girl (named Matilda, funnily enough) who won't let horrible people or daunting life circumstances dictate who ...
---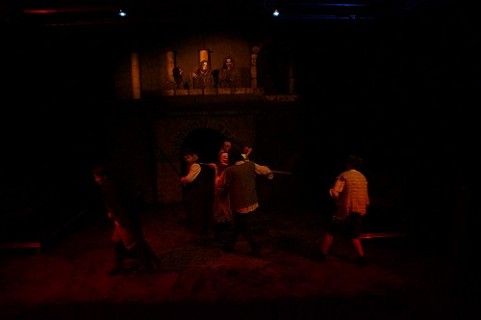 By: William Shakespeare
Presented by Stolen Shakespeare Guild
Runs through 2/29/2020

Reviewed by Genevieve Croft ,
Associate Critic for John Garcia's THE COLUMN

Perhaps one of the greatest Shakespearean tragedies of all time, and a personal favorite of mine-Macbeth tells the story of a brave Scottish general (Macbeth) who receives a prophecy from a trio of witches that one day he will become King of Scotland. Consumed by ambition and motivated to action by his wife, Macbeth murders King Duncan and takes the Scottish throne for himself. Wracked with guilt and paranoia, Macbeth slowly crumbles and succumbs to defeat and death. Certainly one of the heavier tragedies of Shakespeare's folio.

While the content is very heavy, Macbeth has secured its place in pop culture. From Star Trek and The Simpsons to an obscure 1970's Disney film, "Something Wicked This Way Comes," Macbeth has made an appearance in many modern mediums, keeping it's literary importance ...
---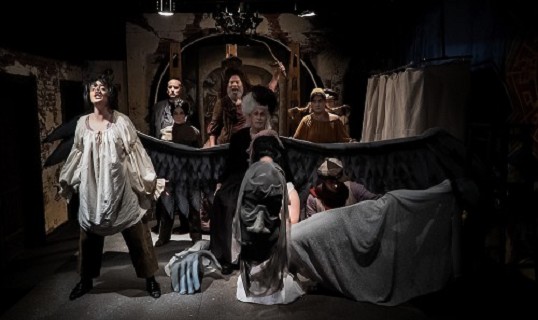 By Matthew Posey
Presented by Ochre House Theater
Runs through 2/29/2020

Reviewed by Ann Saucer,
Associate Critic for John Garcia's THE COLUMN

The transformation of the intimate Ochre House space is an appropriate prelude to the phenomenal, and phenomenally original, action that is to come. Someone said the news is surreal, to which writer/director/eponymous star Matthew Posey retorted, "hold my beer." Chekhov is paraphrased for the proposition that if a pistol is hung on the wall in the first act, then it needs to be fired later. So looms the "Discipline Stick" on the wall of the Hall of Madams in Mrs. Haggardly's Home for Wayward Children. A creepily lit plaque identifies the Stick, which hangs on the wall in a box that resembles the broken remnants of a fire extinguisher cabinet. The Discipline Stick's robust history is referenced throughout the play, and its ultimate employment is part of a ...
---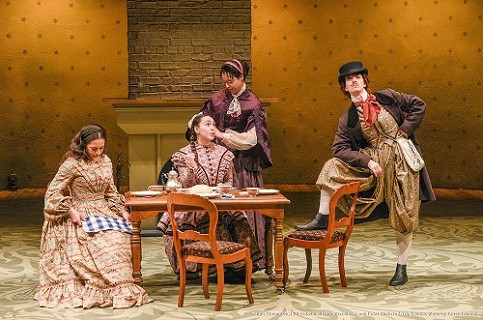 By Kate Hamill Based on the novel by Louisa May Alcott
Presented by Dallas Theater Center
Runs through 3/1/2020

Reviewed by Ann Saucer,
Associate Critic for John Garcia's THE COLUMN

Little Women is adapted from Louisa May Alcott's celebrated coming of age story set in Massachusetts during the American Civil War. Dallas Theater Center's production is simultaneously lively and tender, treating the audience to a close-knit family composed of different personalities.

The play revolves, literally and figuratively, around the hearth and home of the March family. The story describes the struggles of a loving family of six, all children being daughters. War torn America is the backdrop for family separation, sacrifice, injury, and infirmity.

The play covers a lot of ground, tracing the March clan's travails and triumphs throughout several years and even introducing another generation. The direction and staging are complex, and yet seamlessly executed. Theater goers familiar with DTC's classical productions at the Kalita will recognize the clever, visually ...
---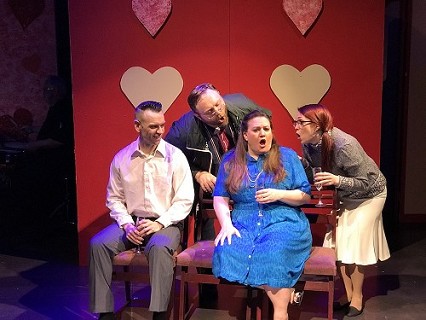 Book and Lyrics by Joe DiPietro Music by Jimmy Roberts
Presented by Theatre Frisco
Runs through 3/1/2020

Reviewed by Chris Hauge,
Associate Critic for John Garcia's THE COLUMN

Last Friday night, just in time for Valentine's Day, an old, familiar beau of the North Texas area came calling at Theatre Frisco. It had a little work done in 2018, but who in show business hasn't these days. For those who had made its acquaintance before, it seems to have lost none of its charm and humor. And for those of us, like myself, who had never been introduced before, it was love and laughter at first sight. "I Love You, You're Perfect, Now Change" came to the black box theatre in the Frisco Discovery Center and won over the audience so easily you would swear that it had never been away at all.

Many of you may remember that the 1995 play "I Love You, You're Perfect, Now Change", with ...
---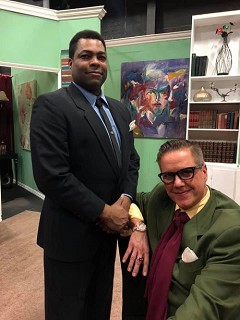 Written by Todd Kreidler
Presented by Mesquite Community Theatre
Runs through 3/1/2020

Reviewed by Brendon Ramsey,
Associate Critic for John Garcia's THE COLUMN

Guess Who's Coming To Dinner (written by Todd Kreidler) is a hard-hitting and deeply emotional stage adaptation of the 1967 screenplay of the same name written by William Rose that shines a light on racial tensions in the 1960's. In short, a white liberal newspaper owner must face his own beliefs when his daughter brings home a black doctor whom she intends to marry. What ensues is often comedic but always packed to the brim with social commentary that is still extremely relevant in today's political climate.

The set (designed by Scott Croy and dressed by Emily Reyna Croy) was elegant and complete in every way. The house this dynamic duo created felt lived in and authentic to both the time and the people that inhabited it. This perfectly period interior ...
---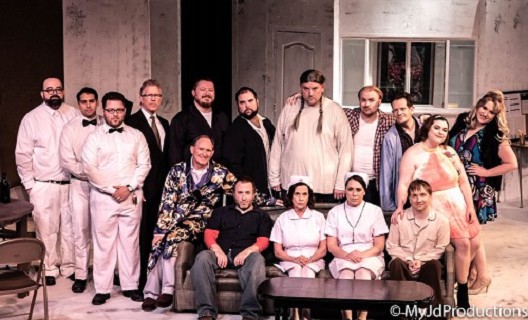 By Dale Wasserman Based on the novel by Ken Kesey
Presented by Garland Civic Theatre
Runs through 3/1/2020

Reviewed by Carla Wicks,
Associate Critic for John Garcia's THE COLUMN

I was very interested to see this production as I have a family tie to this work. My grandmother actually worked at the mental health facility that was the setting that inspired the writing of the original book. Years of stories she told and speculation made our family question if the fictitious character, Nurse Ratched, was really based on her. She certainly could have been from both a temperament and stature nature. So I was excited to see the show.

This type of work, dealing with mental health issues, is very difficult to bring to the stage because of the delicate manner in which healthy individuals must take on the challenges of portraying a person suffering from different degrees of mental instability. Very Daunting and ...
---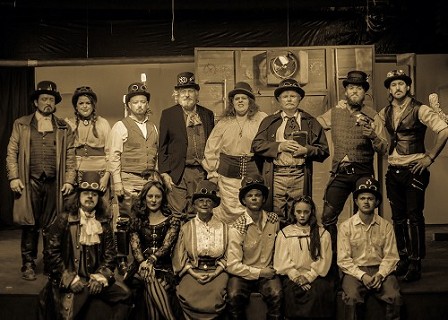 by James L. Rosenberg
Presented by The Garage Door Theatre
Runs through 3/1/2020

Reviewed by Cat Jimenez,
Associate Critic for John Garcia's THE COLUMN

"The Death And Life Of Sneaky Fitch" is a fun show that tells the tale of a steampunk western town plagued by Sneaky Fitch, an obnoxious drunk coward turned intimidating gunslinger. This play has important questions about self-identity and the effects of public perception veiled in energetic comedy. The premise itself thoroughly intrigues me.

As soon as I entered this theatre, I appreciated the small touches like the centerpieces being steampunk themed and free refreshments being offered. The entire theatre is cozy, which I love. Smaller theatres have a way of being intimate in a way, and I wanted to note the charm that carries.

Tara DeWeese's costumes were done extremely well and perfectly captured the essence of the steampunk style. I commend her intricate work on each costume. She has ...
---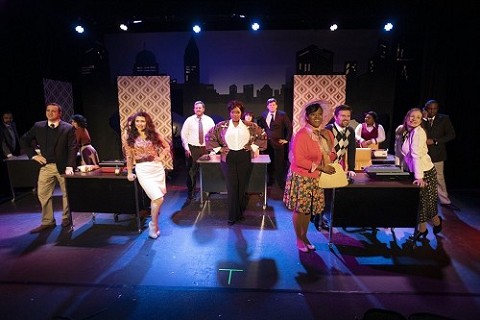 Book by Patricia Resnick Music and Lyrics by Dolly Parton
Presented by North Texas Performing Arts Repertory Theatre
Runs through 3/1/2020

Reviewed by Holly Reed,
Associate Critic for John Garcia's THE COLUMN

9 to 5 The Musical, with music and lyrics by Dolly Parton and book by Patricia Resnick, is based on the seminal 1980 hit movie. Set in the late 1970s. this hilarious story of friendship and revenge in the Rolodex era is outrageous, thought-provoking and even a little romantic. Pushed to the boiling point, three female coworkers concoct a plan to get even with the sexist, egotistical, lying, hypocritical bigot they call their boss. In a hilarious turn of events, Violet, Judy and Doralee live out their wildest fantasy – giving their boss the boot! While Hart remains "otherwise engaged," the women give their workplace a dream makeover, taking control of the company that had always kept them down.

Having been a child in the 80's—in the South—my heritage is steeped in ...
---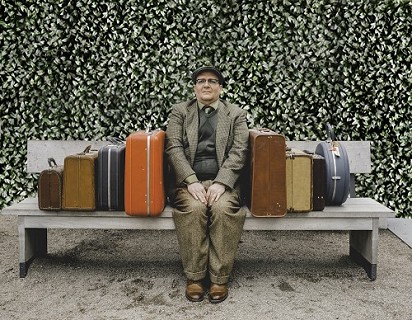 By Richard Bean
Presented by Circle Theatre
Runs through 3/7/2020

Reviewed by Chris Hauge,
Associate Critic for John Garcia's THE COLUMN

In Circle Theatre's Production of "One Man, Two Guvnors", we are given the gift of 'low' humor in its highest form. And it is wonderful! Director Joel Ferrell has brilliantly led a super talented cast through this epitome of controlled chaos. The result is a night of non-stop mayhem and uproarious laughter. This play definitely needs to be on your must-see list.

Richard Bean's script is a loose adaptation of a 1743 Commedia dell'arte style comedy by Carlo Goldoni titled "The Servant of Two Masters". As is the norm for this style of theatre, there are stock characters such as the young lovers or the old man or the wily servant. The structure of these types of plays is usually a group of scenarios which allow the actors plenty of ...
---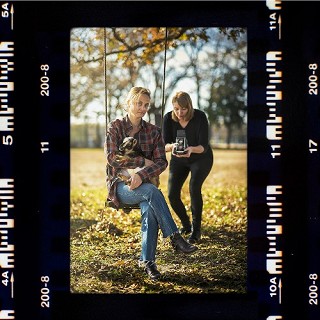 by Audrey Cefaly
Presented by Kitchen Dog Theater
Runs through 3/8/2020

Reviewed by Chris Jackson,
Associate Critic for John Garcia's THE COLUMN

"What do you ache for?"

The lights come up, and Tina Parker says, "Hi! I'm Weezy. I'm a goat!" So begins a play that will make you laugh – hard – and maybe also put a lump in your throat. It's a play about terrible loss, and finding one's salvation and fulfilment in the wreckage. It's a play that will grab you from its first moments, and hold fast 'till its healing conclusion.

This production of Alabaster, by Audrey Cefaly marks the thirteenth time that founding member Kitchen Dog Theater has been a participant in the Rolling World Premiere program as part of the National New Play Network (NNPN). Before any productions have gone into rehearsal or been reviewed, at least three member theaters contract ...
---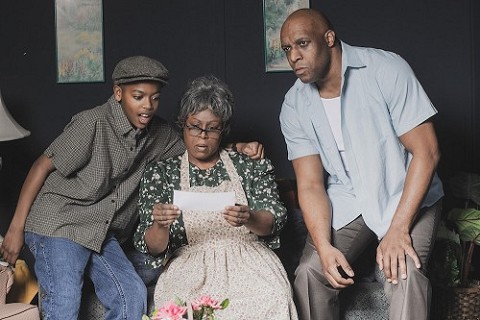 By Lorraine Hansberry
Presented by Theatre Arlington
Runs through 3/8/2020

Reviewed by Charlie Bowles,
Associate Critic for John Garcia's THE COLUMN

Dreams are a bitch! We all have them, yet most don't come true. But if we stop dreaming, we're lost. So, we keep hoping for a lottery or high-paying job, a bigger house or green grass on the other side of the fence. When do we learn to enjoy what we have? How do we learn what priorities make us happy?

Plays set in the past often leave us few clues to the references the story tells. Modern audiences can't see old stories without applying modern thinking, so we don't get the same impact a story created when it was written. But some stories are timeless and, while references may not be fresh, themes can be reapplied. And, in some cases, it seems the earlier ...
---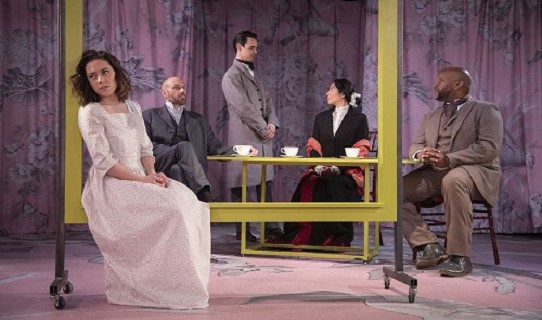 by Adrienne Kennedy Adapted from the novel by Gustave Flaubert
Presented by Undermain Theatre
Runs through 3/15/2020

Reviewed by Carol St George,
Associate Critic for John Garcia's THE COLUMN

When Gustave Flaubert's 1856 debut novel Madame Bovary was unleashed on the French public (in pieces, serialized in the Paris Review), it received a hostile welcome. The French government attacked it as obscene and prosecuted Flaubert and his publisher for offending public morals. Demonstrating that all publicity is good publicity, the novel became a bestseller. Today it's considered Flaubert's masterpiece and the work that birthed modern literary realism.

All the more reason for the au courant Undermain Theatre to stage a new adaptation of the novel by no less than Adrienne Kennedy, whose avant-garde body of work has shaped modern theater for more than half a century.

"Madame Bovary is the tragic yet scintillating story of a woman who longed for a life she could never fully achieve," according to the Signature Theatre ...
---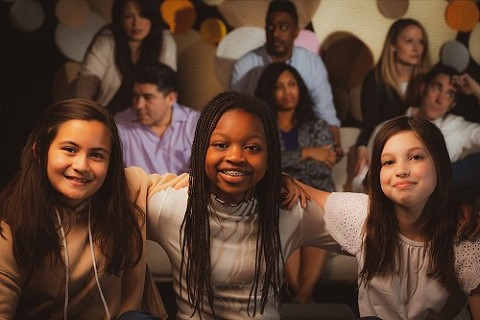 By M. Denise Lee
Presented by Theatre Three
Runs through 3/15/2020

Reviewed by Ann Saucer,
Associate Critic for John Garcia's THE COLUMN

"Funny, You Don't Act Like a Negro" combines robust humor with thought-provoking content. Theatre Three's production employs strong acting talent and skillful, fast-paced staging to deliver a delightful, and also meaningful, night at the theater.

The playwright, local artistic talent M. Denise Lee, explains in her Notes that she "toyed with writing this for over 15 years." The title is explained in the opening video projection of Professor Sherrill Boyd's account of an unfortunate conversation. She was complimented on a professional success but, shockingly, the encounter ended with the titular statement made to her. Thereafter, the play is interspersed with short videos describing other true-life instances of discrimination based predominantly on race, ethnicity, and sexual orientation. For example, former Dallas Mayor Ron Kirk describes being treated as a valet (he appears to ...
---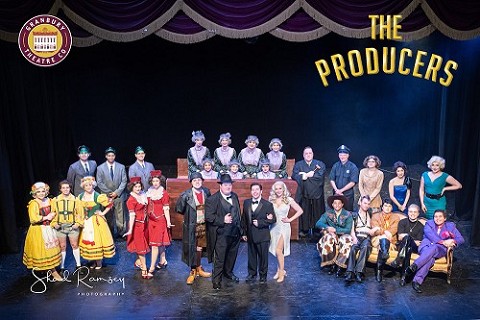 Book by Mel Brooks and Thomas Meehan Music and Lyrics by Mel Brooks
Presented by Granbury Theatre Company
Runs through 3/22/2020

Reviewed by Chris Hauge,
Associate Critic for John Garcia's THE COLUMN

I have been a fan of Mel Brooks for decades. Whether it be his work with Carl Reiner in the "2000-Year-Old Man" recordings, or his various TV series such as "Get Smart" and "When Things Were Rotten" or his output of Movies, Brooks never fails to make me laugh. Many times, I'm thinking, "I shouldn't be laughing at this", and continue to laugh all the more. Such is the case with the stage musical production of the 1967 film, "The Producers". Granbury Theatre Company has brought this show to life with all of its outrageous humor intact. If you find goose-stepping chorus girls or a tap number featuring old ladies on walkers as funny as I do, you are in for a real treat.

"The Producers" introduces us to Max Bialystock ...
---