Reviews for Current Shows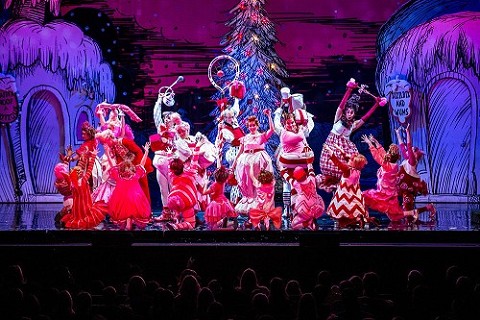 Based on the Book How the Grinch Stole Christmas by Dr. Seuss Book and Lyrics by Timothy Mason Music by Mel Marvin Additional Music and Lyrics by Albert Hague and Dr. Seuss
Presented by AT&T Performing Arts Center
Runs through 12/17/2017

Reviewed by Chris Jackson,
Associate Critic for John Garcia's THE COLUMN

Yes, it's that time of year again! Santa! Reindeer! Presents! And from the darker side, Krampus and THE GRINCH!!! For those buried in a snow bank for years with no TV, books or movies, here's this synopsis from the press release: "Christmas is the best time to be living in Whoville – it's every Who's favorite time of year! However all the Christmas cheer in the world just isn't enough to get The Grinch into the festive spirit. Teased as a child, this green grump has grown to become a rather mean old man determined to ruin Christmas for each and every Who! Will the kindness of one tiny Who be enough to melt his icy heart?" The At&T Performing ...
---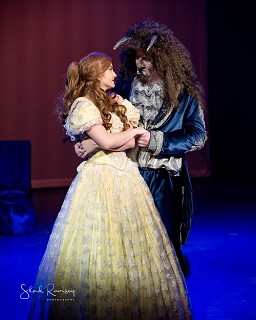 Music by Alan Menken Lyrics by Howard Ashman and Tim Rice Book by Linda Woolverton Originally Directed by Robert Jess Roth Originally Produced by Disney Theatrical Productions
Presented by Granbury Theatre Company
Runs through 12/23/2017

Reviewed by Richard P. Buswold,
Associate Critic for John Garcia's THE COLUMN

Disney's "Beauty and the Beast" is the twenty-six-year old movie live on stage. It has the Academy Award-Winning score from Alan Menken and Howard Ashman plus a few added songs by Menken and Broadway legend/guru, Tim Rice. BATB had a thirteen-year Broadway run of 5,461 performances putting in the top ten of all-time longest runs and has since logged another 15,000+ performances with tours and productions worldwide. This local production, directed by Jay Lewis with choreography by Domanick Anton Hubbard is an engaging attempt at a full-blown Broadway Musical. Let me go to the choreography first.

This show has some intense production numbers. Opening with the 'Belle/No Matter What' mashup that covers the first several minutes of the show to 'Gaston' and then the elaborate and iconic 'Be our ...
---