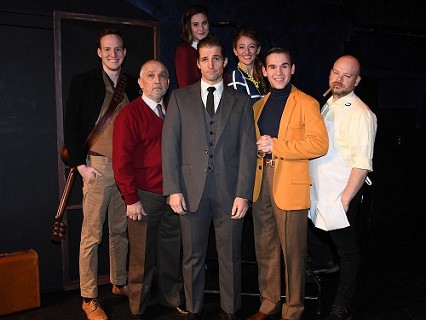 Written by Will Connolly, Michael Mitnick, and Kim Rosenstock
Presented by Runway Theatre
Runs through 2/18/2019

Reviewed by Kathleen Morgan,
Associate Critic for John Garcia's THE COLUMN

We've all mused on the serendipitous moments of our lives: "If I hadn't chosen that exact seat on the bus, I never would have met my spouse," or, "If I hadn't bumped into that manager in the break room, I never would have gotten the new job." We can make lists like this that go on and on and on. Fly By Night not only illuminates what can bloom out of such moments, but it examines the paths we create and re-create as other paths intersect with ours, and what roles fate and free will play throughout our journey. Runway Theatre managed to turn this treasure of a show into a gem.

Through a delivery that was part Rod Serling and part Monty Python, Billy Betsill wowed ...
---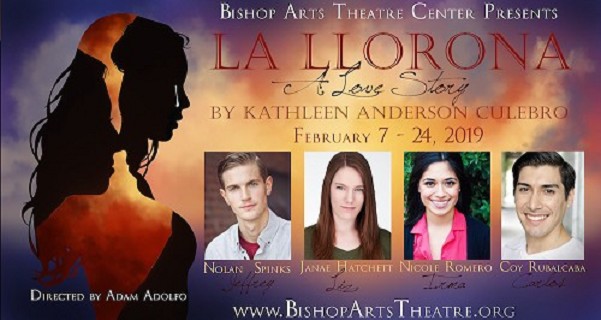 By Kathleen Anderson Culebro
Presented by Bishop Arts Theatre Center
Runs through 2/24/2019

Reviewed by Mark-Brian Sonna,
Associate Critic for John Garcia's THE COLUMN

La Llorona is a widely known Latin American myth regarding the ghost of a woman who while alive drowned her two children in a river as an act of vengeance against her husband who had left her. Because the river swept the bodies away at night her cries can be heard as she searches for their corpses. Any children she runs across at night she will kidnap thinking they are her own, and upon realizing they aren't hers she kills them. There are many variations to this legend with differing details as to who she was, how she died, and where she was from. Most studies pinpoint the origin of this myth to Mexico during the time of the Spanish conquest and it remains prevalent in present day ...
---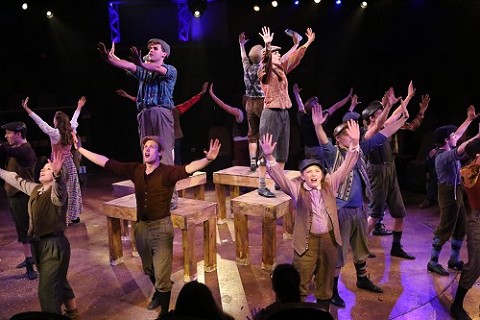 Book By Harvery Fierstein Lyrics by Mark Feldman Music by Alan Menken
Presented by Plaza Theatre Company
Runs through 3/2/2019

Reviewed by Travis McCallum,
Associate Critic for John Garcia's THE COLUMN

EXTRA! EXTRA! Read all about it! Plaza Theatre Company is delivering a FUN experience for the whole family in its spacious arena at Dudley Hall. Take a trip back in time to the 1899 in New York City.

America is booming with sensationalism like never. Powerhouse giant Joseph Pulitzer (Chris Wagner) has taken over the city with his incredible newspaper "The World" and on the street's delivery runners, or newsies, are spreading the word.

That is until Pulitzer raises prices and the unofficial leader of the newsies in Manhattan Jack Kelly (Evan Beggs) takes a stand. Under the advisement of Davey Jacobs (Jarrett Self), Jack rallies the boys to go on strike until the price drops back.

Newsies is a story about a boy who has the courage to ...
---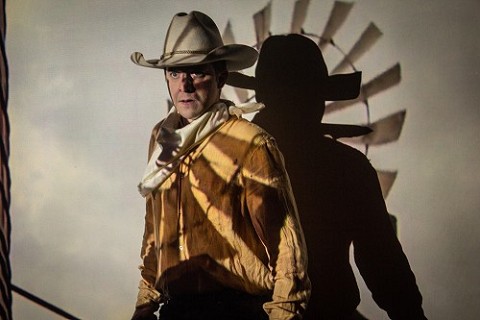 Presented by Ochre House Theater
Runs through 3/2/2019

Reviewed by Ann Saucer,
Associate Critic for John Garcia's THE COLUMN

Doom McCoy and the Death Nugget is a thoroughly innovative portrayal of the making of a legend. The fable of a heroic, ill-fated cowboy is presented to us in a series of dynamically transforming formats. Writer and Director Justin Locklear employs different modalities to bring this tale of the American West to life. It is an exciting experience, as you never know what form of art and entertainment will next present itself.

The fast-moving story begins with actors storming the stage and lighting the fuse of a black spherical bomb. It is the year 1859. A variety of characters appear to entertain us: the archetypal Western villain, an Irish priest, the trusty marshal and his innovatively constructed posse, a medicine man, Satan, Satan's sexy saloon girls, and Five Pillars -- which ordinarily ...
---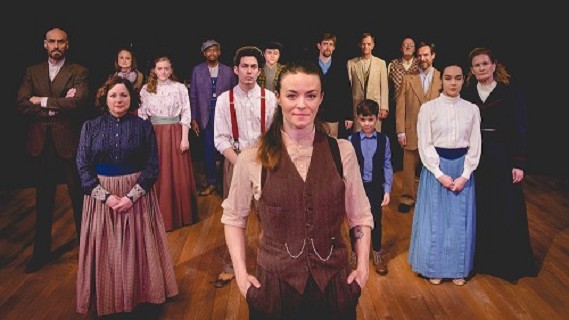 By Thornton Wilder
Presented by Circle Theatre
Runs through 3/9/2019

Reviewed by Mildred Austin,
Associate Critic for John Garcia's THE COLUMN

OUR TOWN is considered by many scholars in both literature and theatre to be the best modern American play ever written. The author, Thornton Wilder, is the only writer to win the Pulitzer prizes for both drama and fiction: for his novel THE BRIDGE OVER SAN LUIS REY and two plays, this one and THE SKIN OF OUR TEETH. And Pulitzer or no, we wouldn't have HELLO, DOLLY, the much-loved musical, had it not been for Wilder's THE MATCHMAKER. But, no doubt, OUR TOWN is the play he is best remembered for.

The play opened on Broadway in 1938 and over the decades has been through the dramatic wringer of revivals, and re-imaginings in every conceivable theatrical form: musical, opera, film—you name it. OUR TOWN is a warhorse in ...
---