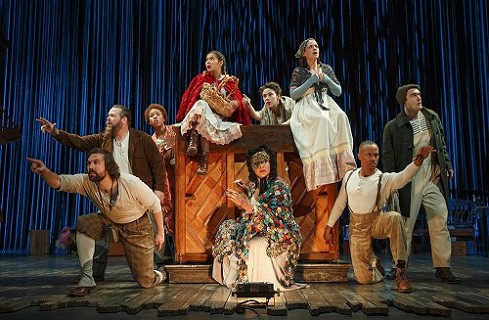 National Tour Music and Lyrics by Stephen Sondheim Book by James Lapine The Fiasco Theater Production
Presented by AT&T Performing Arts Center
Runs through 5/28/2017

Reviewed by Holly Reed,
Associate Critic for John Garcia's THE COLUMN

Always excited to see the glitz and glamour of larger-than-life Broadway productions and national tours, I was looking forward to seeing this national tour of Into the Woods. Assuming it would be a fairy tale spectacle of costumery, scenic showery and soaring scores, I arched a brow upon taking in the set as I entered the Winspear. The stage looked like someone's attic—random drapery, tables and an oversized wooden ladder—with piano lids hodgepodged together as a scenic frame. Interesting. I am delighted to say that while the spectacle of the evening was underwhelming, a few scenes in I had decided it absolutely must be underwhelming, as in this version story, characters, and craft were the shining stars and deserve every bit of the focus.

Co-directors Noah Brody and Ben Steinfeld brilliantly peeled ...
---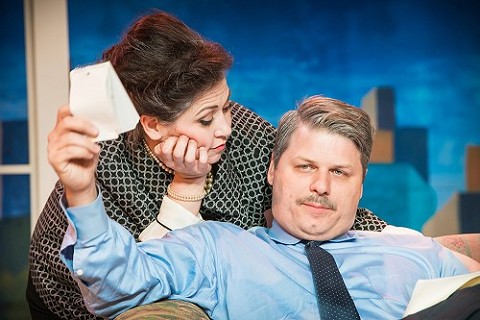 by Neil Simon
Presented by ONSTAGE in Bedford
Runs through 5/28/2017

Reviewed by Darlene Singleton,
Associate Critic for John Garcia's THE COLUMN

My very first introduction into live theater was a role in a Neil Simon inspired production and I have loved directing, performing in, or watching plays by Mr. Simon ever since. I was excited to see the ONSTAGE IN BEDFORD interpretation of a script I read, and loved, years ago. A New York hotel room is the setting for three stories of various degrees of marriage and romance in Mr. Simon's PLAZA SUITE. Simon is well-known for his touching stories and whacky characters and his 1968 PLAZA SUITE is no exception.

Director Ben Phillips brings both heart-tugs and slapstick to the stage as the three separate stories unfold in Suite 719, where over a period of time the long-time married couple Karen Nash (Erica ...
---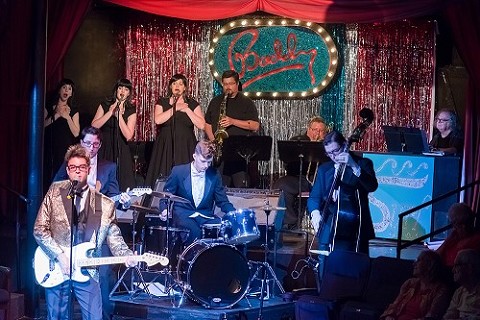 (Presented through special arrangement with Buddy Worldwide Limited.) Written by Alan Janes
Presented by Artisan Center Theater
Runs through 6/3/2017

Reviewed by Genevieve Croft ,
Associate Critic for John Garcia's THE COLUMN

One of the most shocking moments in music history occurred on February 3, 1959, better known as "The Day the Music Died." En route from Clear Lake, Iowa, three pioneers of early Rock, as well as a handful of others lost their lives in a tragic plane crash after leaving the Winter Dance Party. There were so many strange occurrences surrounding this day as well as the series of events that occurred, leading up to that day. From Ritchie Valens winning a seat on that plane in a coin toss, or future Country Music Outlaw (then member of Holly's back-up band) Waylon Jennings giving his seat to J.P. Richardson as a gesture of kindness (Richardson was suffering from the flu while on tour), and even the friendly banter between Holly and ...
---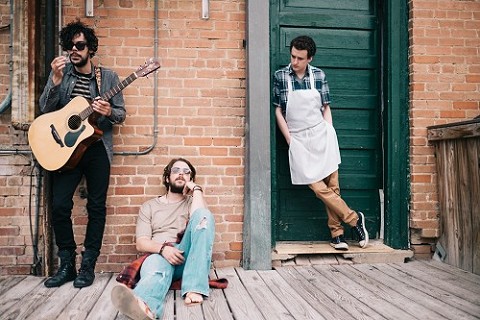 by Annie Baker
Presented by Stage West
Runs through 6/4/2017

Reviewed by Elaine Plybon,
Associate Critic for John Garcia's THE COLUMN

Life has deep meaning, and those that contemplate it can get caught up in the evaluation. Such was the backdrop for Aliens at Stage West. Aliens features only three actors, each of whom has aspects of life to ponder. Two of them, KJ and Jasper, frequently do so in a dingy lot behind the coffee shop where Evan works.

The action begins with KJ and Jasper providing a glimpse into their existence. When Evan meets them, the rest of the story unfolds with the two men providing young Evan with a few life lessons. The script, styled by Annie Baker, reflects the mundanities of the average, everyday life, but tucks moments of insight and introspection into the weaving of the story. The actors in the production at Stage West depicted the droll ...
---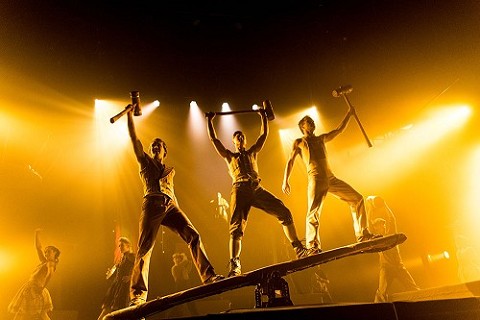 The Golden Age of the Circus! Composer—Evan Jolly
Presented by Dallas Summer Musicals
Runs through 6/4/2017

Reviewed by Genevieve Croft ,
Associate Critic for John Garcia's THE COLUMN

"Ladies and Gentlemen…Boys and Girls of all ages! Step right up! See the fantastic thrills and chills, the curious and the strange, the magnificent and the mysterious-a part of the Greatest Show on Earth." Of course, I am referring to the circus. Whether you have seen circus acts of yesterday captured in photograph or on film, or have had the pleasure of actually attending the circus, Circus 1903 will transport you back to simpler times, when the circus was the popular form of entertainment, and was guaranteed to delight children and adults of all ages.

I cannot think of a better week for Circus 1903 to debut in Dallas. With the sad news of the 146 year old tradition of Ringling Brothers and Barnum & Bailey Circus closing this week, the circus ...
---