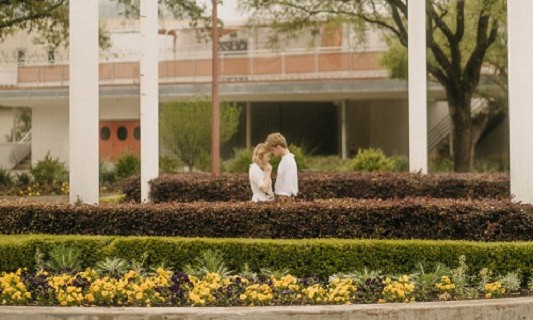 By Tennessee Williams
Presented by The Classics Theatre Project
Runs through 6/22/2019

Reviewed by Mildred Austin,
Associate Critic for John Garcia's THE COLUMN

An artistic circle was completed at the Margo Jones Theatre in Fair Park when The Classics Theatre Project opened their production of SUMMER AND SMOKE by Tennessee Williams. The play had its first performances there seventy-one years ago before moving on to open on Broadway in October 1948. Williams is one of three American playwrights considered to be this country's foremost theatrical writers, the other two being Eugene O'Neill and Arthur Miller. However, SUMMER AND SMOKE is not considered representative of his best work. That designation is almost always given to either (or both) THE GLASS MENAGERIE and A STREETCAR NAMED DESIRE. But I never pass on an opportunity to see any of Williams' plays and even performed in this one years ago as a college student ...
---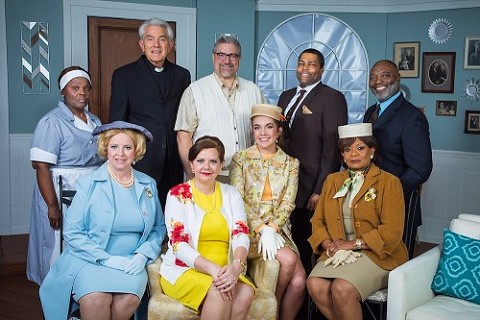 By Todd Kreidler (as adopted from the screenplay by William Rose)
Presented by Lunatic Theatre Company
Runs through 6/23/2019

Reviewed by Ann Saucer,
Associate Critic for John Garcia's THE COLUMN

It is Spring 1967, and you are in the San Francisco home of wealthy Matt and Christina Drayton, well-heeled liberals who are no strangers to tragedy but nonetheless securely ensconced in their superior political views and unquestioned good taste. He is an Editor at the prestigious Guardian newspaper—one of the few American publications respected enough for Europeans to read. She owns an art gallery with enough clout to curry the most wealthy of Forbes Listed clients. Everything is in its perfect place: fresh cut flowers, modern paintings, ancestral photos, and a terrace with a spectacular view.

Too perfect for a drama, right? Just wait.

The cherished, accomplished twenty-five year old daughter Joanna, aka "Joey" since her brother's death, makes a surprise appearance—with a surprise guest. And those wonderful, intelligent values that her parents ...
---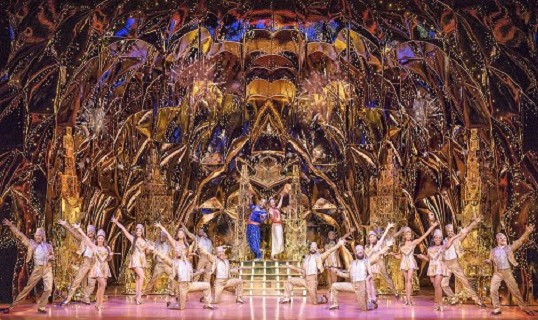 North American National Tour Book by Chad Beguelin; Music by Alan Menken; Lyrics by Howard Ashman and Tim Rice; Additional lyrics by Chad Beguelin
Presented by Dallas Summer Musicals
Runs through 6/23/2019

Reviewed by John Garcia,
Senior Chief Critic/Editor/Founder for John Garcia's THE COLUMN

The Disney machine has had a somewhat conflicted, bumpy journey on Broadway ever since they first arrived in 1994 with BEAUTY AND THE BEAST at the Palace Theatre. While it was a colossal financial success and became one of Broadway's longest running hits, it was met with mixed reviews by the New York press. It did receive nine Tony nominations, but alas losing Best Musical to Sondeim's PASSION. Nonetheless, guess which one has been mounted around the United States over and over by hundreds of theater companies around the world while the other production barely gets revived?

So, you want something artistic said Disney? We'll give you friggin art! And did they ever with the history making THE LION KING. Disney spent millions in refurbishing the New Amsterdam Theater for its opening ...
---

By A. R. Gurney
Presented by Resolute Theatre Project
Runs through 6/23/2019

Reviewed by Chris Hauge,
Associate Critic for John Garcia's THE COLUMN

It is appropriate that I saw Resolute Theatre Project's production of "The Dining Room" by A. R. Gurney two days before Father's Day. It does show us fathers; some are dominating patriarchs, and some are struggling to hold onto their sense of purpose in life. But the play broadens the focus to give us the stories of families as they come and go through the decades, each tale dancing with elegance around a table and six chairs in a grand formal dining room in an equally grand house. And it is beautifully realized by director Stefany Cambra and a cast of very talented actors.

Much of A. R. Gurney's work focuses on the white Anglo-Saxon Protestant (WASP) culture of mostly wealthy families, many of British descent, whose connections and influence flourished ...
---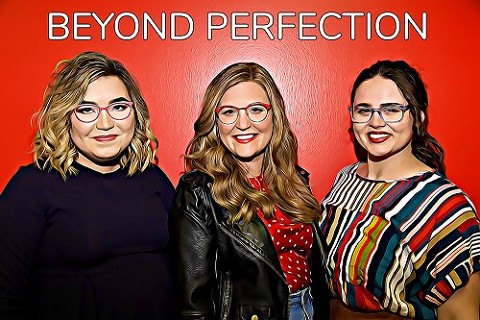 Book by Kenady Shope Music and Lyrics by Kenady shope, Emily Horton, Gabriel Ethridge, Ethan Sartor, Uriah Rinzel, Charles Wooldridge, Aurel Baker, Anna Mitchell, Joey Goodale, McCaul Ragland, Madeline Smith, Sandi Pogue, Kaitlyn Kohler, Graze Fazand
Presented by LifeStage Theatre
Runs through 6/23/2019

Reviewed by Holly Reed,
Associate Critic for John Garcia's THE COLUMN

Writing musicals is not for the faint of heart. It takes steelish tenacity and resolve. Young Kenady Shope is successfully clearing a path to establish herself as a force to be reckoned with in the musical theatre writing and producing community.

Her new original dystopian musical, Beyond Perfection, feels like a combination of The Hunger Games and the musical Rent.

It is the year 2036. After a civil war in the United States, each state has become its own country. New York, the empire, has issued mandatory "2020 glasses" which allow all citizens to live in their own ideal virtual reality. A confused and naïve Chandler comes to New York running from her past, while the brave and determined Aiden comes seeking a bright future. They soon realize that the glasses are ...
---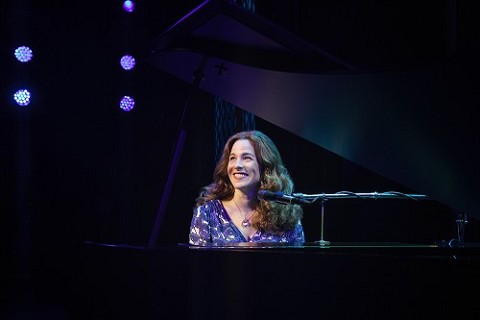 Book by Douglas McGrath Words and Music by Gerry Goffin & Carole King, Barry Mann & Cynthia Weil
Presented by AT&T Performing Arts Center
Runs through 6/23/2019

Reviewed by Stacey Upton,
Associate Critic for John Garcia's THE COLUMN

"Beautiful The Carole King Musical" opened to a full and appreciative house at Dallas' Winspear Opera House in a simple manner. A single piano, soft blue lights, a woman dressed in an iconic blue dress, preparing to sing a song. The woman is Carole King, played with compassion and sung exceptionally well by Sarah Bockel. The time is 1971, and this represents King's first appearance at Carnegie Hall, a high point in the singer-songwriter's journey which started when King was just 16 years old. As she prepares to sing, she comments, "Life – sometimes it goes right. Sometimes it doesn't…. and you find something… beautiful."

Based on King's life and music, "Beautiful" is a fun and emotionally moving retro journey that starts in the late 1950s when Brooklynite Carole bucks her mother's ...
---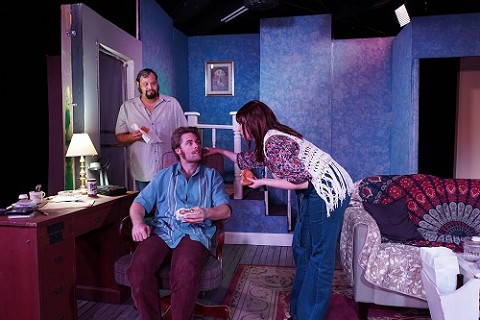 by Lanford Wilson
Presented by Lakeside Community Theatre
Runs through 6/29/2019

Reviewed by Jeri Tellez,
Associate Critic for John Garcia's THE COLUMN

The Fifth of July is set in 1977 at The Talley Place, a farm near Lebanon, Missouri. The set was beautifully designed by Rustin Rolen. At first it appeared to be a simple living room, painted to look like the walls were papered. During intermission, however, the true beauty of the set was revealed, with a transformation that I was pleased to witness. My friends who didn't see it were stunned when they returned after intermission.

The lighting demands on Rolen were basic, and he provided a flawless wash across the stage with no dark spots or shadows. The projections were a bit choppy on the living room walls, but it was easy to understand their message.

Rolen's sound design was a pleasant enhancement to the evening. Actual sound effects were few, but ...
---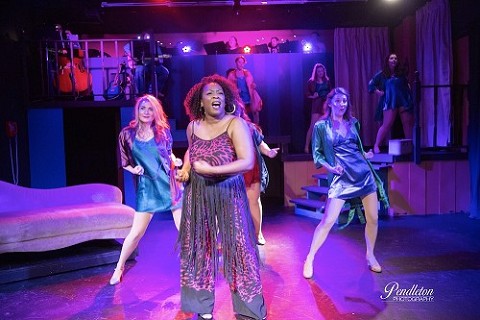 By Carol Hall, Larry King, and Peter Masterson
Presented by Greater Lewisville Community Theatre
Runs through 6/30/2019

Reviewed by Jeri Tellez,
Associate Critic for John Garcia's THE COLUMN

This Broadway Production, which was later made into a movie starring Dolly Parton and Burt Reynolds, premiered on Broadway in 1978, had a later Broadway revival, 2 national tours, a run in London's West End, and London Fringe revival. Its run at Greater Lewisville Community Theatre should be a hit as well.

Rebecca Lowrey created an engaging, funny and touching production. Her stage directions were ingenious, providing certain cast members a cleverly disguised exit, and all characters were visible. Her musical talent is known throughout the DFW theatre community, for good reason. The singers were well taught and balanced. Their diction was easy to understand, and the songs were easy to follow. Her keyboard talents were also apparent. Christina Kudlicki Hoth's choreography was, as usual, clever and engaging. All the ...
---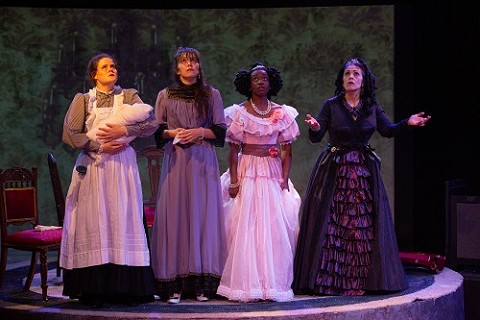 By Selina Fillinger
Presented by Theatre Three
Runs through 6/30/2019

Reviewed by Ann Saucer,
Associate Critic for John Garcia's THE COLUMN

The Armor Plays are two fresh, riveting works presented with an intermission between them. The first is set in the past, and the second is set in a dystopian future, but both reverberate with the same timely themes.

Cinched is the story of a Victorian dinner party run amok. The title refers to the cinching of a corset, and the play opens with the drop-dead gorgeous Christie Vela in an utterly hilarious depiction of the comically vain Lady Glessing. A curved wall of morphing video images, which are instrumental to cueing the changes in weather and settings throughout both plays, treats us to a close-up of hands pulling a corset tight. Tabitha, played with a perfect "Downstairs" servant accent by the talented Ana Hagedorn, is being harangued by her boss, Lady Glessing, ...
---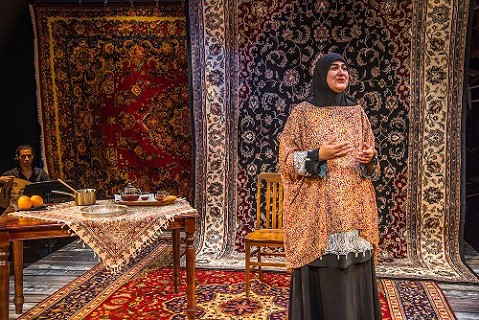 Written and Performed by Rohina Malik Regional Premiere
Presented by WaterTower Theatre
Runs through 6/30/2019

Reviewed by Chris Hauge,
Associate Critic for John Garcia's THE COLUMN

Last evening my wife and I had the honor of sitting in the company of five remarkable women. They shared the challenges they face and the sorrows they've endured and the wonder of being alive and wrapped in God's love. Each woman bound to each other by their cultural love of tea and their wearing of the hijab, the headscarf worn in public by many devout Muslim women. And these women have invited us in for the evening to open our hearts and minds by opening their lives to us. It was an evening that will not be easily forgotten.

These women are the creations of playwright and actor Rohina Malik. Born and raised in London and now based in Chicago, Ms. Malik has been touring and performing this play around ...
---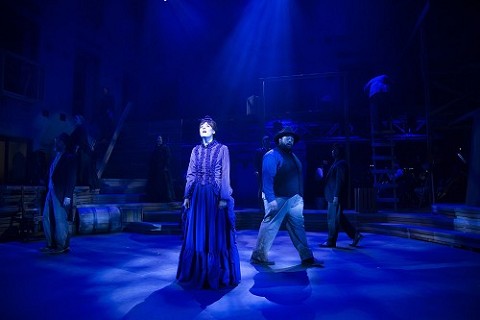 Book by Sarah Schlesinger, Mike Reid and John Dias Music by Mike Reid Lyrics by Sarah Schlesinger
Presented by WaterTower Theatre
Runs through 6/30/2019

Reviewed by Travis McCallum,
Associate Critic for John Garcia's THE COLUMN

This is one of those shows that grows on you over time. With a slow wind up, I found myself disconnected early on. Part of it may have been the style of the show. There's a reason why western shows are not as popular in our mainstream society. What worked for me is my appreciation for the Mid-West and pioneering on the road less traveled.

Set at the end of the 19th Century, "The Ballad of Little Jo" is a story about one woman's life journey to find her purpose through a series of drastic experiences outside the confines of traditional gender roles.

I say drastic because many of choices our heroine protagonist Josephine "Jo" Monaghan (Laura Lyman Payne) make are on the spectrum of crazy. Leaving her few-month-old ...
---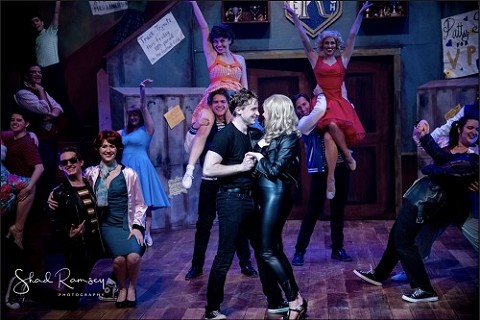 Book, Music and Lyrics—Jim Jacobs and Warren Casey "Grease"—Words and Music by Barry Gibb "Hopelessly Devoted To You"—Written by John Farrar "You're The One That I Want"—Written by John Farrar "Sandy"—Written by Scott Simon and Louis St. Louis
Presented by Granbury Theatre Company
Runs through 7/7/2019

Reviewed by Genevieve Croft ,
Associate Critic for John Garcia's THE COLUMN

Summer is finally here, and so are the scorching Texas temperatures. Despite the heat and humidity, and I enjoyed my venture Saturday to the town square in Granbury and the Historic Granbury Opera House to see Granbury Theatre Company's production of Grease, one of the most popular, and beloved musicals in musical theatre history.

Premiering in 1971, and written by Jim Jacobs and Warren Casey, Grease follows ten working-class teenagers in 1959, at the fictional Rydell High School, where they explore the issues of peer pressure, teenage pregnancy, rebellion, love, friendship, gang violence, the growing pains of adolescence. Initially, Grease was a raunchy and vulgar show, and has become toned down over the years. Set these issues to the early sounds of 1950's rock and roll, and of course, you have ...
---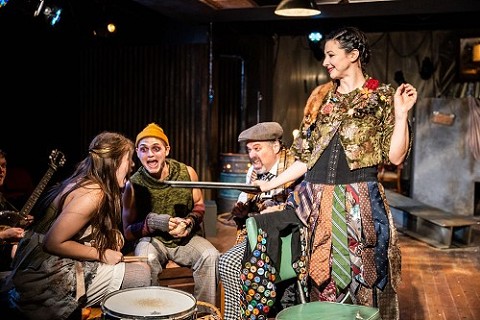 Music & Lyrics by Stephen Sondheim Book by Hugh Wheeler
Presented by Circle Theatre
Runs through 7/13/2019

Reviewed by Rebecca Roberts,
Associate Critic for John Garcia's THE COLUMN

Immediately upon walking into Circle Theatre's intimate performance space is a feast of aesthetics. The set decoration, the murky lighting, and even the echoing soundscape primes the audience members by creating an overwhelming atmosphere of eeriness for this unique production of Stephen Sondheim's SWEENEY TODD. Inspired by the 2004 revival directed by John Doyle, aside from a single onstage pianist, the music in this production was predominately played by the eight actors themselves – a bold choice that paid off beautifully. This production was, in a word, exquisite.

We all know the plot of SWEENEY TODD by now, don't we? A skilled barber returns to London with a lust for vengeance after being falsely imprisoned for a crime he did not commit. It's a classic boy meets girl who owns a pie ...
---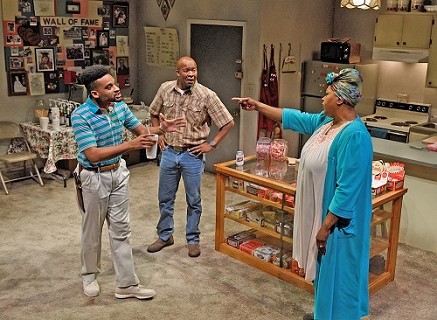 by Jonathan Norton
Presented by Dallas Theater Center
Runs through 7/14/2019

Reviewed by Chris Jackson,
Associate Critic for John Garcia's THE COLUMN

On the floor of a recently trashed and dismantled candy house sit two young women playing the children's game of Jacks - and talking about their guns. It's summertime, 1988, in Pleasant Grove, a working-class neighborhood in Dallas. Candy, a children's game and guns. Crack cocaine, family, and snow cones. Severed hands, money, and a twelve year old boy. These are some of the elements of Penny Candy, the absorbing new play by Jonathan Norton now playing in the Studio Theater of the Wyly, presented by the Dallas Theater Center. How do you hold on to a dream, hold a family together, and deal with the wildly dangerous changes going on in your neighborhood? These, and other questions form the storyline of Penny Candy.

A ...
---