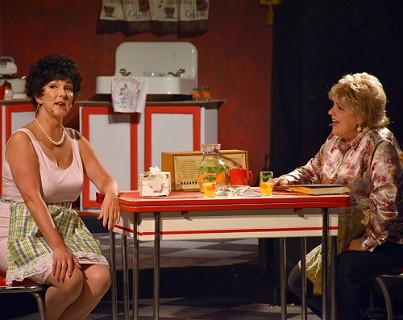 By Ted Swindley
Presented by Plaza Theatre Company
Runs through 7/29/2017

Reviewed by Amanda Edwards,
Associate Critic for John Garcia's THE COLUMN

Holly, Valens, Redding, Cobain, Joplin, Nelson, Darin, Marley, Cline. American popular music is crowded with the names of performers whose untimely deaths spark endless "what if they'd lived" debates. For many of them, their fame has soared in the years after they died, often to a degree undreamed of during their abbreviated lives.

"Always…Patsy Cline," now on stage at Plaza Theatre Company in Cleburne, Texas is an agreeable homage to one of those figures—country music's foremost female vocalist, killed in a plane crash at age 30. "Always…Patsy Cline" resides somewhere between being a full-blown stage musical and a concert of her greatest hits.

There is the story (of sorts), written by Ted Swindley and based on true events that gives the play some dramatic structure: In 1961, Houston housewife Louise Seger and a ...
---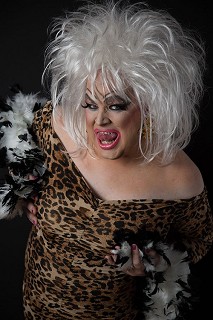 Written by Benjamin Lutz
Presented by Giant Entertainment
Runs through 7/30/2017

Reviewed by Richard P. Buswold,
Associate Critic for John Garcia's THE COLUMN

Divine: Live at the Boom Boom Room is a new play written by local actor/writer/director/producer Benjamin Lutz. He is part of a creative team that has formed new company here in Dallas called Giant Entertainment. This new company is dedicated to bringing an edgier theatre experience than you might normally see in this area. And with Divine they have definitely succeeded in that. The show plays at the Margo Jones Theatre in Fair Park. They wants this to be an immersive experience so the feeling is that you are not going into a theatre to watch a show instead, they want you to feel like you are heading into the Boom Boom Room, a fictitious gay nightclub in 1982. There is a bar in the audience ...
---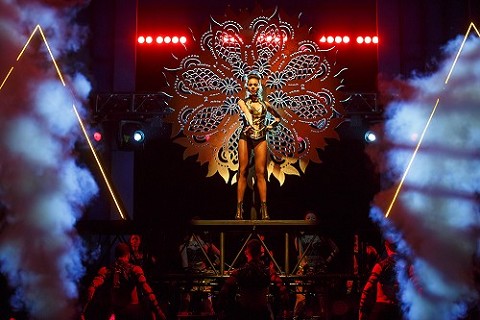 (National Tour) Dallas Summer Musicals at Fair Park Screenplay by Lawrence Kadsen, Book by Alexander Dinelaris
Presented by Dallas Summer Musicals
Runs through 7/30/2017

Reviewed by John Garcia,
Senior Chief Critic/Editor/Founder for John Garcia's THE COLUMN

On a cool summer night in June 1991 a group of friends and me went to the Orlando Centroplex Arena to see Whitney Houston's I'm Your Baby Tonight world tour. To hear THAT voice live was a religious experience. That powerful vocal range, her ability to sustain those impossible notes for long measures, those soulful vocal riffs, and the emotion she brought to those lyrics. Houston was a one of a kind superstar singer that the world loved and adored (as I did). This was way before her tragic downward spiral of drugs that ravaged and destroyed those golden vocal pipes and range.

On February 9, 2012 the world learned the devastating news that Whitney Houston had passed away. It was too surreal to accept that her voice and talents were ...
---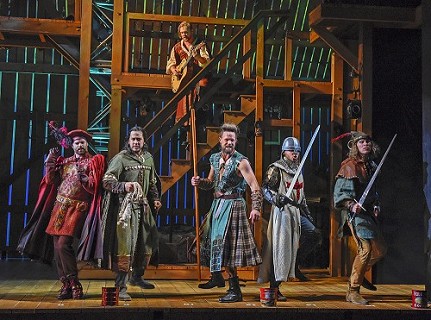 Written by Douglas Carter Beane Music and Lyrics by Lewis Flinn
Presented by Dallas Theater Center
Runs through 8/6/2017

Reviewed by Chris Jackson,
Associate Critic for John Garcia's THE COLUMN

"Hey, kids, let's put on a show!" "Great! My uncle has a barn we can use." "What about costumes and stuff?" "We'll just use things we have hanging around and can find."

Well, the Dallas Theatre Center has put together a hell of a show in a barn designed by Tony winner John Lee Beatty, with costumes incorporating found objects by genius Tony nominee Gregory Gale and puppet design, also incorporating found objects, by Obie winner James Ortiz. All of this play-within-a-play wizardry is magically pulled together by Tony nominee, book writer and director Douglas Carter Beane with rousing music and lyrics by Lewis Flinn, ravishing lighting by Philip Rosenberg and a cast of tireless, charismatic, actor/singer/dancers eager to please and appearing to have the time of their lives executing ...
---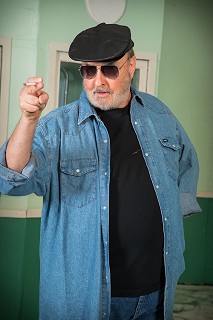 by DALE WASSERMAN Based on the novel by Ken Kesey
Presented by Richardson Theatre Centre
Runs through 8/6/2017

Reviewed by Scott Hazard,
Associate Critic for John Garcia's THE COLUMN

R.P. McMurphy is transferred from prison to a mental institution, where he thinks the rules might be a bit less stringent and to his liking. What unfolds is a tale that touches many sensitive spots of our human psyche and raises questions about what we consider societal norms.

Written as a novel in 1962 by Ken Kesey and made into a film in 1975 directed by Miloš Forman, this story is a look inside a mid-century mental health institution and a look at how we as a society view such institutions as well as those who reside and work at them. Obviously, this is not a light-hearted affair, but one that is important to be aware of and understand so that we may better understand and learn how to manage mental illness ...
---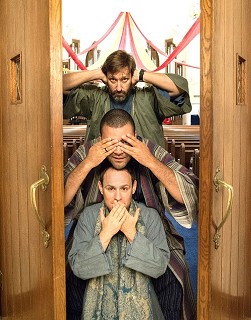 By Adam Long, Reed Martin, and Austin Tichenor
Presented by Amphibian Stage Productions
Runs through 8/13/2017

Reviewed by Angela Newby,
Associate Critic for John Garcia's THE COLUMN

The Amphibian Stage Productions has outdone themselves with The Bible: The Complete Word of God (Abridged). The audience spent the night laughing and enjoying themselves as they heard the stories in the Bible from Genesis to Revelation.

This tongue-in-cheek cheesiness is from the brilliant minds of Adam Long, Reed Martin, and Austin Tichenor (who also brought The Complete Works of William Shakespeare (Abridged)) to life as well. There is no room in the script or the improve to show lack of respect for The Bible, but does point out some of the not so finer stories that Christians would sometimes like to forget! Add in some great pop culture references and the audience is in for a treat.

Director Jay Duffer brought together three amazing actors ...
---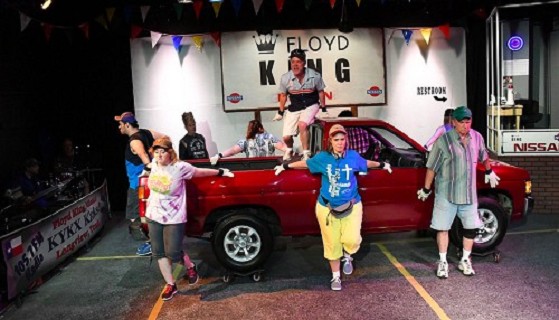 Book by Doug Wright Lyrics by Amanda Green Music by Trey Anastasio & Amanda Green
Presented by Runway Theatre
Runs through 8/13/2017

Reviewed by Chris Hauge,
Associate Critic for John Garcia's THE COLUMN

I feel the joy!

This was my wife Alice's suggestion for the first line of my review after we had seen Friday night's performance of the musical "Hands on a Hardbody" at Runway Theatre in Grapevine. It is a refrain from one of the show's songs and I must say it sums up my feelings as well. I felt joy in the Lord. I felt longing for a better life and a brighter future. I felt desire for something that could change a person's destiny. All of this from a musical about a contest where the winner of a brand-new truck is determined by ten people standing around it with their hands on it until all but one drop out.

According to the Director's notes, this wonderful show had its beginning with ...
---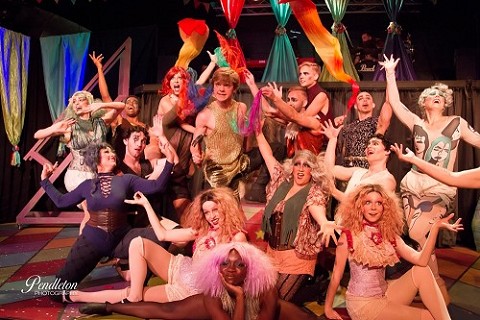 Music & Lyrics: Stephen Schwartz Book: Roger O. Hirson
Presented by Firehouse Theatre
Runs through 8/20/2017

Reviewed by Darlene Singleton,
Associate Critic for John Garcia's THE COLUMN

WOW! WOW!! WOW!!! were my first thoughts when I left The Firehouse Theatre following the wonderful musical presentation of PIPPIN. My next thought was how in the world can I capture the effervescent colors, the over-the-top energy, and the stirring of emotions I experienced as the extremely enthusiastic and talented actors sang, danced, and flew across the stage on aerial hoops and colorful ribbons of silk.

The full company tells the story of Pippin, a young prince who longs to find passion and adventure in his life. To prove his loyalty to his distracted father, King Charles, Pippin goes to war. But when the Leading Player convinces the prince to fight tyranny, Pippin kills Charles and takes over the throne. The protagonist Pippin and his father ...
---