Reviews for Current Shows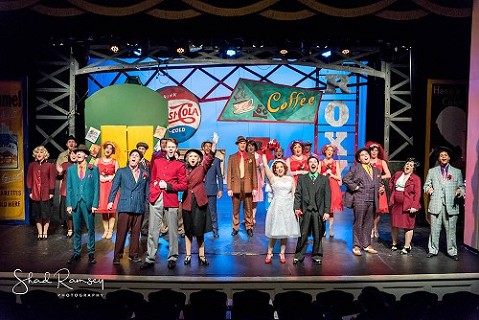 Book by Abe Burrows and Jo Swerling Music and Lyrics by Frank Loesser Based on The Idyll of Sarah Brown and characters by Damon Runyon
Presented by Granbury Theatre Company
Runs through 4/29/2018

Reviewed by Eric Bird,
Associate Critic for John Garcia's THE COLUMN

Guys and Dolls premiered on Broadway in 1950 and ran for 1200 performances. It won the Tony Award for Best Musical and has had several Broadway and London revivals. I was first exposed to Guys and Dolls through the film adaptation staring Marlon Brando, Jean Simmons, Frank Sinatra and Vivian Blain. Comedy ensues as the actors learn more about themselves and life through the choices they make.

Guys and Dolls opened in the beautiful historic Granbury Opera House, located in downtown Granbury, TX. It tells the comedic story of gamblers Nathan Detroit and Sky Masterson who, while they have many physical differences and gamble in different venues, are both united in their love of gambling. Detroit bets Masterson $1000 that he couldn't take a certain doll to Cuba, ...
---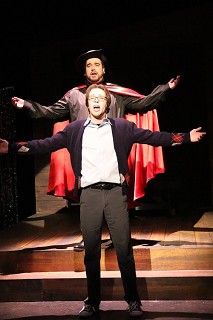 Book and Lyrics by Tom Jones Music by Harvey Schmidt
Presented by Garland Civic Theatre
Runs through 4/29/2018

Reviewed by Mildred Austin,
Associate Critic for John Garcia's THE COLUMN

I first saw THE FANTASTICKS in the late sixties and fell head over heels in love with the simple, romantic story, enchanting music and the subtle naivete so pervasive in that period. It is fun and funny, but reminds us all that oft repeated clichés may still rest on life's lessons, learned the hard way sometimes.

Jones borrowed from the dramatic form of the Commedia D'ell Arte theatrical form produced in Italy in the 16th and 17th centuries. The stock characters of the Commedia come to life in modern form as "The Parents", "The Lovers", "The Macho Male". The latter's name, El Gallo, is often translated as "The Rooster" or "The Cock", but it can also be translated as "The Macho One". And in that context, El Gallo, the ...
---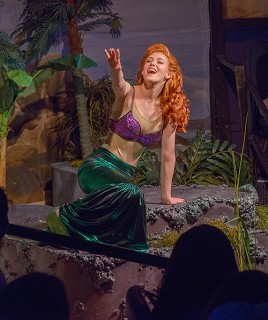 Lyrics by Howard Ashman & Glenn Slater Music by Alan Menken Book by Doug Wright
Presented by Artisan Center Theater
Runs through 5/12/2018

Reviewed by Jeri Tellez,
Associate Critic for John Garcia's THE COLUMN

I had heard good things about The Artisan, so my expectations were high. I was not disappointed. This production of Disney's Little Mermaid was an absolute delight. Director Reid Horton, Music Director H. Richard Gwozdz, and Choreographer Valerie Walker coaxed every bit of talent out of this cast and created a masterpiece. Their hard work definitely paid off.

Horton is an expert at selecting his cast and coaching them to deliver a spot-on performance. His gift for identifying and guiding talent is apparent. Gwozdz was successful in creating a vocally balanced, easy to understand ensemble that was comfortable with the tempos and transitions of the numerous songs.

I can't say enough about Valerie Walker's choreography. The duet dance between Ariel and Eric was breathtaking, and every song was full ...
---