Reviews for Current Shows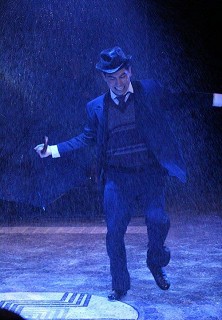 Based on the classic Metro-Goldwyn-Mayer film, by special arrangement with Warner Bros. Theatre Ventures Inc. Screenplay by Betty Comden and Adolph Green Songs by Nacio Herb Brown and Arthur Freed Music published by EMI, all rights administered by Sony/ATV Music Publishing Original move Choreography by Gene Kelly and Stanley Donen
Presented by Plaza Theatre Company
Runs through 4/22/2017

Reviewed by Genevieve Croft ,
Associate Critic for John Garcia's THE COLUMN

Usually when one thinks of a theatrical musical, the first thing that comes to mind is the stage production, then, a film adaptation. In the case of Singin' in the Rain, the film was actually the basis for the musical production. It has actually happened this way a few times before (Xanadu, Footloose, and Flashdance-to name a few), and Singin' in the Rain falls into the category of musical film first; later adapted for the stage. It seems strange to think that such a beloved musical (and one starring Gene Kelly no less) started out as a film, but has come to be a part of the classic collection of film and stage musicals. With a fantastic cast (funnyman Donald O'Connor, Rita Moreno, Cyd Charisse, and the young Debbie Reynolds) Singin' ...
---