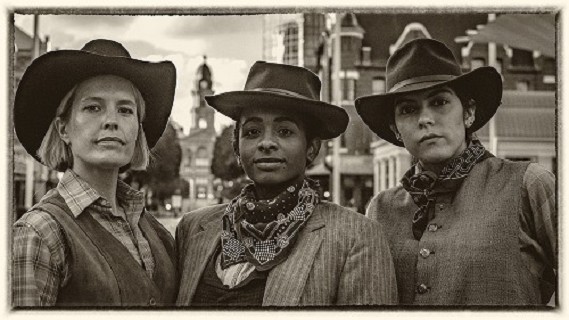 By Jaclyn Backhaus
Presented by Circle Theatre
Runs through 11/17/2018

Reviewed by Ann Saucer,
Associate Critic for John Garcia's THE COLUMN

Men on Boats, written by up-and-coming playwright Jaclyn Backhaus, is a fresh and original recounting of the 1869 historic expedition of one-armed Civil War veteran Major John Wesley Powell, who commanded the first government survey of the Grand Canyon.

Director Noah Putterman's Notes recite the playwright's direction that, "The characters in Men on Boats were historically cisgender white males. The cast should be made up entirely of people who are not." That works. The play is infused with humor, and the trials and tribulations of grizzled explorers may well be funnier as played by actors who are not cisgender males. The play also explores the nature of storytelling and our inherently limited understanding of historic events. As with any piece of history that we cannot possibly know firsthand, it should be ...
---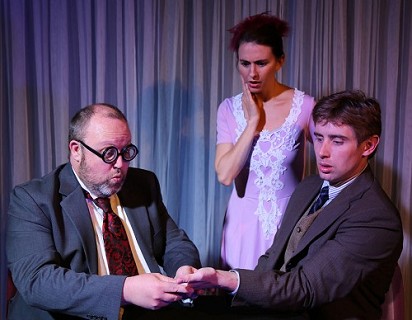 By Rob Urbinati Based on the short story by Oscar Wilde
Presented by Rover Dramawerks
Runs through 11/17/2018

Reviewed by Ann Saucer,
Associate Critic for John Garcia's THE COLUMN

Murder on West Moon Street is based on the Oscar Wilde short story, Lord Arthur Savile's Crime, which was first published in 1887. This murder mystery is infused with scathing Wilde witticisms and fulfills the Rover Dramawerks' mission of presenting off-the-beaten-path theater treasures.

The hilarious dialogue of the high society characters exemplifies Wilde's indictment of societal hypocrisy, moral double standards, and the veneration of appearances. All of these themes are brought to bear in Murder on West Moon Street, a play about a wealthy, shallow, and over-privileged Lord who deems himself entitled to commit murder -- on West Moon Street, as the title goes.

Lord Arthur Savile (Sam McCalla) complains that he was not well served by his English education, which included Oxford University. The education he received left him unprepared for ...
---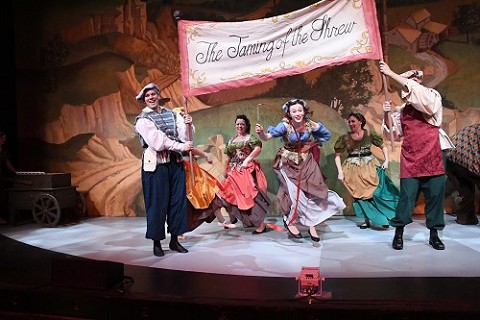 Music and Lyrics by Cole Porter Book by Sam & Bella Spewack
Presented by MainStage Irving-Las Colinas
Runs through 11/17/2018

Reviewed by Richard P. Buswold,
Associate Critic for John Garcia's THE COLUMN

Kiss Me Kate is a beautiful musical that uses the Bard's work to parallel the "real life" of the actors on stage. The original Broadway production opened on December 30, 1948, at the New Century Theatre, where it ran for nineteen months before transferring to the Shubert, for a total run of 1,077 performances. The story is timeless; how do men and women truly interact and how should they. It has the distinction of being the first to win the Tony Award for Best Musical in 1949. Also, the 1949 original cast recording has been inducted into the Library of Congress' National Recording Registry for the album's "cultural, artistic and/or historical significance to American society and the nation's audio legacy". What that means to the layman is, the ...
---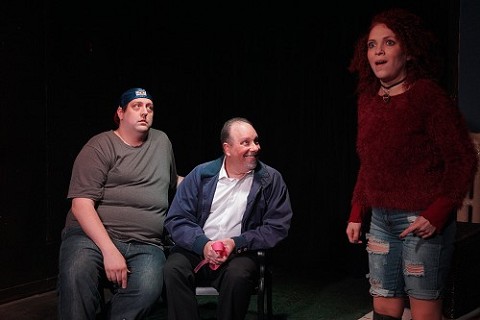 Written By A. R. Gurney
Presented by Lakeside Community Theatre
Runs through 11/17/2018

Reviewed by Travis McCallum,
Associate Critic for John Garcia's THE COLUMN

Sylvia. Sylvia. Sylvia. The door creaks up. An unusual creature clad in maroon enters the room. It is accompanied by a balding fellow, middle-aged with grey whiskers to accompany his wide grin.

Joyfully he calls out "Sylvia" to the roaming creature and it quickly bounces in bountiful ecstasy to the older fellow. One giant hug followed with audible squeaks: I love you I love you. Then: Down Sylvia, down.

Ah, this context instantly clicks with the audience. This relationship between man and dog we understand all too well. Sylvia is the story about man's best friend and woman's worst enemy. I am not a dog owner myself, yet this wonderful play caught my attention as an exquisite gem hidden at Lakeside Community Theatre.

Sylvia explores the many challenges ...
---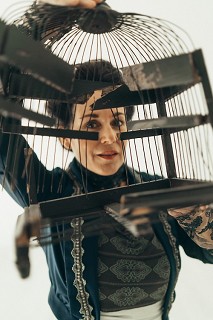 Regional Premiere By Lucas Hnath
Presented by Stage West
Runs through 11/25/2018

Reviewed by Chris Hauge,
Associate Critic for John Garcia's THE COLUMN

It was the door slam that shook theatrical history. In Henrik Ibsen's seminal play, "A Doll's House", the character of Nora comes to the realization that the world of 19th Century Norwegian society has no place for her. She has no legal standing apart from her husband (even the children she gave birth to are property of the husband and are not really hers), no money apart from her husband, and has no part to play other than being a piece of social decoration with no personality of her own – a doll. Faced with this, Nora Decides to turn her back on her husband and children and leaves, shutting the door with a sound that still echoes today.

"A Doll's House, Part 2" by Lucas Hnath begins with ...
---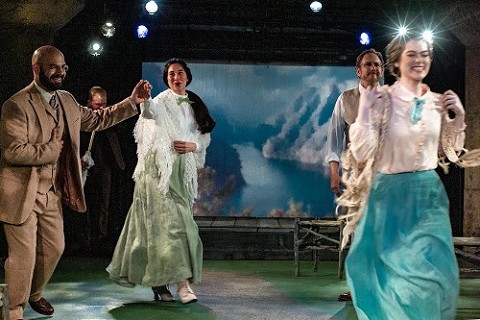 by Henrik Ibsen in a version by Pam Gems
Presented by Undermain Theatre
Runs through 12/2/2018

Reviewed by Chris Jackson,
Associate Critic for John Garcia's THE COLUMN

"…late Ibsen symbolism is laced with irony. Indeed, the whole play can be seen as an exploration of the several meanings attaching to the word 'freedom'". Michael Billington Thanks to the Undermain Theatre, Dallas has the opportunity to enjoy one of Henrik Ibsen's seldom produced plays, The Lady from the Sea. This is not your typical Ibsen buried in unending gloom, but different in many ways that will intrigue and even startle modern audiences. Amazingly relevant about women's issues for a play that was written in 1888, it is, as Helen Epstein says, "…a blend of domestic realism, symbolism, myth, and folktale, a drama about the varieties of love, marriage and its alternatives for women, psychological obsession, free will, and the opposing attractions of land ...
---