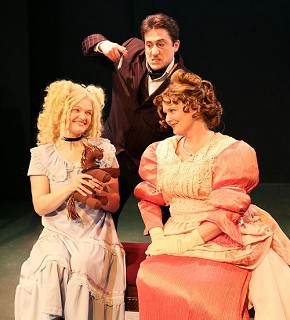 By Lauren Wilson
Presented by Rover Dramawerks
Runs through 10/26/2019

Reviewed by Jordan Thomas,
Associate Critic for John Garcia's THE COLUMN

If you are looking to get into the spooky spirit this season with a classic dark tale, while at the same time enjoy a satisfying sinister comedy, dash on over to Rover Dramawerks for their production of Chemical Imbalance.

Chemical Imbalance is a dark comedic adaptation of Robert Louis Stephenson's gothic classic, The Strange Case of Dr. Jekyll and Mr. Hyde. It is quite refreshing that a story first published in 1886, initially taken as a serious frightening story, has been seamlessly transformed into a clever comedy.

This being my first visit to Rover Dramawerks, I was surprised, yet delighted to enter the theater and see a non-traditional stage. The playing space was intimate, and the seating was that of an L shape. With an open seating policy, I suggest arriving early to ...
---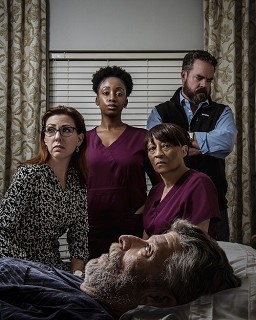 by Jonathan Norton
Presented by Kitchen Dog Theater
Runs through 10/27/2019

Reviewed by Stacey Upton,
Associate Critic for John Garcia's THE COLUMN

Kitchen Dog Theatre launched its 29th season with this world premiere of Jonathan Norton's play. Kitchen Dog has a wonderful performance space, and their productions can be counted upon to be challenging, thought-provoking pieces that are well-staged and acted. The playwright has a storied set of accolades to his name, and is currently playwright-in-residence for Dallas Theatre Center.

"a love offering" takes place in an assisted living facility, and from the moment one walks into the theatre, you believe you are in that space. The set design by Clare Floyd DeVries is exceptional in both its utility and evocation of nursing home living. The prop design by Cyndy Ernst Godinez was the perfect complement, hitting all the right notes, from a sanitizing gel dispenser on the wall to the adult diapers ...
---

By Michael Federico Conceived by Christie Vela and Michael Federico World Premier New Play
Presented by Theatre Three
Runs through 10/27/2019

Reviewed by Charlie Bowles,
Associate Critic for John Garcia's THE COLUMN

Dracula was published by Bram Stoker in 1897, yet it excites the imagination still. Story versions are many, yet the novel is still listed as the best of gothic horror stories.

There's a ream of research about how this story originated and what it meant, but Stoker himself left no clues. At its most basic, it's a story of good versus evil with multinational chases and swashbuckling action in dark castles and an asylum. And, of course, blood. But the basic questions persist.

What drove the Count to madness? How did he come to be a vampire? What were the complications that created him? In a more modern genre, are people born evil or is evil thrust upon them?

These questions are also addressed in Dracula, a new version by Michael Federico, in collaboration ...
---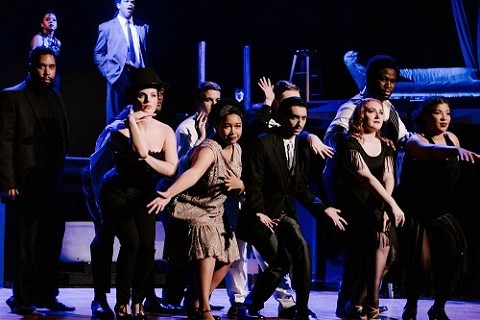 Book, Music and Lyrics by: Andrew Lippa Based on the Poem by Joseph Moncure March
Presented by Bishop Arts Theatre Center
Runs through 10/27/2019

Reviewed by Mildred Austin,
Associate Critic for John Garcia's THE COLUMN

THE WILD PARTY by Andrew Lippa appeared off-Broadway, coincidentally, at the same time as another production with the same name and source material and which starred Mandy Patinkin and Eartha Kitt.. Both shows are loosely based on a 1928 narrative poem by Joseph Moncure March by the same title . March was best known for this sexually charged Jazz Age poem, along with another, THE SETUP. He later went on to Hollywood where he worked as a screenwriter until 1940. Lippa's musical version had originally opened at the Eugene O'Neill Theatre Center in 1997 as a workshop, and with Kristin Chenoweth in the role of Mae. It hen had an off-Broadway run, opening February 24, 2000 at the Manhattan Theatre in New York, where it ...
---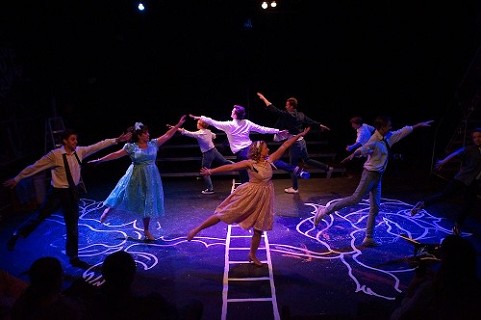 Music by Leonard Bernstein Book by Arthur Laurents Lyrics by Steven Sondheim Based on a conception of Jerome Roberts Based on Shakespeare's Romeo & Juliet
Presented by Stolen Shakespeare Guild
Runs through 10/27/2019

Reviewed by Connie George,
Associate Critic for John Garcia's THE COLUMN

West Side Story is a classic tale of star-crossed lovers in fair New York City where we lay our scene. The time period is mid 1950's and New York is in the midst of a migration of Puerto Rican Immigrants. Two rival gangs have formed amongst them; the white American's "Jets" and the Puerto Rican "Sharks". The show begins with a turf war between the two.

When I first arrived at the Fort Worth Community Arts Center, I was a little frazzled. I was 20 minutes early to the venue, but the parking lot was packed as there were 2 events going on that day. After I followed the cars to a parking garage and paid for parking, I began walking toward the theatre and ended up entering the backstage area. ...
---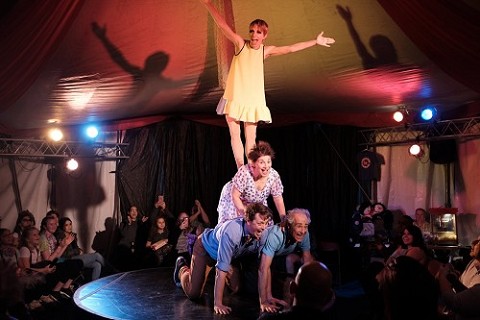 Devised, Directed, and Performed By Dick Monday & Tiffany Riley
Presented by Bath House Cultural Center
Runs through 11/3/2019

Reviewed by Travis McCallum,
Associate Critic for John Garcia's THE COLUMN

I am a lover of the circus. The warm smell of popcorn wafting just right outside the pitched tent, enticing a passing crowd with delicious promise. The sounds of upbeat carnival tunes energize adults with nostalgic anticipation and brightly dressed performers outfit the exterior for a taste of what's to come. Skip Gladstone, famed wizard of the circus troupe greets passersby with eclectic charm and young children flock around him with curious minds.

The show takes place in a small tent where a score of 100+ audience members are squished in wooden chairs around an arena stage no larger than 10 x 10' by my estimations. Both the audience proximity and stage size are of great significance to take note of when you attend the show. As the Petite Palace states in ...
---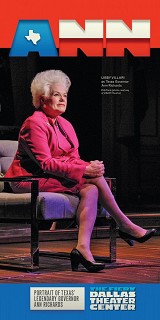 By Holland Taylor
Presented by Dallas Theater Center
Runs through 11/10/2019

Reviewed by Ann Saucer,
Associate Critic for John Garcia's THE COLUMN

ANN starts with voice over excerpts from Ann Richards' successful Keynote address at the Democratic National Convention in 1988. Addressing the elephant in the room, i.e. the rarity of a female keynote speaker, Richards quips, "If you give us a chance, we can perform. After all, Ginger Rogers did everything Fred Astaire did. She just did it backwards and in high heels." I know a few women who occasionally sooth ourselves with that sentiment. The wit and wisdom of Ann Richards has survived the test of time.

After an introduction from the President of an unnamed Texas college (voice by Treat Williams!), Libby Villari takes the stage as former Texas Governor Ann Richards. Villari earned rave reviews for her complete and total embodiment of Ann Richards at the Zach Theatre in ...
---