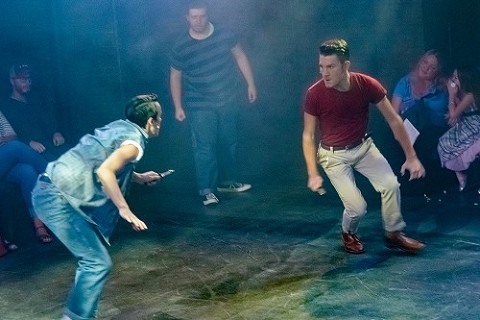 (Based on a conception by Jerome Robbins) Music by Leonard Bernstein Lyrics by Stephen Sondheim Book by Arthur Laurents Entire Original Production Directed and Choreographed by Jerome Robbins
Presented by Artisan Center Theater
Runs through 8/18/2018

Reviewed by Genevieve Croft ,
Associate Critic for John Garcia's THE COLUMN

Based on the Shakespearean tragedy Romeo and Juliet, West Side Story has become one of the classics of contemporary musical theatre. The story has been told time and time again in many different ways. However, the premise always stays the same. It's the story of forbidden love, and a romance never prevails.

West Side Story has been referenced and parodied in many other mediums. From "Gee, Officer Krupke" being sung over and over again by a frustrated Larry David in the humorously R-rated HBO show, Curb Your Enthusiasm while being pursued by the police to this humorous reference in the hit 90's television show, Frasier, when Frasier recalls that his father refused to take him to see West Side Story on his 8th birthday. Martin replies, "because of the gangs…that's scary ...
---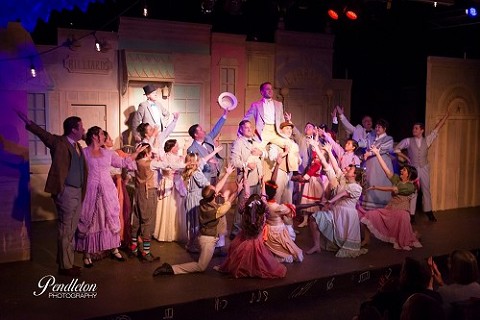 Book, Music and Lyrics by Meredith Wilson Based on a story by Wilson and Franklin Lacey
Presented by The Firehouse Theatre
Runs through 8/19/2018

Reviewed by Chris Jackson,
Associate Critic for John Garcia's THE COLUMN

"If Mark Twain could have collaborated with Vachel Lindsay, they might have devised a rhythmic lark like The Music Man, which is as American as apple pie and a Fourth of July Oration…" Brooks Atkinson, The New York Times on the Broadway opening.

If you enjoy The Music Man – and who doesn't – then you're in luck, because there are no less than three productions running this summer in the DFW area. First up is the rousing and excellent Firehouse Theater production in Farmer's Branch, followed by 76 Trombones also leading the Big Parade in Rockwall and Fort Worth.

A con man who fools people in America's heartland. Hmmm… In this case, the con man is "Professor" Harold Hill selling the All-American idea of a boy's band to ...
---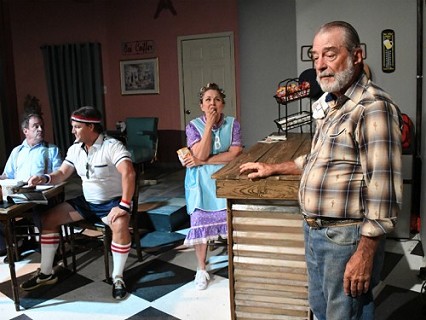 by Del Shores
Presented by Runway Theatre
Runs through 8/19/2018

Reviewed by Stacey Upton,
Associate Critic for John Garcia's THE COLUMN

Rounding out their 35th season, the Runway Theatre has chosen Del Shores' first published play to perform. "Cheatin'" was written in 1984 and predates his hilarious "Sordid Lives" and "Daddy's Dyin' (Who's Got The Will?)." It's interesting to see where Del Shores is going to head in his comedy future, but as with any first novel or attempt, there clunkers in here. The play's humor is severely dated and too bitter in tone to be truly funny throughout most of the proceedings. "Cheatin'" is what director Evelyn Davis refers to as a "redneck comedy." It has funnily named characters like Sara Lee Turnover and Maybelline and the obligatory two-name folks like Bo Bob who inhabit the small down of Lowake, Texas. These characters have known each other since high school, and ...
---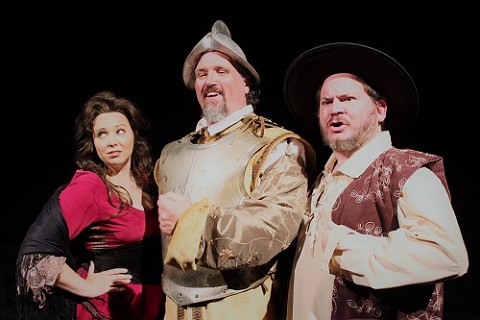 Book by Dale Wasserman, Music by Mitch Leigh, Lyrics by Joe Darion
Presented by Theatre Frisco
Runs through 8/19/2018

Reviewed by Mark-Brian Sonna,
Associate Critic for John Garcia's THE COLUMN

Man of La Mancha has become a staple of American Theatre for a good reason: The message of eternal hope, optimism, loyalty, and integrity when faced against dire circumstances resounds today as it did back in 1965 when the musical first premiered.

This is a musical within a musical. Cervantes, the author along with his man servant Sancho Panza are placed in a dungeon and await a trial from the Inquisition. The other prisoners decide to hold a mock trial since he's deemed a bad poet. Cervantes offers in his defense along with all present a re-enactment of a play. They all agree, and the play within the play makes up the bulk of the musical. The play enacted is not a literal interpretation of the famous book ...
---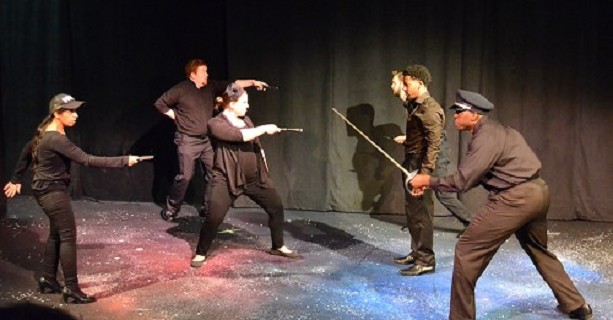 By William Shakespeare
Presented by Bare Bones Shakespeare
Runs through 8/19/2018

Reviewed by Kathleen Morgan,
Associate Critic for John Garcia's THE COLUMN

"O beware, my lord, of jealousy: It is the green-eyed monster which doth mock the meat it feeds on." Iago's words from Shakespeare's Othello perfectly capture what is stewing in the heart of Othello, the Moorish military commander who suspects, and ultimately condemns, his wife for an alleged affair. The themes of racism, jealousy, and deception in Othello are as potent today as they were when Shakespeare penned these words, making this masterpiece a timeless classic.

Bare Bones Shakespeare put on an entertaining performance, one that is all the more impressive considering that the actors were self-directed, in the style of original Shakespeare from the 17thcentury. The style of the show was, as the name suggests, "bare bones." There is no set, no change in lighting and few props. Costume ...
---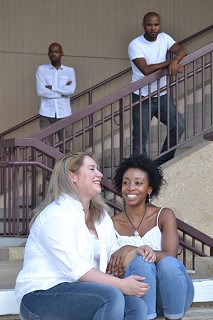 by Hansol Jung
Presented by Proper Hijinx Productions
Runs through 8/19/2018

Reviewed by Carol M. Rice,
Associate Critic for John Garcia's THE COLUMN

Cardboard Piano takes place in a church in Northern Uganda on the eve of the millennium and then 14 years later. We as Americans generally don't keep up with the various outbreaks of violence that tend to occur in Africa on a regular basis, but they are always there. My brother attempted Peace Corps assignments in both Rwanda and Zaire and was pulled out each time before he could complete them due to "unrest" in the country. (Unrest is a code word for random violence breaking out, in case you weren't clear on that.) Even when things are deemed "safe" for certain races and religions, it can change overnight, which can be scary when someone you love is suddenly in danger.

In Cardboard Piano, a local teenaged girl and the daughter of ...
---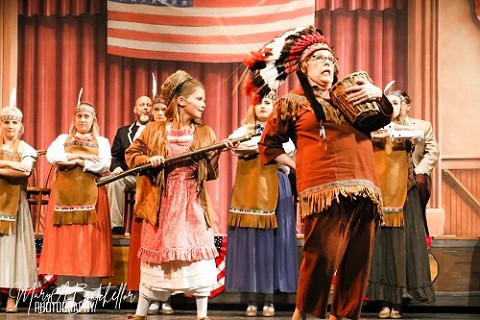 Book, Music and Lyrics by Meredith Willson Story by Meredith Willson and Franklin Lacey
Presented by Rockwall Summer Musicals
Runs through 8/19/2018

Reviewed by Chris Hauge,
Associate Critic for John Garcia's THE COLUMN

The musical "The Music Man" has a special place in my heart for many reasons. It has a comfortable feeling to it, like an old friend who tells great stories coming over for a visit. It takes us back to an easier, simpler time which may have not existed, but we think of it with longing. And it reminds us of the joy we feel when hearing music that makes us want to march and sing along. These reasons and more make me happy I saw Rockwall Summer Musicals production of Meredith Willson's great American musical. The cast wonderfully conveys all the energy and nostalgia which make this musical a classic and makes for an evening of rousing entertainment.

Meredith Willson's homage to his home state of Iowa tells the story of ...
---


Music- various, Lyrics-various. Book- John Logan Pre-Broadway / Out of Town Engagement
Presented by Emerson Colonial Theatre, Boston, Massachusetts
Runs through 8/19/2018

Reviewed by John Garcia,
Senior Chief Critic/Editor/Founder for John Garcia's THE COLUMN

I am artist and it should be YOU that should be afraid of me sir.
- Henri de Toulouse

- Henri de Toulouse telling The Duke what he should fear after he demands Toulouse call him a Lord and be afraid of his title and stature in Parisian aristocratic society.

That line at Wednesday's evening performance of Moulin Rouge The Musical elicited a raucous wave of cheers and applause from the Boston audience at the Emerson Colonial Theatre. Who would have thought that a musical set in the ...
---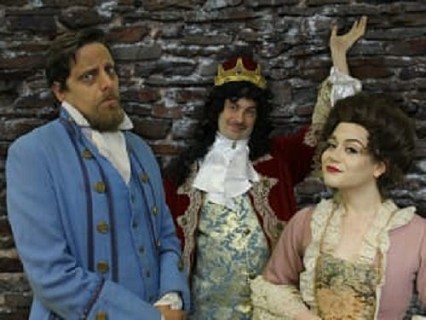 By Steven Young
Presented by Pegasus Theatre
Runs through 8/25/2018

Reviewed by Ann Saucer,
Associate Critic for John Garcia's THE COLUMN

Pegasus Theatre presents the world premiere of the period comedy, A Proper Man by Steven Young, at the Bath House Cultural Center. A consistently strong cast with good comic timing brings this farcical romp to animated life. This wacky comedy serves up pillow fights, jail breaks, cross-dressing, ribald sex jokes, tongue-twisters, orgy party planning, and the appearance of the King in the Second Act (the latter two not being unrelated).

The setting is "the Clink," London's oldest prison, in the year 1660. An impressive array of instruments of torture are mounted on the walls, which like the floor are painted to replicate rough hewn stones. Juxtaposed with this foreboding setting is a soundtrack of Monty Python songs prior to curtain.

The play that unfolds is definitely of the Monty Python nature. Chris ...
---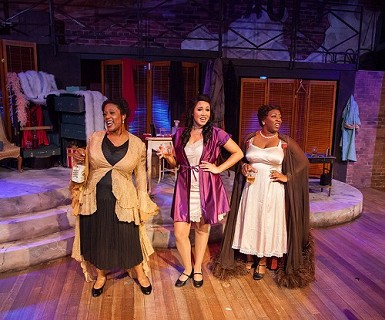 Conceived by Sheldon Epps
Presented by Jubilee Theatre
Runs through 8/26/2018

Reviewed by Rebecca Roberts,
Associate Critic for John Garcia's THE COLUMN

Blues in the Night is a musical revue conceived by Sheldon Epps, which features popular blues music from the 1930s. While not necessarily plot-driven, this show allows audiences a peek into four meaningful, beautiful, and entertaining character vignettes, through song. Directed by Broadway veteran, Michael Serrecchia, Jubilee Theatre's production of Blues in the Night begins and ends with chill-inducing harmonies from one of the most impressive musical ensembles I've ever heard in the DFW metroplex.

Set in late-1930s Chicago, three women and one man take the show's title very literally by singing the blues all night long. Whether singing about love, family, distant memories, or heartbreak, these four characters find their lives and songs intertwining with each other in a run-down hotel, between dusk and dawn – "the blues hours." And ...
---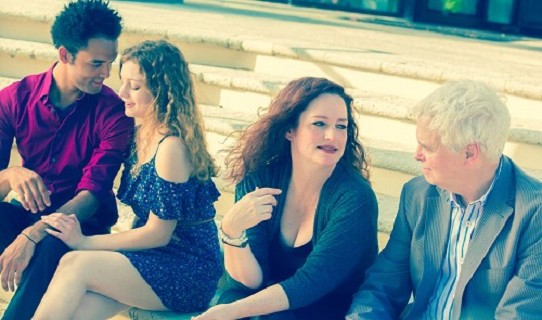 HEISENBERG by Simon Stephens ACTUALLY by Anna Ziegler
Presented by Theatre Three
Runs through 8/26/2018

Reviewed by Ryan Maffei,
Associate Critic for John Garcia's THE COLUMN

How excited were you to go and see Heisenberg/Actually, the double bill kicking off Theatre Three's 57th season, when you read about it? I ask without clarifying who you are or anything about your individual set of preferences because a) obviously it's hard for me to do that right now and b) if you're reading this, you're into theatre, and probably near Dallas, and as such conditioned into good taste by the high bar much of what gets put on around here serves to set. And how surefire an evening on the other side of the not-literal footlights does this sucker sound? Four notably brilliant regional performers digging, in pairs, into trenchant dialogues vividly imagined by two acclaimed playwrights "with a sharp ear for the verbal rhythms of conversation" – says ...
---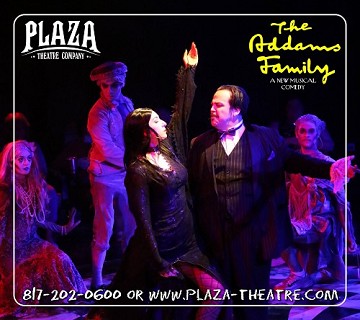 Book by Marshall Brickman and Rick Elice, Music and Lyrics by Andrew Lippa Lyrics by Howard Ashman Based on the characters created by Charles Addams
Presented by Plaza Theatre Company
Runs through 9/1/2018

Reviewed by Eli Berke,
Associate Critic for John Garcia's THE COLUMN

Tucked away in Cleburne, Texas is the Plaza Theatre Company, and although finding the proper venue can be a bit difficult, your time searching for the theatre won't be wasted if you're going to see The Addams Family between now and September 1st. A show that's fun for the whole family, The Addams Family at Plaza is entertaining for the young and old alike.

For my first review as an Associate Theater Critic for John Garcia's THE COLUMN; I was hesitant to accept my assignment to review a show from a small-town non-profit theatre company. Not that those titles should have any negative connotation, however in my experience small town theatre has always been a cringey occasion and one that leaves me hesitant to see the next small-town production. And ...
---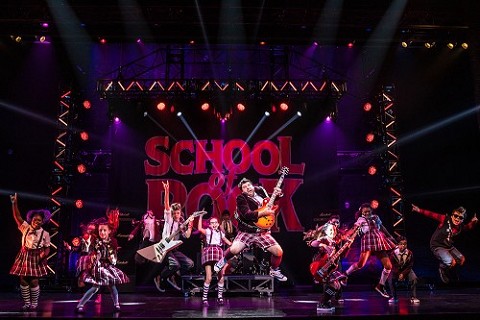 Book by Julian Fellowes; Music by Andrew Lloyd Webber; Lyrics by Glenn Slater Based on the Paramount movie written by Mike White
Presented by Dallas Summer Musicals
Runs through 9/2/2018

Reviewed by John Garcia,
Senior Chief Critic/Editor/Founder for John Garcia's THE COLUMN

I am an ardent admirer of Andrew Lloyd Webber scores. From Joseph…Dreamcoat to Sunset Blvd to Phantom to Jesus Christ Superstar. Other scores like Cats and Starlight Express, eh…not so much. I remember reading in 2013-14 that Lord Webber had bought the film rights to the film comedy School of Rock that starred Jack Black to turn into a musical. My immediate reaction was, "eh." I thought the film was funny but didn't reach the level of "that has got to be a stage musical". My first view of the show was when the cast performed on the 2016 Tony awards telecast. The production received four nods, including Best score, book, and musical. I watched the number, and overall it was pleasurable and enjoyable. But it didn't move me to ...
---