Reviews for Current Shows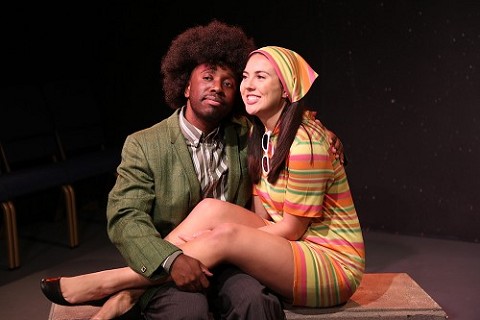 By Holli Harms
Presented by Rover Dramawerks
Runs through 12/14/2019

Reviewed by Ann Saucer,
Associate Critic for John Garcia's THE COLUMN

On the evening of February 8, 1968, South Carolina Highway Patrol officers opened fire on students on the campus of South Carolina State University. The students had built a bonfire and were protesting the racial segregation of a local bowling alley. In the shooting, the officers killed three protesters, African-American males, and injured twenty-seven others.

This tragedy, which also is referred to as the Orangeburg massacre, forms the secret backstory of the fictionalized main character, esteemed archeologist Emmett Fludd (Angelo Reid), in Shouting Down a Quiet Life. Rover Dramawerks presents the world premiere of this award-winning play by contemporary playwright Holli Harms.

The play switches time periods between 1968 and 1998. We first meet Emmett in 1998, as the cerebral and poised Professor, who lectures his class on the revelations from his ...
---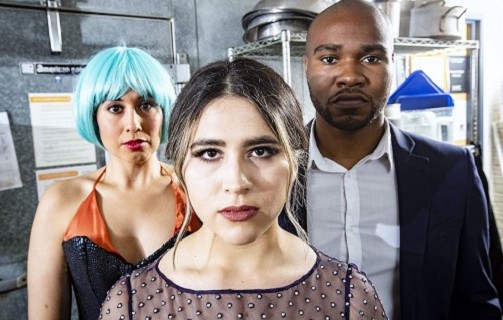 By Hilary Bettis
Presented by Kitchen Dog Theater
Runs through 12/15/2019

Reviewed by Travis McCallum,
Associate Critic for John Garcia's THE COLUMN

Regional Premiere's are always exciting to behold. It's a thrill to go into a show with no clue what to expect. But you know when it comes to Kitchen Dog's forte, the experience will be disruptive—if not unsettling to watch. KD always delivers.

Enter the Basel Hotel in Miami Florida. A great big party lights up the night and we, the audience, sit idly in its kitchen. Through the swinging industrial double doors we see rainbow shadows of the spotlight and the heavy reverb of bass electronica surging around the corner on a hidden dance floor.

Joining us in the kitchen is the Julie (Kat Lozano), accompanied by Christine (Stephanie Cleghorn). There was a spill and the Queen of the Basel Hotel sobs, her cocktail waitress frantically attempting to appease the error of ...
---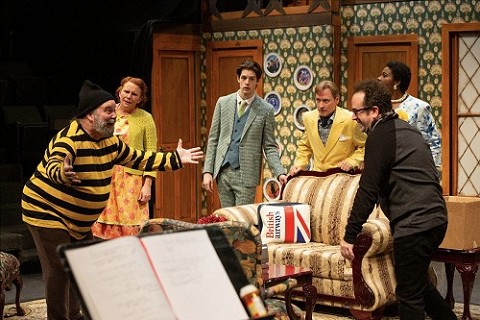 By Michael Frayn
Presented by Theatre Three
Runs through 12/22/2019

Reviewed by Ann Saucer,
Associate Critic for John Garcia's THE COLUMN

Noises Off is a farce about a farce, celebrating the joy of live theater while simultaneously delivering a tale of live theater gone comically awry. And when I say awry, I mean a prologue and epilogue of mishaps, misdeeds, and a gamut of naughtiness. Theatre Three's production is consistently hilarious, and kept the audience laughing throughout.

Noises Off traces the travails of the director, cast, and crew of a British farce, as their rocky production weaves its way through a Texas tour. A program for the play-within-a-play, "Nothing On" by the fictional "Robin Housemonger," is included within the real Noises Off program. Noises Off treats us to the same opening act from "Nothing On" three times over, but at different times during the play's run. The first time is the dress ...
---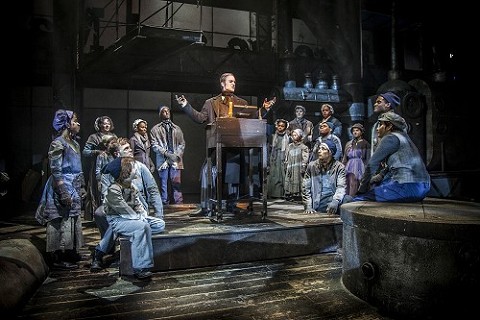 By Charles Dickens – Adapted by Kevin Moriarty
Presented by Dallas Theater Center
Runs through 12/29/2019

Reviewed by Chris Hauge,
Associate Critic for John Garcia's THE COLUMN

Dallas Theater Center's production of "A Christmas Carol" begins with a child beautifully singing a song of the hope of Christmas on the floor of a dark, dirty Victorian factory and ends with a child ringing a single bell that pierces the heart and shows that hope can be kindled in each of us all year long. In between, Director Joel Ferrell, using Kevin Moriarty's adaptation of Charles Dicken's classic story, has presented this tale of the redemption of the soul of one man and of all of society with a fresh sense of joy, seasoned with more than a dash of social conscience. This is the story of the reclamation of Ebenezer Scrooge and of all humankind, so that each person can live a life free of oppression and hunger. ...
---