Reviews for Current Shows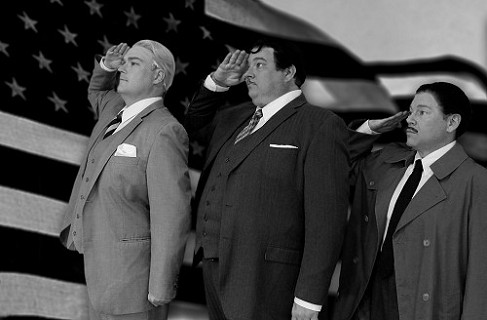 Written by Kurt Kleinmann
Presented by Pegasus Theatre
Runs through 1/19/2020

Reviewed by Brendon Ramsey,
Associate Critic for John Garcia's THE COLUMN

The Color of Death is a continuation of Pegasus Theatre's original black and white series of shows following bumbling detective Harry Hunsacker (Scott Nixon) that, this time, finds our hero in the Bavarian Alps gathering information on a secret Nazi experiment. "Leading" his team of allies, Hunsacker must uncover what this nefarious new weapon might be and destroy any prototypes before it turns the tides of World War II against the Allied Forces. During the commotion a murder takes place. It is then up to Detective Hunsacker and his team, Lt. Foster (Chad Cline) and Nigel Grouse (Ben Bryant), to uncover the truth and catch this mad killer AND destroy the Nazi weapon.

The show begins with the opening credits of an old-school black & white film, followed by a short-filmed scene ...
---