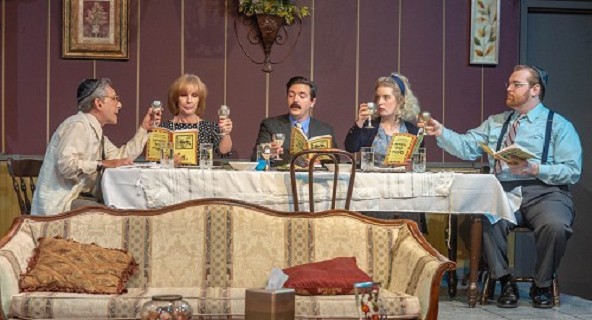 By James Sherman
Presented by Artisan Center Theater
Runs through 9/22/2018

Reviewed by Jeri Tellez,
Associate Critic for John Garcia's THE COLUMN

Beau Jest is a comedy about a young Jewish woman and her Beau. Although she doesn't meet him in one of the usual ways, he turns out to be just what the doctor ordered. The plot, complete with stereotypical Jewish parents, not-so-Jewish boyfriend, and therapist brother, is full of twists and turns. It was obvious that director, Cameron Byerly, had done his homework regarding the Jewish pronunciation and rituals, which seemed to be authentic.

The scene changes were a bit odd, being a combination of natural scene progression and instant changes, both done under low lighting. Some of the prop changes might not have felt as strange if a backstage crew member had done them, or had the lights been dimmed more.

The play was set in the late 1980s, but ...
---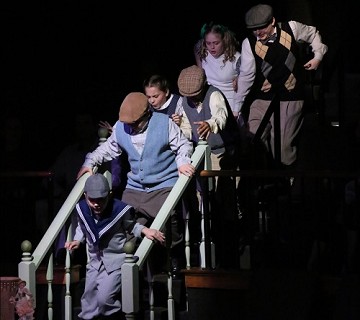 Adapted by Christopher Sergel
Presented by Plaza Theatre Company
Runs through 9/22/2018

Reviewed by Richard P. Buswold,
Associate Critic for John Garcia's THE COLUMN

Cheaper by the Dozen is a semi-autobiographic story written by Frank Gilbreth and Ernestine Gilbreth Carey, two of the twelve children in the story. The book was first adapted into a movie in 1950 and then a stage play in 1992. Christopher Sergel also made a musical out of the show with a score by David Rogers and Mark Bucci.

It is the story of real-life Motion Studies expert Frank Gilbreth Sr who did indeed have twelve children. Gilbreth's home doubled as a sort of real-world laboratory that tested Frank's ideas about efficiency. When questioned about why he had so many kids he would quip, "Well, you know you get 'em cheaper by the dozen." Thus, the title of the book and play.

JaceSon P. Barrus plays Frank ...
---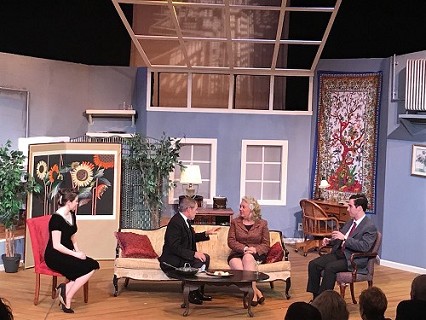 by Neil Simon
Presented by Garland Civic Theatre
Runs through 9/23/2018

Reviewed by Carol St George,
Associate Critic for John Garcia's THE COLUMN

We found ourselves at Garland Civic Theatre on a rainy Friday night, along with more than a few dedicated fans, to see Barefoot in the Park, even though we would rather have stayed home and curled up with Netflix. But once the play got underway, we couldn't imagine having a better time elsewhere. Fifty-one years ago, this was the first play staged at this GCT. For this small, comfortable hometown theater to have that kind of longevity means they must be doing something right. On opening night, they were.

Barefoot in the Park, Neil Simon's classic, quick-witted comedy – his longest-running Broadway hit, later adapted for a popular 1967 film with Robert Redford and Jane Fonda – takes place entirely in the top-floor apartment of a brownstone on East 48th Street, New ...
---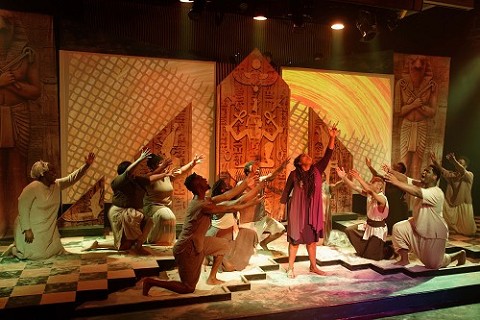 Music By Elton John, Lyrics By Tim Rice Book By Linda Woolverton, Robert Falls, and David Henry Hwang
Presented by The Firehouse Theatre
Runs through 9/23/2018

Reviewed by John Garcia,
Senior Chief Critic/Editor/Founder for John Garcia's THE COLUMN

My brain is not normal by any means and should be studied. When it comes to a musical or play that I have seen on Broadway, it will retain, record, and file the entire show in my encephalon. Thus, when I hear the score or see that show again in a national tour or on a local stage, the cerebrum becomes a playback and I automatically remember that original Broadway production that I attended, from the visuals to the emotions I experienced that evening.

But ask my brain to remember if I paid that dang VISA card or if I balanced my meager bank account this month, and like a host from Westworld, it just shuts down, only to flash across my eyes, "Does not compute" and elevator music starts to blast.

After ...
---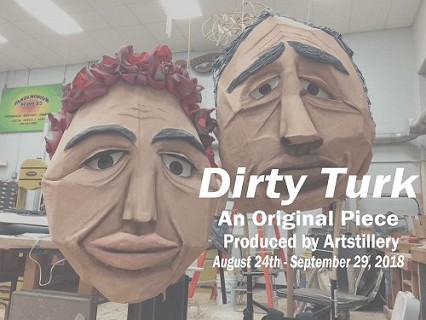 An Original Piece Produced by Artstillery
Presented by Artstillery
Runs through 9/29/2018

Reviewed by Kathleen Morgan,
Associate Critic for John Garcia's THE COLUMN

It's been a little over a day since I saw Dirty Turk and even now, all I can think is… What was that? Did that really happen? When I read that Dirty Turk would experiment with back pack puppets and shadow work, I knew to expect something "different" – but nothing could have prepared me for how very different this show would be. Dirty Turk is a play about the experiences and memories of a Turkish-American young woman from an immigrant family. However, every aspect of its presentation was unique at best and downright trippy at worst.

Once you arrive at the modest venue on Fort Worth Avenue and claim your ticket, you are asked to wait outside until the moment the show begins. When ...
---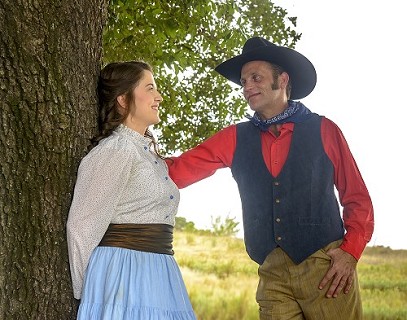 Rogers & Hammerstein
Presented by Artisan Center Theater
Runs through 9/29/2018

Reviewed by Kathleen Morgan,
Associate Critic for John Garcia's THE COLUMN

You know a show is pretty magnificent when it can captivate audiences 75 years after it was first created. Rogers and Hammerstein's Oklahoma! is a classic, and its production by Artisan Center Theater was nothing short of sheer delight. The actors were exceptional and exceptionally well cast, the leads had palpable stage chemistry, and the comedic timing was superb. Since I had never seen a stage production of this show and it had been many years since I saw the film, I was concerned that I might find this musical hokey and a somewhat dated. If you find yourself falling into the same trap, pull yourself out right now! This show is hilarious, full of energy, and shows us the timeless nature of romance, jealousy, and ...
---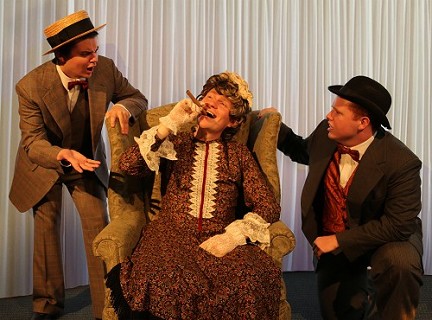 By Brandon Thomas
Presented by Rover Dramawerks
Runs through 9/29/2018

Reviewed by Kathleen Morgan,
Associate Critic for John Garcia's THE COLUMN

For about a year of my childhood, my parents were obsessed with P.G. Wodehouse– you know, the author who quipped, "I could see that, if not actually disgruntled, he was far from being gruntled." Although he did not write Charley's Aunt, he wrote "Life with Jeeves," and brought to life a daft but charming young British bachelor, along with his sage butler, Jeeves. Rover Dramawerks' production of Charley's Aunt brought images of Bertie and Jeeves to mind: British aristocrats, their hijinks, and the butlers who stealthily avert inevitable disaster. The show was fun, fast-paced, and had the audience laughing at every turn!

The audience meets Jack and Charley in the first scene as both young men are attempting to write letters to their sweethearts, Kitty and Amy. As ...
---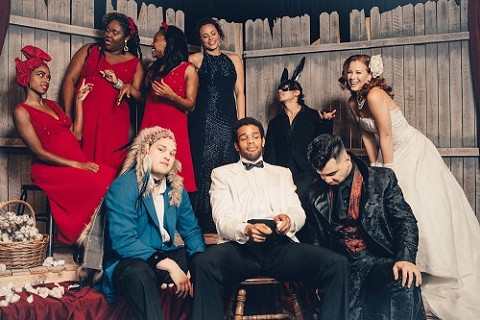 Regional Premier By Branden Jacobs-Jenkins
Presented by Stage West
Runs through 9/30/2018

Reviewed by Charlie Bowles,
Associate Critic for John Garcia's THE COLUMN

How do you feel? Can a playwright create something that makes you feel something they want?

Such are questions many playwrights ponder as they create stories and themes for their plays. It was a prime motivation behind the romanticism movement and led to a melodramatic style of performance many of us grew up watching. While audiences drink in the spectacle of Branden Jacobs-Jenkins' An Octoroon at Stage West in Fort Worth as a play about race relations, and there is some of that, the play is more complicated. It's an exploration of the place of theater in social discourse and our continued embrace of stereotypes amid grand political struggles. It pushes the boundaries of what's acceptable in public performance. What can a playwright do to push make us think ...
---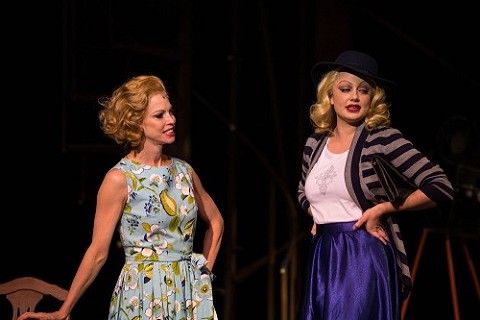 Book, Music, and Lyrics by Robert Bartley and Danny Whitman
Presented by Pegasus Theatre
Runs through 9/30/2018

Reviewed by Chris Jackson,
Associate Critic for John Garcia's THE COLUMN

Like millions of other people in the 1950's, I grew up faithfully watching Lucy and Desi every week, loving every minute of it. As I got older and became an actor and theater teacher, I watched re-runs with a more appreciative eye for the skill and comic timing involved in making it all look so effortless. I never really wondered about how it all came about, or who helped or hindered the show's inception. Thanks to Pegasus Theatre, and a talented production team, a version of that history, wrapped in song and dance, is now playing for our edification and enjoyment.

Storm Lineberger, who plays Desi Arnaz, is a powerhouse, and the best thing about the show. Fortunately it's his story, and so we spend quite a bit of ...
---