Reviews for Current Shows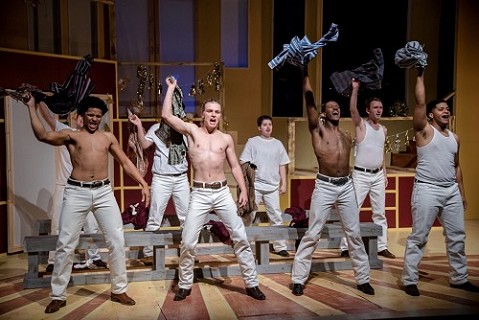 Music and Lyrics by: Carol Hall Book by: Larry L. King and Peter Masterson Based on a story by Larry L. King
Presented by Granbury Theatre Company
Runs through 3/18/2018

Reviewed by Genevieve Croft ,
Associate Critic for John Garcia's THE COLUMN

"Texas has a Whorehouse in it! Lord, have mercy on our souls!" Based on the real-life Chicken Ranch bordello that operated from 1905 to 1973 near La Grange, Texas, The Chicken Ranch has an interesting history that goes all the way back to 1844. An illegal, yet tolerated brothel, had an assortment of owners over the course of its 68-year history.

Established by Miss Jessie Williams (the inspiration for Miss Mona), the topic of prostitution was handled as respectably as it could be for the time period. Miss Jessie kept this pleasure palace known as Chicken Ranch reputable by excluding drunkards and admitting lawmen and politicians. Although illegal, everyone knew what the Chicken Ranch was, and locals tolerated it. During the 1950's and 60's, it even became a destination for Texas ...
---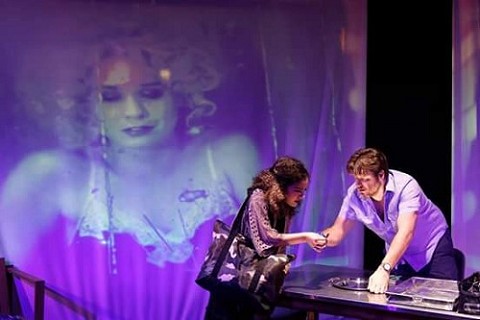 By Terry Johnson
Presented by Giant Entertainment
Runs through 3/24/2018

Reviewed by Mark-Brian Sonna,
Associate Critic for John Garcia's THE COLUMN

"Hitchcock Blonde" presented by Giant Entertainment couldn't be any more timely. The play deals with men who wield their power and influence to sexually harass women. The play premiered in 2003 in England, but given the #MeToo movement, the subject matter couldn't be any timelier.

The play follows three different stories: In 1999 Alex, a university professor of Media invites his student Nicola to Greece to examine some reels of what could be a lost film of Hitchcock dating to 1919. The second story interwoven into the first takes place in 1959 as Hitchcock auditions an unnamed blonde to be the body double for Janet Leigh so he can film the now famous shower scene in the film "Psycho". The third scene is a recreation of the 1919 scene that ...
---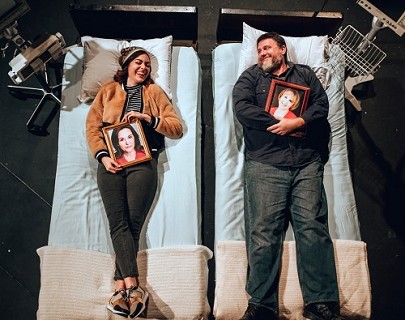 by Halley Feiffer
Presented by Stage West
Runs through 4/1/2018

Reviewed by Richard P. Buswold,
Associate Critic for John Garcia's THE COLUMN

It has been a very long time since I have seen a production at Stage West. A very long time. They were still over by TCU the last time I darkened their door. I remember that they would present "edgy" shows that were more cerebral than the vast majority of offerings in the Fort Worth theatre community at the time. I am happy to report, little has changed where that is concerned.

"A Funny Thing Happened on the way to the Gynecologic Oncology Unit at Memorial Sloan-Kettering Cancer Center of New York" probably wins the award for the longest title of a show and I'm not really sure what to tell you it is. Is it a comedy? Yes, but a dark one indeed. Drama? ...
---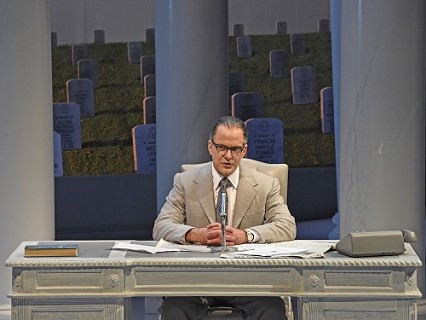 By Robert Schenkkan Part Two of "All the Way" A co-production with the Alley Theatre
Presented by Dallas Theater Center
Runs through 4/1/2018

Reviewed by Chris Hauge,
Associate Critic for John Garcia's THE COLUMN

The events that inspired this epic production took place in 1965 when I was 9 years and lasted through 1968 when I was twelve. I had some idea that many things were happening in America but since I was a child in rural South Dakota it meant very little to me. I had met very few African-Americans during that period, there were no riots or demonstrations near home and the Vietnam war didn't touch our family until my brother enlisted in 1969 (and mercifully came home). To see that period, which I obliviously lived through, presented with such power and emotion was a revelation to me. It also made me aware again of the power of live theatre to educate and touch audiences in a way often denied other ...
---