Reviews for Current Shows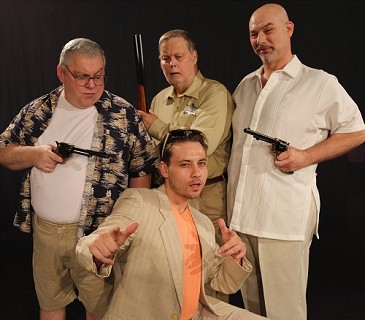 By Will Osborne & Anthony Herrera
Presented by Rover Dramawerks
Runs through 5/26/2018

Reviewed by Ann Saucer,
Associate Critic for John Garcia's THE COLUMN

Rover Dramawerks is dedicated to presenting new and rediscovered treasures that are "off the beaten path." Smoke and Mirrors – a comedy set in a Governor's vacation home on a private island off the Mississippi Gulf, 1991 -- certainly qualifies. This engaging production is well-paced and earns its fair share of laughs.

Prominent features of the set are a centrally placed, stocked bar, and an assortment of guns mounted on one wall. A revolver is conspicuously missing, and the reason why is immediately revealed.

Gun in hand, Hamilton Orr (Kenneth Fulenwider) kicks off this comedic romp with dramatic flair. Hamilton is the director and producer of a movie to be shot on the private island. His wife, the screenwriter, and the star make their respective appearances in the first act.

As Hamilton, Fulenwider is ...
---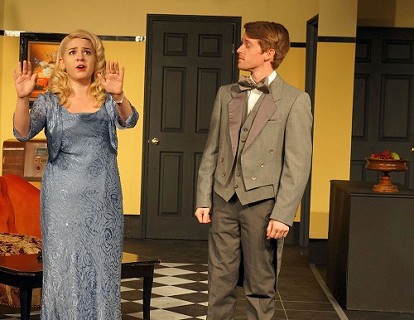 by Ken Ludwig
Presented by Rockwall Community Playhouse
Runs through 5/27/2018

Reviewed by Carol M. Rice,
Associate Critic for John Garcia's THE COLUMN

One of the main things I love about theatre is its ability to make me laugh. Comedies and farces are my favorite genres, and Ken Ludwig, who wrote Lend Me a Tenor, is a true master of both. In the capable hands of director Jill Lightfoot, Lend Me a Tenor shines on the Rockwall Community Playhouse stage.

Trisha Romo opens the play as Maggie, a huge fan of opera star Tito Merelli. She is cute and perky and obviously infatuated with the singer...almost to an unrealistic, unhealthy degree. Ms. Romo has lots of stage presence and good comic timing, (although she occasionally scrunches her face up and we lose her expressions), and she interacts well with Dalton Elza, who plays Max. Mr. Elza's performance is somewhat uneven. At times, he has great ...
---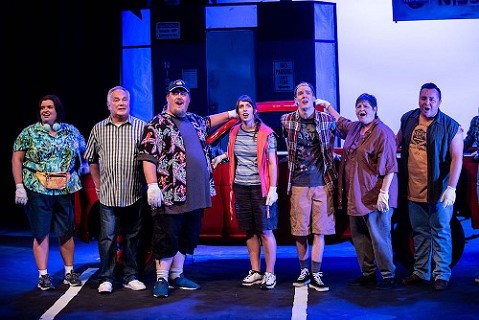 Book by Doug Wright Lyrics by Amanda Green Music by Trey Anastasio and Amanda Green
Presented by Granbury Theatre Company
Runs through 5/28/2018

Reviewed by Holly Reed,
Associate Critic for John Garcia's THE COLUMN

Born and raised in the piney woods of East Texas, I was actually aware of the original "Hands on a Hardbody" marketing play by the struggling auto dealership in Longview, Texas. It wasn't until a few years ago at a Dramatists Guild Convention in La Jolla, California that I discovered there had been a musical (really???) written about it. While in a breakout session with lyricist Amanda Green, she began describing the research process of a musical she had helped write about these crazy people who stood in the Texas summer heat for days on end with their hands on a truck…. I was most likely the only one in the room who remotely knew that event actually happened, and later had the privilege of meeting Amanda and sharing my familiarity ...
---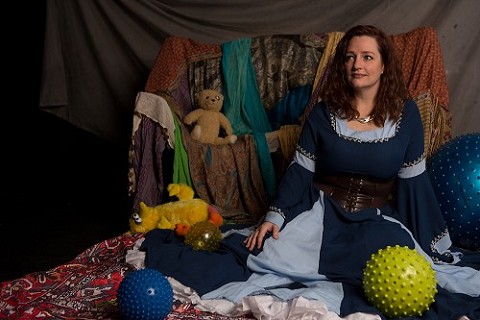 By Jessica Cavanagh
Presented by Theatre Too
Runs through 6/10/2018

Reviewed by Ann Saucer,
Associate Critic for John Garcia's THE COLUMN

Theatre Too's production of Jessica Cavanagh's "incredibly personal piece" grabs your attention and does not let go. Self Injurious Behavior is riveting, emotionally intense, frequently hilarious, and worth more than the price of admission.

Before the action begins, the audience knows from the set, props, and soundtrack that we are about to see a childhood scene. Children's movies are stacked by the television; worn stuffed animals are scattered haphazardly; blocks and assorted plastic figures spill out of their storage containers; and, pillows on an over-stuffed chair portend someone's exhaustion.

The play begins with Jake (Ian Ferguson) performing a song that, we soon learn, is about his son. Ferguson's angelic voice is a real treat.

What immediately unfolds is as brilliantly performed as it is poignantly unnerving to watch. ...
---