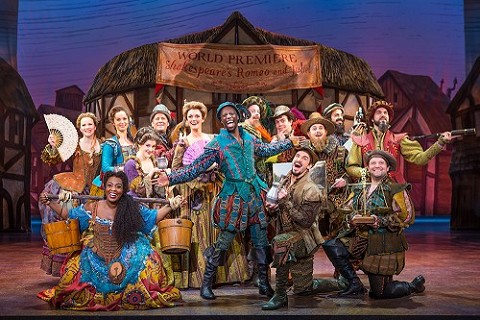 Book by Karey Kirkpatrick and John O'Farrell Music and Lyrics by Wayne Kirkpatrick and Karey Kirkpatrick
Presented by Bass Hall, Fort Worth
Runs through 1/21/2018

Reviewed by Jeremy William Osborne,
Associate Critic for John Garcia's THE COLUMN

"Welcome to the Renaissance" it's "A Musical!" SOMETHING ROTTEN brings its tour for ONE WEEKEND ONLY to Bass Performance Hall in Ft. Worth. The new musical opened in April of 2015, was nominated for 9 Tony Awards and nabbed Christian Borle his second Best Performance for a Featured Actor award. It's a hilarious fictional tale of the creation of the first stage musical by contemporaries of William Shakespeare, Nick and Nigel Bottom.

The creative team came to SOMETHING ROTTEN! with quite a pedigree. Casey Nicholaw, director of the production, is well known for his choreography on the original productions of Spamalot, The Drowsy Chaperone, The Book of Mormon, and Disney's Aladdin. He also directed The Drowsy Chaperone, Disney's Aladdin, and co-Directed The Book of Mormon. The quality shows with Nicholaw's attention ...
---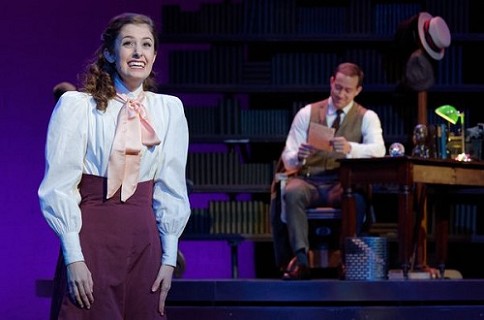 (Regional Premiere) Book by John Caird, music and lyrics by Paul Gordon
Presented by Lyric Stage
Runs through 1/21/2018

Reviewed by John Garcia,
Senior Chief Critic/Editor/Founder for John Garcia's THE COLUMN

Dallas's Lyric Stage has earned a national reputation and critical acclaim in producing new musicals for their audiences. For this past season they even moved to a new theater, the golden, art deco historic Majestic Theater in downtown Dallas. And now they present the Regional premiere of the two person musical, Daddy Long Legs (DLL).

DLL is based on the novel of the same name by Jean Webster written in 1912. It was first put on the stage boards at the Rubicon Theatre in California in October 2009. Four years later the next mounting was in London's West End in October 2012. In September 2015 it made its Off-Broadway debut where it would go on to receive Drama Desk and Outer Critics Circle nominations for Best Musical. The production not only had ...
---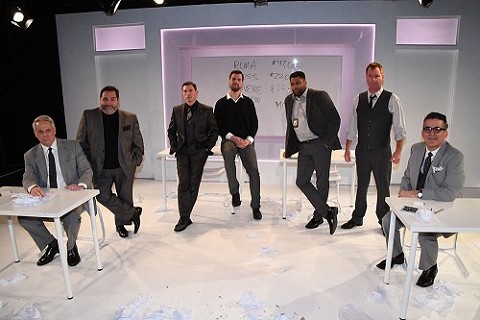 By David Mamet
Presented by Imprint Theatreworks
Runs through 1/27/2018

Reviewed by Mark-Brian Sonna,
Associate Critic for John Garcia's THE COLUMN

Imprint Theatreworks is brand new company to the DFW Theatre scene and with their inaugural production of David Mamet's "Glengarry Glen Ross" they have made their mark.

"Glengarry Glen Ross" is David Mamet's powerhouse play which went on to win the Pulitzer and a bevy of Tony nominations when it premiered three decades ago. This play is about the cut-throat salesmen who sell dubious properties. They all want leads, they are in competition against each other, and when their office is ransacked and the leads are stolen, all are suspect. None of the characters are likeable yet they all are fascinating and engage the audience. The play is notorious for its vulgar language, but it is all in context. These trolls would use this language, and while ...
---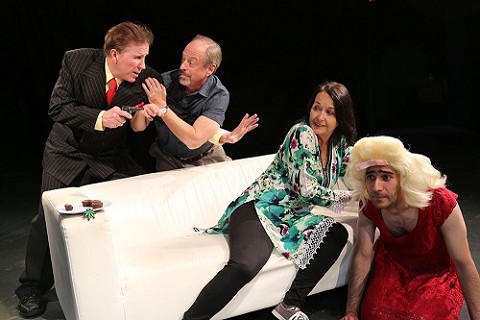 by Michael Parker and Susan Parker
Presented by Rover Dramawerks
Runs through 1/27/2018

Reviewed by Rachel Elizabeth Khoriander,
Associate Critic for John Garcia's THE COLUMN

Written by the husband-and-wife team of Michael and Susan Parker, Love, Lies & the Doctor's Dilemma is a new kind of play. As an English actor working in American theater in the 80s, Michael Parker noticed how difficult it was to translate the accents and humor found in English farce to the American stage, so he challenged himself to integrate the best of traditional British farce into a play that would be immediately available to an American audience—an American farce. His first was The Amorous Ambassador in 1988, and he and his wife, Susan, began co-authoring the plays in 2006. Love, Lies & the Doctor's Dilemma is their most recent offering.

The plot follows the antics of Joan Scheller and her live-in lover, Sandy, when, in an effort to hide their relationship ...
---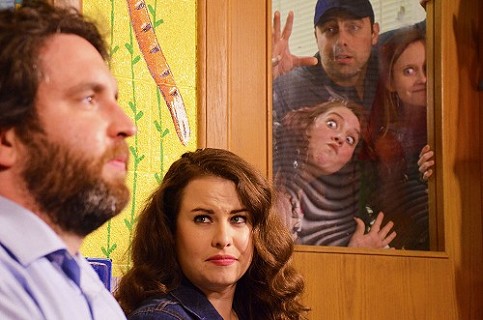 by Eric Coble
Presented by Tarrant Actors Regional Theatre
Runs through 1/28/2018

Reviewed by Eric Bird,
Associate Critic for John Garcia's THE COLUMN

How far would someone be willing to go for their children? That is a question that has been asked by parents throughout history and will continue to be asked for many years to come. The next question is what happens if we go to far? This is what Bright Ideas explores through the loving, overly supportive parents Genevra and Joshua Bradley.

Their son is next on the waiting list for Bright Ideas Early Childhood Development Academy, the best pre-school around. If you're child makes it there, s/he is set for life. Having gone through difficult times themselves as they grew up, Joshua and Genevra want to provide the absolute best for their son. This results in a fatal dinner party which changes their son's ...
---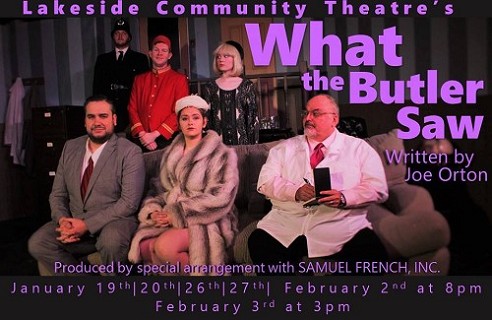 by Joe Orton
Presented by Lakeside Community Theatre
Runs through 2/3/2018

Reviewed by Carol M. Rice,
Associate Critic for John Garcia's THE COLUMN

It's rare that I see a disclaimer in the playbill when I go to a show, but I will admit to be slightly relieved to read this during intermission: "WHAT THE BUTLER SAW is set in 1966, a very different era of human history. It may contain subject matter that some may offensive in the year 2018." While Joe Orton's now classic play is not shocking in the same way it was when first performed in 1970, modern sensibilities, especially in our politically charged climate, do make some of the casual references to things like rape more than a bit jarring. At the time, Orton's dislike of the status quo and authority figures, not to mention his disdain towards psychology and the repressed British attitude towards sex, resulted in his cheerfully ...
---