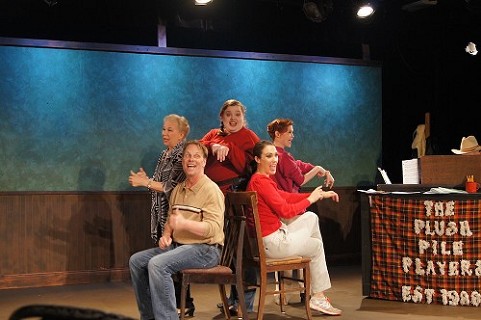 book, music, and lyrics by Paul Kalburgi
Presented by Pegasus Theatre
Runs through 8/24/2019

Reviewed by Carol M. Rice,
Associate Critic for John Garcia's THE COLUMN

When asked at intermission what I thought of Broadway or Bust thus far, I answered honestly that it was "cute." And it is. The characters are cute stereotypes, the storyline is cute, and the songs are cute. It's a very CUTE show.

Plays and musicals featuring a play-within-a-play that mirrors the actors' "real lives" are hardly original. From big, glitzy musicals like 42nd Street to Noises Off and everything in between, these stories have been told quite a bit, so Pegasus Theatre's choice to produce Paul Kalburgi's small backstage musical is a bit puzzling. While it IS set in Dallas, making it appealing, I thought at first that it was one of those "change the locale to fit your theatre" type things. Unless there is quite a lot that can be personalized, ...
---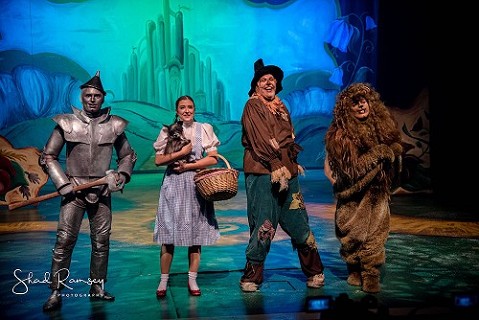 By: L. Frank Baum Music and Lyrics by: Harold Arlen and E.Y. Harburg Background Music by: Herbert Stothart
Presented by Granbury Theatre Company
Runs through 8/25/2019

Reviewed by Genevieve Croft ,
Associate Critic for John Garcia's THE COLUMN

As summer vacations start to wind down, I always enjoy a day trip to Granbury, Texas to see the current production on stage at the historic Granbury Opera House presented by resident Theatre company, Granbury Theatre Company. During this visit, I was pleased and excited to see one of my favorite childhood stories, and classic of American film and literature -"The Wizard of Oz."

The Wizard of Oz is a story that has touched the young and the young-at-heart for over 100 years. Most audiences are probably familiar with the 1939 MGM film classic starring Judy Garland, Ray Bolger, Jack Haley and Bert Lahr- shown on television year after year. However, The Wizard of Oz has a long and fascinating history. Originally starting out as an idea that storyteller L. Frank Baum ...
---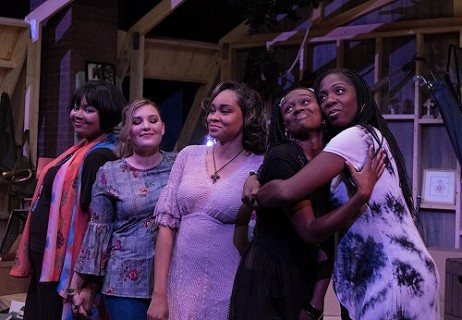 By Dorothy Marcic Musical Arrangements by Germono Toussaint
Presented by Jubilee Theatre
Runs through 8/25/2019

Reviewed by Chris Hauge,
Associate Critic for John Garcia's THE COLUMN

Last Thursday night Jubilee Theatre rummaged through the attic of a deceased loved one's house and discovered a gem of a show. Fronted by the talent of Octavia Thomas, Kimberly Billins, Kaylee Killingsworth, L'Paige Bedford, and Sydney Hewitt, "Sistas The Musical" is a thought-provoking journey through African American History and a look at the status of African Americans and women in present day society. And along the way we were treated to wonderful songs that explain the pain and express the frustration and joy these women have experienced in their lives. It is a delightful journey.

Scenic Designer George Miller has presented us with a perfectly cluttered attic, with a Christmas tree hanging from the rafters, and stuffed with boxes and old suitcases and the memories of deceased relatives. Into ...
---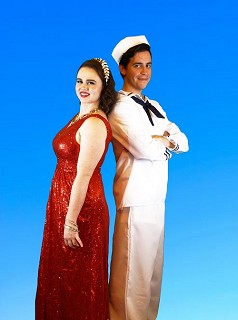 Music and Lyrics by Cole Porter Book by Guy Bolton, P.G. Wodehouse, Howard Lindsay and Russel Crouse
Presented by Stolen Shakespeare Guild
Runs through 8/25/2019

Reviewed by Jeri Tellez,
Associate Critic for John Garcia's THE COLUMN

This classic American musical has been a fan favorite since it opened at the Alvin Theatre on November 21, 1934. With the music of Cole Porter, and the collaboration of the famous playwriting pair Howard Lindsay and Russel Crouse, it turned out to be the fourth longest running musical of the 1930s. Lauren and Jason Morgan brought this show to life wonderfully, using every inch of the small stage of the Sanders Theater. Their combination of set design and blocking took the audience seamlessly to various locations.

As Reno Sweeny, Rebecca Luby was excellent. Her singing was strong, her range of emotion was diverse, and her dancing seemed effortless. She interacted well with both Robert Mata (Billy) and Nolan Shaver (Sir Evelyn), and was both charismatic and charming.

Billy Crocker, portrayed by Mata, ...
---

By Neil Simon
Presented by Theatre Arlington
Runs through 8/31/2019

Reviewed by Charlie Bowles,
Associate Critic for John Garcia's THE COLUMN

Do you remember your pre-teen years? Those heady days of 15 when worldly things began to dawn on you, but you didn't know how to deal with them? We forget how hard it was to grow up, to find our place in the world.

Neil Simon writes about American life using mundane life stories, filled with pathos and comic tragedy. Each could be plucked from a typical family in the throes of everyday life. In the case of Brighton Beach Memoirs, that family is his.

Eugene Jerome is a typical Brooklyn Jewish teen coming of age in the turbulent 1930's. There's a depression with people struggling to eat and a war brewing in Europe. But in Brooklyn, a young boy is just trying to figure out his budding feelings ...
---