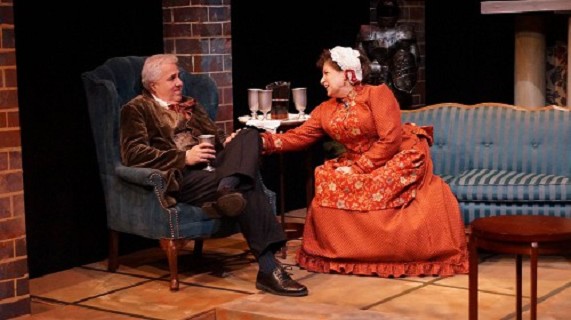 By Oliver Goldsmith
Presented by Stolen Shakespeare Guild
Runs through 10/27/2017

Reviewed by Richard P. Buswold,
Associate Critic for John Garcia's THE COLUMN

Stolen Shakespeare Guild is presenting their Second Annual Classic Fest, a round robin of two classic theatre productions presented overlapping, using essentially the same set and cast. Think UIL One-Act all grown up.

The first play up this past weekend was She Stoops to Conquer, a British comedy of manners sure to make you laugh or at least giggle. She Stoops to conquer was first performed in London in 1773. I first encountered it in a theatre classes in high school but this is the first time I have ever seen it performed. Initially the play was titled Mistakes of a Night, and indeed, the events within the play take place in one long night.

Wealthy countryman Mr. Hardcastle, played by Bert Pigg in a decisively splendid characterization ...
---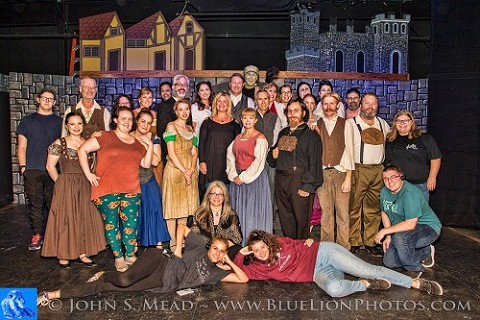 by Mel Brooks and Thomas Meehan Music and Lyrics by Mel Brooks
Presented by Allen's Community Theatre
Runs through 10/29/2017

Reviewed by Elaine Plybon,
Associate Critic for John Garcia's THE COLUMN

Mel Brooks has been a powerhouse in comedy for over half a century. His career has spanned radio shows, television, and film. One of his hits on film was Young Frankenstein, which he penned along with Gene Wilder as a successful movie released in 1974. Brooks has said Young Frankenstein may be the best movie he ever made, and in 2006, he wrote the stage adaptation as well as the music and lyrics for the musical version currently playing at Allen's Community Theatre (ACT).

In classic Mel Brooks style, the performances at ACT are not to be taken too seriously. The antics of the actors, the sometimes raunchy lines, and the fabulously light-hearted musical score all work together to create an evening of fun with very little thought required. Among the selections ...
---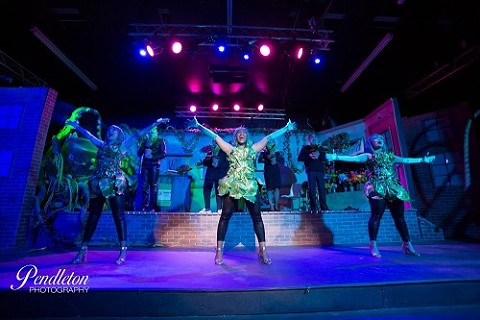 Book and Lyrics by Howard Ashman, Music by Alan Menken Based on the film by Roger Corman. Screenplay by Charles Griffith
Presented by Firehouse Theatre
Runs through 10/29/2017

Reviewed by Chris Jackson,
Associate Critic for John Garcia's THE COLUMN

"You betcha,/ You betcha,/ You bet your butt, you betcha, …Somethin's come to get ya./ …You better watch your back…!"Lyrics from Little Shop

The Firehouse Theatre is presenting a rip-roaring production of one of the most popular musicals in the American Musical Theater canon, Little Shop of Horrors. This horror comedy rock musical is based on a low-budget 1960 movie, "The Little Shop of Horrors." With music by Alan Menken and book and lyrics by Howard Ashman, the show uses 60's style rock and roll, doo-wop and early Motown as its inspiration.

Opening Off-Off-Broadway in 1982, the show soon moved to the Orpheum Theatre Off-Broadway where it ran for five years, winning the 1982-83 New York Drama Critics Circle Award for Best Musical, the Drama Desk ...
---


by Gerald Moon
Presented by ONSTAGE in Bedford
Runs through 10/29/2017

Reviewed by Carol M. Rice,
Associate Critic for John Garcia's THE COLUMN

I love a good whodunit. The twists and turns always manage to surprise me (although my husband and older son can always figure it out). Corpse! is actually a play that's sitting on my shelf at home, and I vaguely remember reading and enjoying it many years ago, but one twin brother wanting to kill the other is about as far as my memory goes, so most of the twists and turns in ONSTAGE's production were unknown to me. And, quite frankly, that's all you need to know as an audience member going in, too.

Angela Posey Destro's creative use of the space for two completely different sets was very well done. Half of the stage was Evelyn's seedy flat while the other half was Rupert's classy apartment. The creative use of ...
---

Book by Arthur Kopit, Music & Lyrics by Maury Yeston
Presented by Artisan Center Theater
Runs through 11/4/2017

Reviewed by Mark-Brian Sonna,
Associate Critic for John Garcia's THE COLUMN

"Phantom" is a musical based on the novel "The Phantom of the Opera" by Gaston Leroux. This classic novel has been adapted various times to the stage with the Andrew Lloyd Weber musical with the same name being the most widely known. This said, "Phantom" is one of the most produced musicals in the last quarter of a century, though it never received a Broadway run.

While critics have admired the more detailed character development in "Phantom" over other musicalized version, the consensus is that it lacks the epic grandeur of the more known Broadway show which is still running after several decades.

I have always been curious to see this version of the Leroux tale, and was pleased to see such a solid production by Artisan Center Theater. Whereas "the ...
---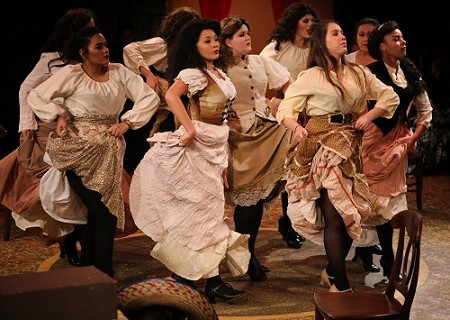 REGIONAL PREMIERE Music by The Gipsy Kings and John Cameron Book by Stephen Clark and Helen Edmundson Lyrics by Stephen Clark Based on the novel by Isabel Allende
Presented by Plaza Theatre Company
Runs through 11/11/2017

Reviewed by Chris Hauge,
Associate Critic for John Garcia's THE COLUMN

One of the wonderful things about getting to review plays is the chance to see theatre companies I hadn't had the opportunity to see before. Except for Runway Theatre in Grapevine, I have seen the majority of shows at theatres unknown to me. And all have been wonderful experiences. Such was the case with Plaza Theatre Company in Cleburne. They have an intimate theatre in the round which was very comfortable (It was announced they are moving into a new facility next year that was described as a more comfortable facility) and produced a very professional show. They have a season ticket base of 1,100 subscribers and the show we saw is the first production in Texas and only the third in the United States. ...
---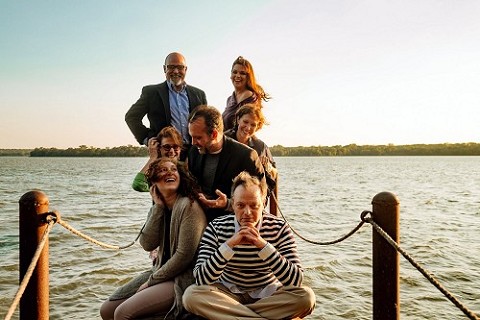 By Aaron Posner Sort of adapted from Anton Chekhov's UNCLE VANYA
Presented by Stage West
Runs through 11/12/2017

Reviewed by Mildred Austin,
Associate Critic for John Garcia's THE COLUMN

Anton Chekov is quoted as having said, "Any fool can weather a crisis. It's day to day living that wears us down." Enter the characters of LIFE SUCKS. Day to day living has worn all of them down and now they find themselves at critical junctures in their lives. Sonia is young and full of the longing and angst of the young, while her father, the Professor, finds himself feeling the approach of age in his looks and the lamentations of his body. The others characters find themselves in the unfamiliar territory of middle age: muscles are sagging a little, gray hairs are beginning to appear, and their lives are not at the point they had anticipated and worked for all the previous years. Sonia ...
---