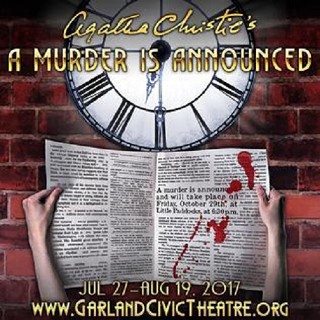 by Agatha Christie Adapted by Leslie Darbon
Presented by Garland Civic Theatre
Runs through 8/19/2017

Reviewed by Darlene Singleton,
Associate Critic for John Garcia's THE COLUMN

A MURDER IS ANNOUNCED, written in 1950, by Agatha Christie has all the essential Christie elements: an isolated country house; a parade of peculiar, handsome, and beautiful suspects; a couple of unseen murders; a snarky detective; and the incomparable Miss Marple. Even years after her last novel, Christie's mysteries are still a part of popular culture - her writing career lasted more than 55 years - she wrote 72 novels (66 mystery novels and 6 romance novels) and 15 short story collections.

The setting for A MURDER IS ANNOUNCED is 1938 Chipping Cleghorn, a country town in England. Director, Kyle McClaran's set design is a feast for the eyes when entering the theater - red is definitely the theme here along with various animal print throw pillows, glowing chandeliers, ...
---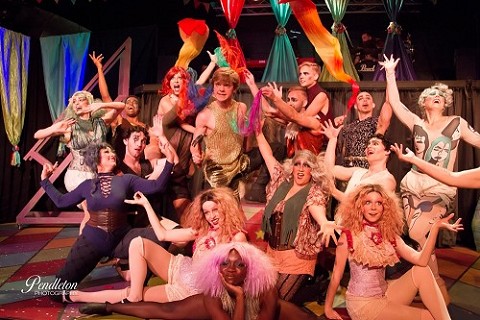 Music & Lyrics: Stephen Schwartz Book: Roger O. Hirson
Presented by Firehouse Theatre
Runs through 8/20/2017

Reviewed by Darlene Singleton,
Associate Critic for John Garcia's THE COLUMN

WOW! WOW!! WOW!!! were my first thoughts when I left The Firehouse Theatre following the wonderful musical presentation of PIPPIN. My next thought was how in the world can I capture the effervescent colors, the over-the-top energy, and the stirring of emotions I experienced as the extremely enthusiastic and talented actors sang, danced, and flew across the stage on aerial hoops and colorful ribbons of silk.

The full company tells the story of Pippin, a young prince who longs to find passion and adventure in his life. To prove his loyalty to his distracted father, King Charles, Pippin goes to war. But when the Leading Player convinces the prince to fight tyranny, Pippin kills Charles and takes over the throne. The protagonist Pippin and his father ...
---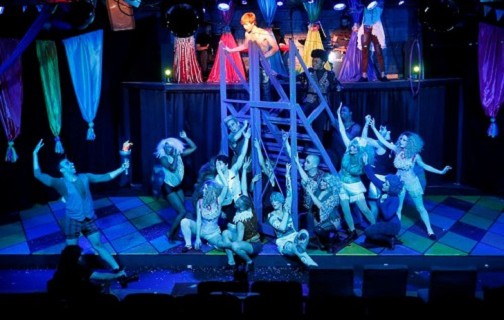 By Stephen Schwartz
Presented by Firehouse Theatre
Runs through 8/20/2017

Reviewed by John Garcia,
Senior Chief Critic/Editor/Founder for John Garcia's THE COLUMN

Firehouse Theatre is currently performing Stephen Schwartz's Pippin, a musical that I have seen quite a lot (and even performed in two Pippin productions).

I've seen some decent productions of Pippin and some that had me looking for the nearest exit. The best version I've seen is the 2013 Broadway revival.

You can clearly see that Firehouse Theatre Director Derek Whitener saw the revival and drew his inspiration from it. He too uses the 2013 revival of presenting the piece within a circus tent. Throughout the musical Whitener combined both his own vision as well as that of Diane Paulus, who directed the 2013 revival.

Firehouse is an intimate space, but Whitener makes it look so much bigger from his staging and blocking. He has 25 actors in the company, and ...
---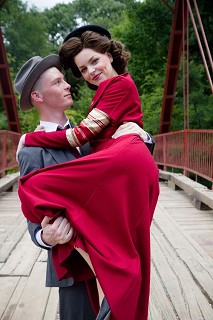 By Frank Wildhorn Lyrics by Don Black and a Book by Ivan Menchell
Presented by Denton Community Theatre
Runs through 8/20/2017

Reviewed by Chris Hauge,
Associate Critic for John Garcia's THE COLUMN

We live in Southeast Dallas. My wife gets home around five, a quick clothes change and freshen-up and we jump into the car. We head north to Denton on 35-E on a Friday night around 6:00 PM praying all the while to the traffic gods that we have a clear path. Our prayers having been, mostly, answered we arrive at the Denton town square with enough time to grab a bite and revive from the car trip. 7:15 PM arrives and we go to the historic (and might I add beautiful) Campus Theatre, get our tickets and head to our seats. Curtain time arrives with the pre-requisite curtain speeches and presentations, then the lights dim and Alice and I buckle-up for another road-trip for the next roughly ...
---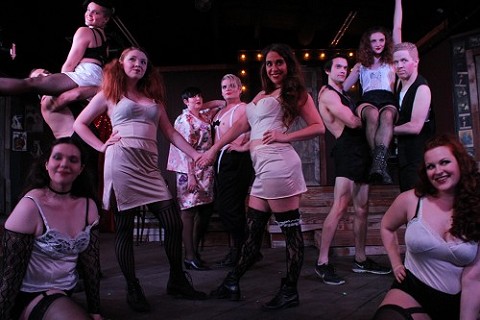 Based on a play by John Van Druten and Stories by Christopher Isherwood Music by John Kander Lyric by Fred Ebb
Presented by Lakeside Community Theatre
Runs through 8/26/2017

Reviewed by Richard P. Buswold,
Associate Critic for John Garcia's THE COLUMN

"Leave your troubles outside. In here life is beautiful." Probably one of, if not the most, profound lines in American musical theatre. I first heard this line as a sophomore in high school while rehearsing "Finnian's Rainbow". What does one have to do with the other? Well, it was high school and some of the actors were bringing their everyday high school drama into the rehearsal so my director uttered these words to make a point; when you're in the theatre, you can forget about life for a while. Cabaret is just that, two hours of leaving your troubles. However, this show, first produced on Broadway in 1966 is still troublesome because of the timely issues it addresses; zealots in the government, gender identification ...
---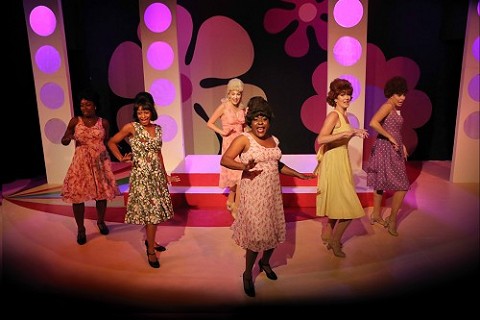 Created by Larry Gallagher
Presented by Jubilee Theatre
Runs through 8/27/2017

Reviewed by Genevieve Croft ,
Associate Critic for John Garcia's THE COLUMN

One of my favorite decades is the 1960's. I am not sure why, but, I have always had an affection for the decade of that brought some of the wildest musical groups, fashion, and film. From the early age of 5, I was brought up on the classics: The Beatles, Pink Floyd, The Mamas and the Papas, and a million one-hit wonders that would disappear as quickly as it hit the Billboard Charts.

During my adolescence and into adulthood, the music is what connected me with my Dad. Both of us audiophiles, we would often discuss trivia, listen to albums together, and try to "stump each other" with crazy tidbits of trivia, and having music nights, where we would listen to music all night. My Dad always used to tell me ...
---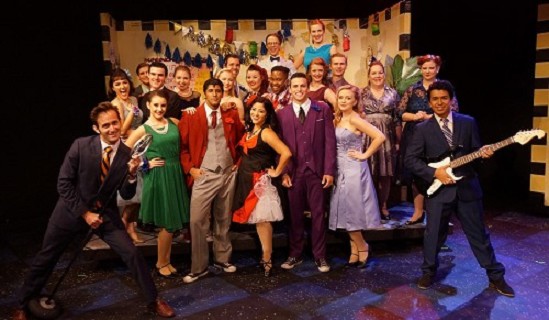 Book, Music & Lyrics by Jim Jacobs & Warren Casey
Presented by Stolen Shakespeare Guild
Runs through 8/27/2017

Reviewed by Carol M. Rice,
Associate Critic for John Garcia's THE COLUMN

Most people who are familiar with GREASE know the movie, starring Olivia Newton-John and John Travolta, but the original musical version is very different from the film. For one thing, it's much more of an ensemble piece instead of being a star vehicle, which really allows everyone their moments to shine.

And shine they do under the fine direction of husband/wife team Lauren and Jason Morgan. Ms. Morgan particularly does a nice job with all of the vocal elements of the show as music director. There wasn't a sour note in the bunch at Rydell High School. In addition, Mary Jerome's fun, energetic choreography was well-executed by not only the principals, but as well as the ensemble.

Truly standing out in the show was Taylor Vasek. His extremely athletic portrayal of heartthrob ...
---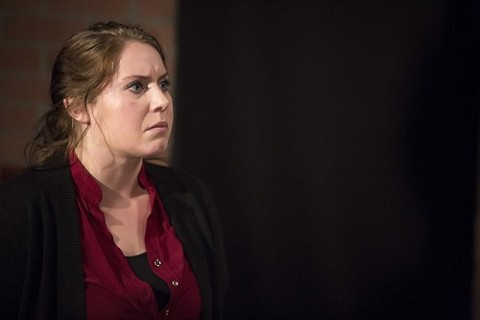 by Rebecca Gilman
Presented by Resolute Theatre Project, Proper Hijinx Productions, & L.I.P
Runs through 8/27/2017

Reviewed by Ryan Maffei,
Associate Critic for John Garcia's THE COLUMN

Shortly before the 2016 election – when everyone's senses of progress and comfort suffered a rattle – my fiancée made a remark which still sticks with me: "I don't think I'd rather have been a woman at any other point in history". It probably goes without saying that this wasn't indirect praise of our current era, in terms of gender relations. Not that there isn't a thing or two to praise – in the last three years or so, there has been a palpable and intense strengthening of terms in the dialogue about women's rights, be they social, reproductive, or otherwise pertaining to the long litany of little slights anyone without a penis suffers every day. A rapidly growing contingent of women, and allies of other distinctions, have arrived at historically ...
---

by Jack Poppelwell
Presented by Rover Dramawerks
Runs through 9/2/2017

Reviewed by Rachel Elizabeth Khoriander,
Associate Critic for John Garcia's THE COLUMN

Premiering in the West End in 1957, Dear Delinquent was one of the earlier plays by English songwriter and playwright Jack Poppelwell whose theatrical career stretched from 1953 to 1982, and who penned over 40 songs, some of which were recorded by Bing Crosby.

Set in an upper crust London flat inhabited by gadabout David Warren, Dear Delinquent traces the trail of trouble that transpires when David catches pretty Penelope plundering his flat. He soon decides to reform her, much to the chagrin of his fiancée and the suspicion of the police. And just when you think circumstances can't become more convoluted, Penelope decides that really all she wants is David.

Christian R. Black plays the perplexed David Warren with earnest jocularity. Early in the play, Black's wide-eyed naiveté and comforting smile suggest ...
---